Wilcox and Prudent Find Success on Florida Dressage and Jumper Circuits on January 24
By Kim MacMillan, MacMillan Photography & Media Services
The action in Florida is heating up! We hopped back and forth between the opening day of the World Dressage Masters at the Jim Brandon Equestrian Center in West Palm Beach and the FTI Consulting Winter Equestrian Festival (FTI WEF) held at Palm Beach International Equestrian Center in Wellington to catch the up and coming horses at each venue.
In the international ring at the Winter Equestrian Festival veteran international jumper rider Katie Monahan-Prudent and Michael Smith's V  were victorious in Thursday's $33,000 Ruby et Violette WEF Challenge Cup Round 3 during the third week of competition. Prudent and V, an 11-year-old Dutch Warmblood gelding (Landstreicher x Lennard), raced through the jump-off course in 34.99 seconds to take the blue.  Young U.S. competitors Kristen Vanderveen, 23, aboard Bull Run's Eternal and Lauren Tibsom, 28, aboard Tequestrian Farms' Roundthorn Madios, finished second and third respectively.
Monahan-Prudent and V have been together for about a year and a half and are forming a great partnership. The pair also won the $8,000 G&C Farm 1.45m jump-off class during week two of the FTI WEF. "He is a very brave, aggressive horse," said Monahan-Prudent. "He was a little hard for me to control in the beginning and I have worked hard with him. He is starting to relax and listen better and trust me. I think this is going to be a good year for him. He has been very consistent."
Monahan-Prudent maintains a very busy teaching schedule coaching, among others, Olympian Reed Kessler and NAJYRC champion Abby McArdle, but she still enjoys competing. "It is always nice to win and it has definitely been awhile since I won one of these classes," she stated. "It's been about 12 or 13 years since I've had a really good horse and it feels great to win. We are always plugging away. You never say die; you keep trying."
In the hunter ring at the FTI WEF, Havens Schatt guided Sons Souci to a Championship in the Equine Tack & Nutritionals First-Year Green Hunter division. Sons Souci is a ten-year-old Warmblood mare owned by CH Farm LLC. Schatt is three for three so far at the FTI WEF in the First-Year Green Hunters, winning the tricolor the first two weeks with Caroline Moran's Bacardi.  Reserve in the division went to Mythical, ridden by Kelley Farmer and owned by David Glefke and Dr. and Mrs. Kenneth Garber.
Just down the road to the East the first day of competition at the World Dressage Masters started with the jogs for all of the competitors and continued with the $2,000 FEI Grand Prix Open CDI3*/USEF HP GAIG/USDF Qualifier, from which two lucky horse/rider pairs will move on to the upcoming Masters CDI5* classes on Friday.
 
Lisa Wilcox and her and Horses Unlimited's 10-year-old Hanoverian stallion Pikko del Cerro HU (by Pik-L) impressed the judges with a flowing test augmented by his showy gaits. They won the class with a 69.574%, a full two percentage points plus ahead of second placed Canadian David Marcus riding his and Deborah Kinzinger's Don Kontes (13-year-old Swedish Warmblood gelding by Don by Schufro, out of Kontessa) with a 67.532%. 
Wilcox was "very, very pleased" with Pikko del Cerro's first international competition. She added that he was somewhat distracted by the crowd, "He was very good to ride. He's a little bit looky, so I'm the last thing on his mind, so I have to remind him that I'm up here!"
Marcus said that Don Kontes was a little tired after competing last weekend at the Gold Coast Opener CDI-W, but he was delighted with his horse's performance, "I couldn't ask for more."
 
Third was Mikala Gundersen of Denmark riding her and Janne Rumbough's the 13-year-old Danish Warmblood mare My Lady (by Michellino, out of Marion) took third with a 67.234% and Canadian Cheryl Meisner and her and John Risley's 16-year-old Dutch Warmblood stallion Paganini (by Havido FF, out of Bea) took fourth with a 66.894%. On the basis of their placings today Gundersen and Meisner will move on to the elite group competing in the Masters on Friday. "It was completely unexpected and I'm really excited to be part of it!" said Meisner.
1-Katie Monahan-Prudent Michael Smith's V  were victorious in Thursday's $33,000 Ruby et Violette WEF Challenge Cup Round 3   Photo by Allen MacMillan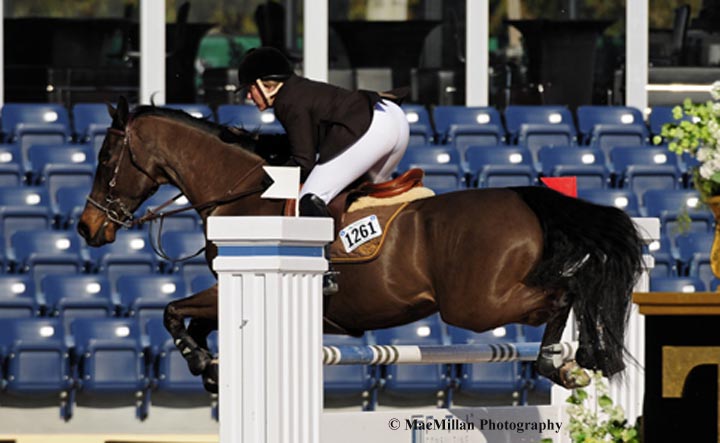 2-Katie Monahan-Prudent Michael Smith's V  Photo by Douglas MacMillan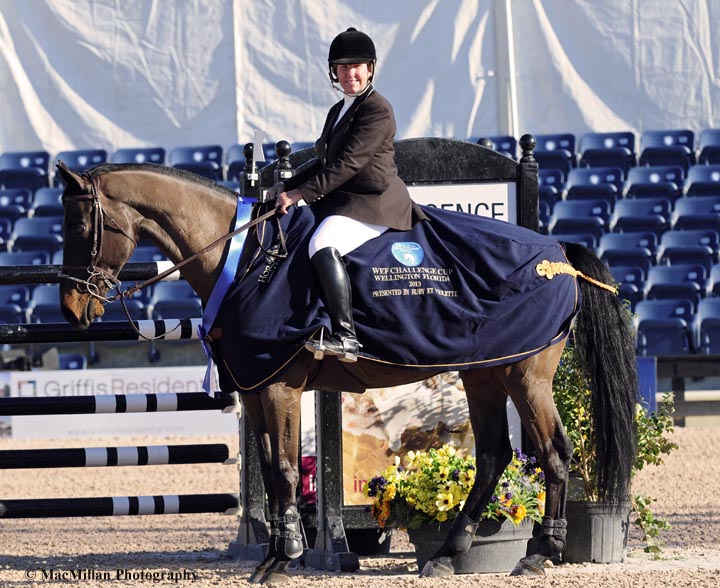 3-In the winner's circle – Katie Monahan-Prudent Michael Smith's V Photo by Allen MacMillan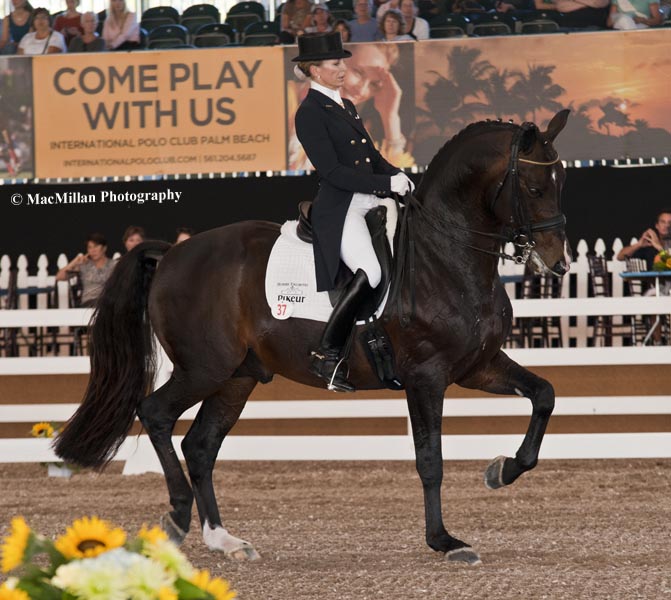 4- Lisa Wilcox and her and Horses Unlimited's 10-year-old Hanoverian stallion Pikko del Cerro HU (by Pik-L) impressed the judges with a flowing test augmented by his showy gaits to win the $2,000 FEI Grand Prix Open CDI3* at the World Dressage Masters.  Photo by Kim MacMillan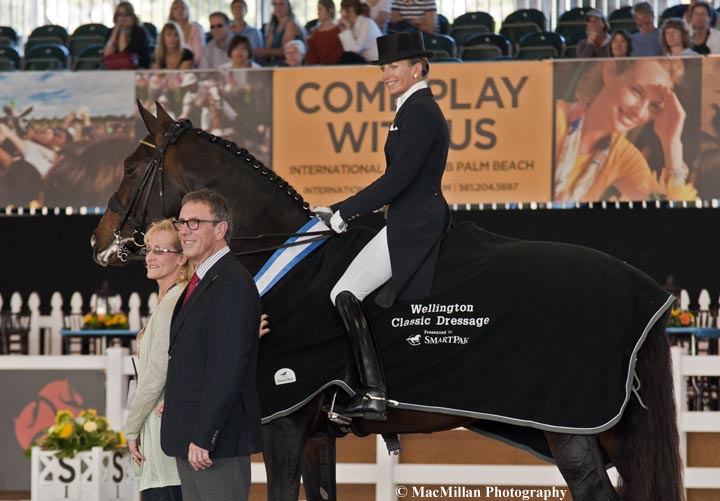 5- Lisa Wilcox riding the Hanoverian stallion Pikko del Cerro HU was all smiles celebrating their win in the $2,000 FEI Grand Prix Open CDI3* at the World Dressage Masters. Photo by Kim MacMillan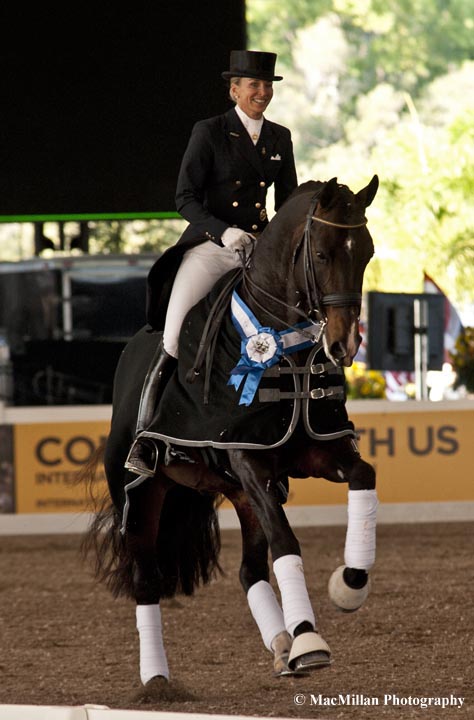 6-Lisa Wilcox and Pikko Del Cerro in the victory gallop after their win in the CDI3* on the first day of competition at the 2013 World Dressage Masters in West Palm Beach, FL.   Photo by Kim MacMillan