March 17, 2023
Raeford, NC – Show jumping, as always, proved influential for the majority of the Setters' Run Farm Carolina International FEI divisions on Friday. Marc Donovan is the show jumping course designer in residence, and his testing tracks, set on grass at the Twin Gates Derby Field, did their duty of separating the cream from the crop.
Yanmar America CCI4*-S
Will Coleman's day got off to an unexpected start early on in the going when he parted ways from his first ride, third-placed Off the Record stopped at the third fence and sent Coleman somersaulting over his head.
"Really I was so shocked. I had no idea what happened. It was a very dramatic feeling," Coleman commented. "What happened with [Off the Record] was very sort of out of character but that's just horses."
The unexpected ending to their weekend would be enough to rattle a rider, and as if to add insult to injury, Coleman's next horse – the leading Chin Tonic HS – lost a shoe while warming up. But despite the challenges, Coleman kept his game face on and would go on to collect a clear round inside the time to stay on his starting penalty mark of 19.4.
"It didn't feel like he was jumping as well as he can," Coleman reflected. "But you know, he tried hard. We had sort of just sort of a messed up day, he pulled the shoe right before I was about to go, and he's a very hot-blooded horse so kind of the start-stop thing with him would be kind of not the ideal scenario for us to jump well. Maybe that contributed to just not maybe feeling as good as normal. But you know, he's a quality horse and he tried hard. So he left them up. I think I touched that last [fence] pretty good, but got a bit lucky. Now we'll go on to tomorrow."
Coleman plans to give the 11-year-old Holsteiner gelding, owned by Hyperion Stud LLC, a strong ride on Saturday's Ian Stark-designed cross country course, adding that he plans to bring horses here to Carolina International each year in preparation for their various spring destinations. "I think it's just a good event to sort of get your horses ready for a five-star, if that's what you're aiming for," he said. "And for me, [Carolina International has] served me well in the past, I think, feeling like I get my horses prepped around a track that has a little bit of bulk to it. And I think this year is no different."
Coleman now stands poised to take a third consecutive win in the CCI4*-S at Carolina International, having won this division on Off the Record in 2021 and Dondante in 2022.
Liz Halliday-Sharp also retained her position following a clear round inside the time with Ocala Horse Properties' and Deborah Palmer's Miks Master C. The pair will take their original score of 20.1 into Saturday's cross country test.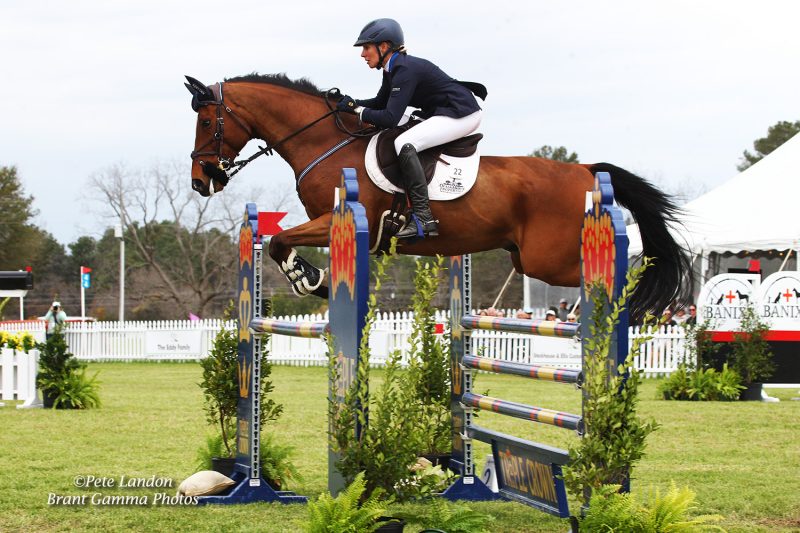 Halliday-Sharp credits show jumping Olympic gold medalist Peter Wylde for helping her with her jumping over the past two years. Having a system she can implement with each horse, with coaches who also know her horses, has been invaluable for her, she said.
"I've worked with Peter now for two years, maybe even two and a half," Halliday-Sharp said. "I just absolutely love working with him. He's just very quiet in his way, and he is a totally beautiful rider. It's all about just getting the horses to think for themselves, which I think is really important. And I think for me, it keeps me chill in my head. It keeps me in a good place that way."
This mentality paid off as Halliday-Sharp tackled a course that had yielded only a handful of fault-free rounds. "With [Miks Master C], it's always tricky because you have to, like Peter Wylde says, make the time without telling him you are, because if I get him wound up, he's got such a gigantic stride. All the distances are short for him. And so I have to be careful I don't just let him loose, especially when he's feeling a bit wild anyway. I knew the time was tight enough, so I had to make sure I made the time but was organized at the same time. That's always the challenge with him."
The remainder of the leaderboard finds itself a bit more shuffled after Friday's action, with Doug Payne moving up from fourth into third with Starr Witness, owned by Laurie McRee, Catherine Winter, and Doug and Jessica Payne. The pair also collected a clear round inside the time to remain on their dressage penalty of 24.6.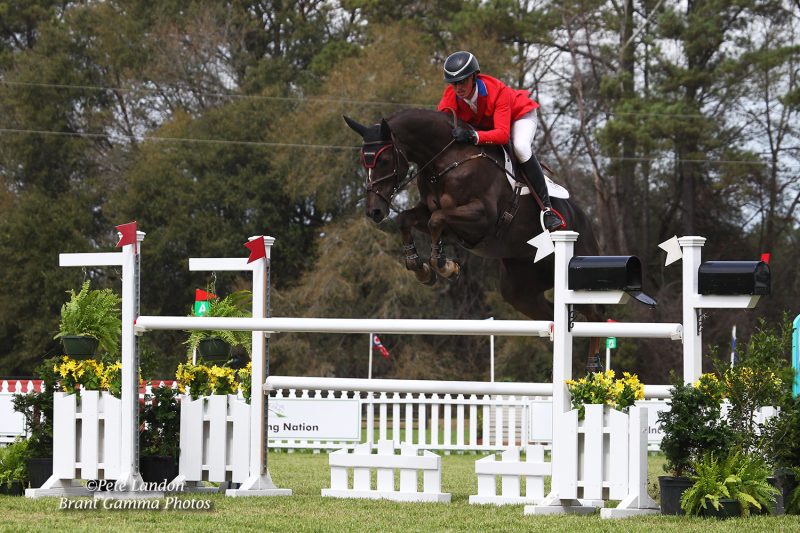 "She's quite careful," Payne said of Starr Witness (Chello III VDL – Carmen). "Sometimes in the past, she'd be ultra careful. We'd kind of go sky high up front and not be quite as good behind, but she's really finishing behind. I'm trying to do my best to keep her engaged and coming forward. And she was very, very good. She's a privilege to ride for sure.
Payne commented that he plans to be efficient on Ian Stark's cross country course Saturday, while still bearing in mind his goals for the year with the 12-year-old KWPN mare. "I think, go sort of efficiently fast," he said when asked what his plan was. "It's not make or break for real. Her ultimate goal is that three-star long at Tryon to finish the qualifications to go to [the 2023 Pan American Games in Santiago, Chile]. And so that's my ultimate goal. So I'll go fairly good moving, but I'm not going to go insanely fast."
The Cordelia Family Foundation CCI3*-S
Liz Halliday-Sharp also retains her lead in The Cordelia Family Foundation CCI3*-S division aboard The Monster Partnership's Cooley Be Cool (Heritage Fortunus – HHS Carlota), adding no jumping or time faults to their mark of 23.1 today.
Halliday-Sharp joked that all her horses had felt a bit wild today, likely contributed to by the increasing wind gusts that built throughout the day. But when it came time to get down to it, Halliday-Sharp collected clear rounds on both rides (Cooley Nutcracker remains in second place on a score of 26.7). One unique aspect of the show jumping at Carolina International is the fact that show jumping is held on grass. In the United States, there are few eventing venues at the Advanced and CCI4* level that offer show jumping on grass. For Halliday-Sharp, who was based in England for nearly 20 years, jumping on grass is familiar. She feels it gives her horses extra preparation for competing overseas, where grass is more frequently used.
"I love jumping on grass because I did it for twenty years," she explained. "And I learned how it feels. Funnily enough, I'm nearly more relaxed on grass because it just feels like what I'm used to. But the surface is amazing, and they've done a great job. I think it's good for the horses. There's a lot of atmosphere and it prepares them for something like Blenheim or Bramham [in England]."
Breezeway Sporthorse and Diagnostic Clinic and Friendship Mobile Veterinary Imaging and Sports Medicine CCI2*-S
Also retaining the lead, this time in the Breezeway Sporthorse and Diagnostic Clinic and Friendship Mobile Veterinary Imaging and Sports Medicine CCI2*-S are Australia's Dom Schramm and The Quadrocana Syndicate's Quadrocana (Quadrofino – Rocana II), adding no penalties to their dressage mark of 22.7.
"She really is (a good show jumper)," Schramm commented. "I think she's only had a rail or two down in her career, but normally she would be a lot more businesslike. I found she could just be a little bit funny about flags and things like that. So this is great. I love coming to events where they get to get a bit of an education and remind them what the big shows are going to be like. I think (show jumping on grass), that's also another factor as well. We don't get to do that all the time. And, you know, eventually if she's good enough to go to the big events that'll be a lot more of a case. So it's good to practice."
Speaking to the Beth Perkins-designed CCI2*-S cross country track, Schramm noted the unique challenges that his horses face tomorrow. "I think they've done an awesome job. I like the new kind of flow the track — a bit of turning, a bit of up and down. I think it's a great test for being in March. This is the first show that I feel like they get to go out and make it feel a bit more like what's to come. So that's why we always like coming here."
Dark Waterspoon LLC (Competitive Sport Horses) CCI1*-S
The Dark Waterspoon LLC CCI1*-S is a developing new offering from the FEI in its second year of running at Carolina International. Caroline Martin retained her lead on her newer ride, Cascadella 8 (Cascadello I – Chaluna) and will stay on a score of 24.7 ahead of Saturday's show jumping finale. She credited her assistant rider, Ireland's Lee Maher, for helping get the mare accustomed to competing in the U.S. after she came into Martin's program.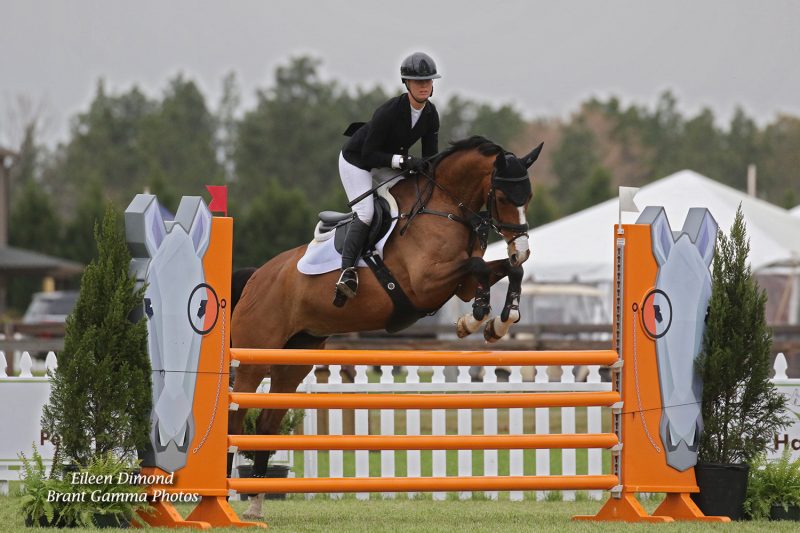 "Lee, my sales rider at home, took her to a Beginner Novice the next day after we got her just to see what she did," Martin commented. "She jumped up to 1m 35 [level previously], so he took her and she was very good cross country. Then he took her into a Training level the following weekend. And she was good, so then we decided since I'm coming here [to Carolina International] anyways, it would be good experience just to train her because I'm thinking about keeping her, if I can find a syndication. I just wanted to take it jump by jump to give her a good experience. I think she is a horse for the top. She has enough blood on paper. She's got a fabulous brain. It's hard to find horses like that."
National Divisions Get Underway
Beginning their competition on Friday were the Horse Trial divisions. Southern Pines-based Ariel Grald, who represented the United States as an individual at the 2022 FEI World Championships for Eventing and is based nearby at title sponsor Setters' Run Farm, is placed first and second in the Advanced division with Annie Eldridge's Caballe (29.1) and Diara (29.6).
"They just did their first Advanced at Pine Top," Grald said. "They're two very, very different horses. Caballe was really excited and I thought she might get a horrible score because I felt she was a little tense and hot, but she's a bit cold-blooded so I think that extra energy was rewarded. Diara is by nature a much hotter, more sensitive horse so I was trying to keep her relaxed. She finds the Advanced, at the moment, to be a little more difficult and she gets a little anxious. She has all the ability in the world. I was really happy with her effort, and it's a steady improvement from Pine Top."
Grald says she comes to Carolina Horse Park frequently throughout the year and is always impressed with the atmosphere and the efforts made by the organizing team to make Carolina International a world-class event.
"The Carolina Horse Park is local for me, but it is a world-class venue so we're really lucky that it fits both of those boxes: easy to come to and top class. Everybody at the Horse Park Just goes above and beyond to really transform the park, there's so much atmosphere. I come here at least once a month throughout the year for various shows and [Carolina International] is almost unrecognizable and looks so different. We're just so lucky to have the Horse Park close by, but it's as I said a world class facility and everybody at the Horse Park cares so much about making the event the best it can be and they take a lot of pride in putting on a good event."
The remainder of the National divisions that began today are led by:
Open Intermediate: Alexandra Knowles and Street Call (25.0)

Open Preliminary: Michael Willham (23.0)

Preliminary Rider: Kelly Beaver (27.1)

Modified: Caitlin Silliman and Ally KGO (25.5)
Saturday will bring cross country for the FEI divisions, Advanced and Intermediate. Preliminary and Modified riders will show jump, and the Training level divisions will do their dressage and show jumping.
Also happening at Carolina Horse Park tomorrow is a slew of family-friendly activities, including a Kid's Zone featuring two Bouncy Houses, a Climbing Wall, Face Painting, Cornhole and much more. Vendor Village will also be open, as will a variety of food vendors.