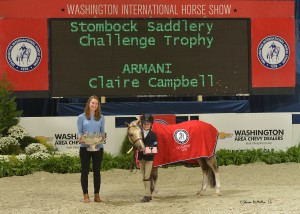 Sidelines Magazine is excited to be able to give away tickets to the Washington International Horse Show! WIHS will be held October 20-25 in Washington DC. Each of five winners will receive two tickets to attend.
How do you win tickets? Easy! Use the contest form linked below to send us a photo of you and your horse! Riding, hanging at the barn, showing — it's up to you which photo you choose! Then describe in 50 words or less why you'd like to win tickets to the Washington International Horse Show.
Only ONE entry per person will be allowed, and NO professional photos will be accepted. You MUST be able to attend WIHS to enter! Winners receive two tickets only; Sidelines CANNOT pay for other expenses including (but not limited to) transportation, lodging and meals.
The contest runs October 14-19. Winners will be chosen by a panel of Sidelines judges. By entering the contest you are consenting to have your entry posted on Facebook and possibly used in Sidelines Magazine.
Good luck to everyone and a big thanks to the WIHS crew for the tickets!
http://sidelinesnews.com/sidelines-contest-form