South Daytona, FL – July 1, 2014 – The relationship between horse and human is one that has held strong throughout the centuries. For Jeanette Sassoon of PoloGear®, one horse tugged at her heartstrings more than most: a blind dressage horse named Valiant. Valiant wasn't always a champion dressage horse competing with the best of the best on a national and international level in Wellington, FL. After he went blind he ever so slowly rehabilitated his body and mind and regained his trust with the unconditional love and care of his owner. He never recovered his sight but through the eyes of his human companion he surpassed all expectations of ever reaching a normal life-he reached the impossible dream by anyone's standards. Sassoon was invited to the 2014 American Horse Publications Annual Awards Banquet, where she presented Silke Rottermann with the Valiant Human-Animal Bond Award, sponsored by Luipold Animal Health, manufacturers of Adequan® (Polysulfated Glycosaminoglycan.)
The Valiant Human-Animal Bond Award was presented on behalf of the blind dressage horse that has captured the hearts of thousands. Valiant passed away in November 2013, but he left a legacy and the quintessential example of the human-horse bond between him and his beloved owner, Sassoon. The award was presented for its second of three consecutive years to the author of the article that best promoted the relationship between horse and human, and this year Rottermann stepped into the spotlight to claim the award for her Dressage Today article, "The Legendary Balagur."
Sassoon stated, "Valiant's message of hope and inspiration transcends all equine disciplines, all geographic locations, all people and all periods of time. His story is an example of how all types of relationships work best, without confrontation and without force and with the right intention coming from honesty. Acceptance of what life offers, and understanding there are lessons to learn from all these trials and tribulations, was an important personal awareness of our journey together."
The AHP Annual Awards Contest included 171 award presentations with over 50 categories, 736 entries and 97 contestants. Of the original numbers, 64 became finalists and 38 rose to the pinnacle of the awards. Rotterman, of Germany, was thrilled to receive the honor, although she was unable to attend the event.
She accepted the honor with these words of appreciation and gratitude: "Having been awarded the Valiant Human-Animal Bond Award from the American Horse Publications is a great honor in itself. Having been awarded this honor for a text on such a very special animal like Balagur makes it all the sweeter."
"I would like to thank the judge very much for appreciating and acknowledging the lifetime achievements of this horse, which is owed, in no uncertain part, to the late George Theodorescu," continued Rottermann. "For me this story showed that there are no limits for a horse as long as somebody believes in him and creates that special rapport, which really can give a horse proverbial wings. Balagur and Mr. Theodorescu have taught us all an important lesson with their story."
Sassoon owned Valiant's dam and sire, and raised her beloved Valiant from birth, working with him as a colt. She began to examine his potential in the competition world. When she turned to expert opinions, a prominent German dressage trainer informed her that he was "too small and crazy – get rid of him now," and the veterinarian who did his pre-purchase veterinary exam thought he could have a degenerative neurological disorder. Reflecting back on it, Sassoon said, "With Valiant I guess I was always meant to be challenged and I finally realized the way our story unfolded allowed growth to take place in me as a human being. It's not just a physical and mental growth, it's all about trying to understand who I am and what I am suppose to be doing with my life to become more fulfilled and peaceful. I guess it's about sharing and looking for not only 'answers' but looking for 'questions' as well…never giving up because there is always more to learn, to do, to share and to give back again and again. It's that 'circle of life' that the Native Americans tell of…the journey of life never ends, it just connects and continues."
Not too long after Valiant's dressage evaluation and pre-purchase diagnosis, Jeanette relocated from California to Florida. One day, while walking to the ring, Valiant stepped on a horseshoe nail. That one impeding step was the start of a new journey for Sassoon and Valiant.
The veterinarian was called and the sole of Valiant's foot was thoroughly cleaned and medicated to prevent infection. Penicillin was administered and prescribed for five days. A few days later, abscesses developed where the injections were given on both sides of Valiant's neck. Sassoon noticed his eyes were cloudy at the center near the pupil. To this day it is a mystery as to what actually caused this infection, but it raged on, nearly killing her beautiful black gelding. Valiant had the worst form of uveitis or "Moon Blindness."
The bacteria traveled to Valiant's eyes from the abscesses on his neck, and his eyes clouded over within days. Sassoon and Valiant soon faced life's next challenge in their entangled web: life without sight. Sassoon was faced with two options. The specialists told her Valiant would never see again, she could turn him out in a pasture without trees the rest of his life or put him down.
"I felt lost and helpless," Sassoon said. "I couldn't replace his sight but I knew somehow I could give him a good life. I didn't know how I was going to do it but after Gary, my then-fiancé and now husband, said, 'He's not lame, is he?' the answer appeared. Gary was right. Valiant was healthy in every way except he couldn't
At that moment Sassoon entered on one of the most heartwarming journeys of the equestrian world, being Valiant's eyes. She decided without hesitation that there was only one option: she would somehow provide a good life and care for him. At first just getting him over his life threatening infection with relentless focus and hour after hour round the clock care was paramount. Then getting him used to living without sight and retraining even the most basic life tasks was the priority.
"Riding him ever again was not even in my realm of consideration or focus as it just wasn't important but saving his life and the quality of that life was," Sassoon said. "At the same time, in the back of my mind I always felt at some point in our lives we would again ride together and I never gave up that glimmer of a dream."
Year after year Sassoon amazed the specialists, family and friends as she patiently and lovingly worked to train Valiant to the highest level of dressage that was possible for her mount, and she did, taking him to the international level of Prix St. Georges winning tough competitions at 4th level along the way, and finally at 25 years young, Valiant finishing in 6th place out of 15 international competitors at Prix St. Georges in the 2012 Wellington dressage festival. Although her 27-year-old gelding passed away in November of last year, he is still remembered and his legacy currently lives on through the Valiant Human-Animal Bond Award and the profound words and ideas of journalists, such as Rotterdam, who can express the bond between horse and human.
"The morning before Valiant passed away, I stood alone with him in his stall at Palm Beach Equine Clinic. My eyes were closed and my hands were laid on his body. Subliminally I was asking Valiant for clarity and guidance in my life," Sassoon described. "I was feeling very low and disheartened with his prognosis and felt our time together was coming to an end. I also knew there was something I was still missing, and I didn't know what it was, but I was feeling confused and uneasy. After settling down a bit I felt through his body he was giving me the key to our journey together and whatever happened to him to remember this message and always live it."
He told Sassoon to "Believe"–To believe in herself, their journey together and in God.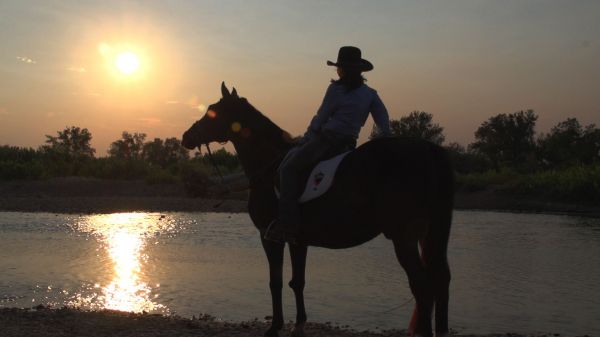 With this message Valiant told Sassoon that all things are possible if you just "believe" you can and go forward with courage and determination and just listen to that inner voice urging you onward.
"This message unlocked my confusion and opened a new inner strength for me to carry on," Sassoon said. "After a few minutes I thanked him and emotionally rushed to my car to call Allyn Mann, the director of Adequan and a very close friend of many years because of Valiant and his story. Allyn truly understood the physical relationship Valiant and I shared but more importantly the spiritual one as well. I felt a strong need to speak with him and he helped me gain composure and clarity during probably one of the most difficult times of my life. He told me of the important work we had done together and he said that Valiant's life work needs and will live on and we will be filled with joy of the many hearts touched by him now and into the future. I instinctively knew at that moment of realization of Valiant's message to 'Believe', our life together was divinely encapsulated into that one word "Believe" and his work was finally done and he was free to move on. Thank you, Valiant."
Valiant may be gone and certainly will be remembered through the Valiant Human Animal Bond Award but his best buddy and stablemate 'Cherokee,' who is also blind, was passed the torch and will carry on in Valiant's memory and legacy.
PoloGear® has been a staple in the Wellington equestrian community since 1993. They offer top of the line apparel and design, as well as premier saddles offering their patented Free Shoulder Saddles™. Always seeking more avenues to best serve clients and their horses' needs, PoloGear® recently joined forces with Trilogy's Debbie Witty, creating Performance Saddlery, a division of PoloGear®, in an effort to expand nationally and utilize Witty's expertise to take saddle design to the next level. In addition to selling the proven Trilogy® saddles the national force of Performance Saddlery fitters will also be selling the Verhan saddle line as well as all the PoloGear® Teamshop™ products.
PoloGear's dedication to quality and attention to detail is never lost in their production. For more information on PoloGear® USA and to order products, visit www.PoloGearusa.com.