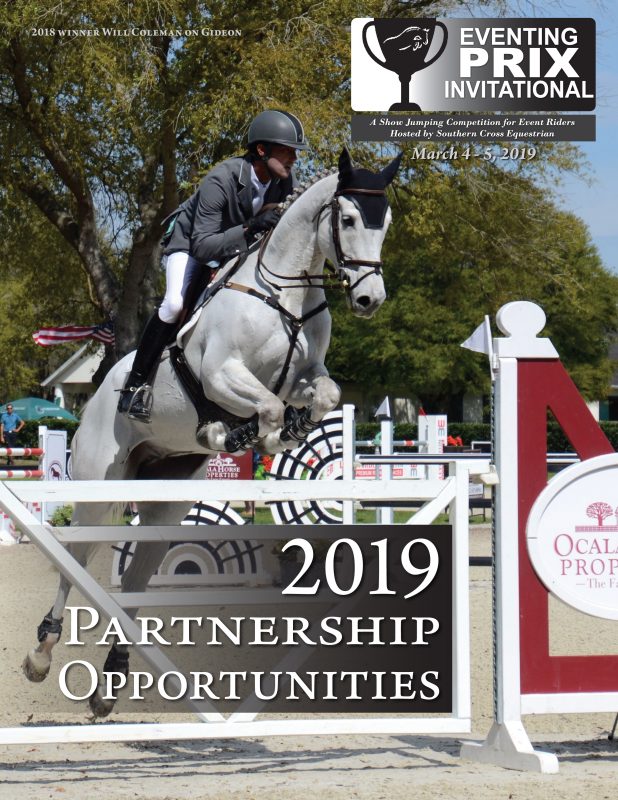 In it's 6th consecutive year, the Ocala Horse Properties' Eventing Prix Invitational promises an exciting level of show jumping competition and increased prize money to international level event riders.  The event, held March 4th & 5th, has become one of the most anticipated events in the Marion County community.
The Eventing Prix Invitational was created by incoming USEA President, Max Corcoran, and international show jumper, Scott Keach, in 2013.  This event, held at their Southern Cross Equestrian, showcases top level event riders show jumping against the clock, in an effort to win team and individual prize money.  Since Ocala is a mecca for international level event riders, the ability to offer this type of show jumping experience to those equestrians has become wildly popular.  Throw in the potential for increased sponsorship prize money reaching the $20K mark, and it's guaranteed to be a day of nail biting competition!
Last year the top individual prize went to Will Coleman, aboard Gideon, and the top team prize went to Team Unstable for the second year in a row (Sara K. Murphy, Sharon White, Bobby Meyerhoff and Joe Meyer). The competition was a great success, showcasing the region's great equestrian talent to a large crowd of spectators, sponsors and fellow equestrians.
Monday March 4th is the 1.15m Welcome Class sponsored by Doug Hannum Equine Therapy, followed by the 1.30m Ocala Horse Properties' Eventing Prix on Tuesday the 5th.  This year promises to be entertaining, with an early list of world class entries assuring that the competition will be fierce!
This year's 8 captains who are in the process of finalizing their 4 person teams are: Sara Murphy (USA) Tammy Smith (USA), Lauren Kieffer  (USA), Jenny Brannigan  (USA), Selena O'Hanlon (Canada), Hallie Coon (U25), Justine Dutton (UK), Shannon Baker (Wild Card).
Chris Barnard will take over from Marc Donovan this year as course designer.  Chris, a well known Richard Jeffery protege, has designed the AEC's at Tryon, NAYC, Rebecca Farm, Plantation Field International, Red Hills, The Fork, Fair Hill International, Jersey Fresh and many others!
Sidelines Magazine has come on board to support the event, and EQTV will be producing the Livestream on the day of the Ocala Horse Properties' Eventing Prix.
VIP Tables are available and that access includes wonderful ringside tables, open bar, catering by Celebrations Catering in Gainesville, and the infamous after party! This is a great opportunity to rub elbows with the who's who of the eventing world.
General admission and parking is free to all spectators and food for purchase will be available from Humble Pie Wood Oven Pizza.  There will be FREE BEER courtesy of Brewster Walker Horse Transport, who is also sponsoring $500.00 Grooms Award for the best turned out horse.
Sponsorship thus far has been remarkable with Ocala Horse Properties coming back on board as Title Sponsor; Light Speed Equestrian signing on as Presenting Sponsor; Wordley Martin Equestrian, Peak Performance (Furlong & Associates) and Stellos Electric as Prix Sponsors; Equijet, Stubben NA, Guardian Bedding, HorseFirst and Buckeye Horse Feed as Jump Sponsors.
This event is dependent upon the generosity of it's sponsors, and the organizers are still seeking supporters in able to offset event costs and to increase the prize purse to $20K.  Please spread the word, gather up your friends and mark your calendars for one of the best community events in Marion County!
Please contact:
Sponsorship & PR Inquiries
Lisa Thomas
Lisa@MidAtlanticEqServices
484-888-9626
Event/Competition Inquiries
Max Corcoran
MaxCorcoran@MSN.com
540-295-4326
VIP Table Reservations
Denise Goyea
denisescarlethill@yahoo.com
617.225.6325 |
For more information on the event, please visit @eventingprix FB Page
https://www.facebook.com/eventingprix/
The Ocala Horse Properties' Eventing Prix is located at:
Southern Cross Equestrian
13440 NW HWY 225 | REDDICK, FLORIDA