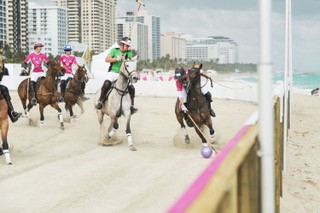 April 26th – April 28th
Tickets on Sale Now for the Coveted Polo Event on the Sands of South Beach
MIAMI BEACH, FL – Beach Polo World Cup has announced its return to the sands of South Beach from April 26th – April 28th and tickets are on sale today. The Beach Polo World Cup is a three-day world class event held on the sands of Miami Beach at Collin Park between 21st & 22nd Street.
Throughout the multi-day tournament, six international teams comprised of renowned polo players including Nic Roldan, Alejandro Novillo Astrada, Jason Crowder, Melissa Ganzi & Tito Gaudenzi will compete for the coveted trophy. There will also be 4 women's teams competing separately. Each day is comprised of high goal polo matches featuring some of the best players in the world along with a series of offsite events that fuse polo, fashion and luxury.
"We are thrilled to bring Beach Polo World Cup back to Miami Beach for the second year in a row!" said Tito Gaudenzi, Founder of Beach Polo and President of Lifestyle Companies. "This year we are taking the event to new heights with an all-new setup and amazing activations daily. We look forward to making this one of Miami Beach's premier annual events."
Spectator viewing of both competitions and the adjacent Retail Village is complimentary and concessions will be available to purchase. VIP daily tickets and weekend ticket packages are available for purchase and will offer access to the shaded Grandstand where complimentary food and drinks will be served. Tickets can be purchased here.
Notables including Shark Tank's Kevin O'Leary and Daymond John, Sex & The City writer Candace Bushnell, Jeremy Shockey and Caroline Vreeland were in attendance at the 2018 Beach Polo World Cup.
For event updates, announcements and more information about Beach Polo World Cup, visit www.miamipolocup.com
Follow us and join the conversation: #BeachPolo2019 #BeachPoloisBack
Facebook: @beachpoloworldcup | Instagram: @miamipolo