Wellington, FL – On Saturday, March 17, from 8 a.m. to 12 p.m., the Special Olympics in Palm Beach County will have their competition at the Palm Beach International Equestrian Center in Ring 6. Fifty-five riders will compete in classes that include English and Western Equitation, Dressage, Trail, Prix Caprilli (a combination of Dressage with jumps) and a special encore performance of the Vinceremos Superhero Drill Team at 11:45 a.m. Following the competition, the riders will participate in a parade of champions in the International Arena.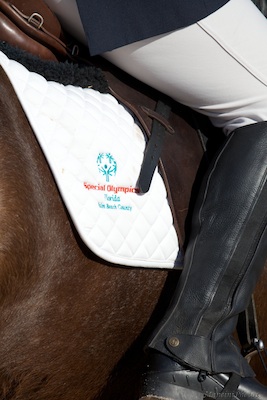 The Vinceremos Therapeutic Riding Center is the training home for Palm Beach County Special Olympic Equestrian Team. Along with riders from VTRC, special guests from the Chateaublond Equestrian Center in Haiti will be present to compete in the competition. At The Wellington Club at noon, there will be a special fundraising luncheon and silent auction to benefit Friends of the Orphans and the special needs children of the Chateaublond Equestrian Center in Haiti. Tables of 6 and individual seats are available at the luncheon ($300/$50) and all contributions are tax-deductible.
The event is generously sponsored by The Bellissimo Family and Equestrian Sport Productions along with the Tisbo Family and Tequestrian Farms.
Event Chair and Chateaublond Equestrian Center founder Romy Tschudi-Roy stated, "Your support makes a world of difference in the life of a special needs child."
Ruth Menor, Executive Director of Vinceremos and Romy Tschudi-Roy from Chateaublond Equestrian Center in Haiti have worked together to make sure that the Haitian riders have a competition to attend.
"Our riders have been preparing for this competition with the same enthusiasm and dedication as the riders competing in the Grand Prix here at the FTI WEF. Their successes are shared by many – their parents, the volunteers, those who support Vinceremos and their loyal equine partners!" says Ruth Menor, Executive Director of VTRC.
Menor added, "Vinceremos would also like to take this opportunity to thank Katherine and Mark Bellissimo and the many sponsors and riders who supported the 3rd Annual FTI Consulting Great Charity Challenge presented by Fidelity Investments®. We are always so thankful for the support of the equestrian community and the Bellissimo's interest and generosity in our community and all of its residents."
Judges for the event will include Katherine and Nicole Bellissimo, Chris Gilman, plus others that will be announced soon.