by Sophie St.Clair
The countdown to the USHJA Children's and Adult Amateur Regional Jumper Championships begins! Last week I received a mail from the USHJA outlining the format of the week, the schedule of events and my teammates and Chef d'Equipe. I will be on Team Number 1 from California with Lauren Kee, Jayme Omand and Peyton Masteller. Our Chef is Kelly Van Vleck.
My training plan has needed to be flexible the last couple of weeks. We had planned to attend the Blenheim Fall Festival to specifically work indoors.  But that plan fell apart when some of the indoor classes were changed to the grass. Then we thought we'd head to Los Angeles Equestrian Center but the Equidome was being used nearly non-stop. Going to plan B, my trainer David Sterckx said to me, "I want Sjapoo to feel like he is at a spa this week. He should be relaxed. Lots of hand walking, trail walking, not too much jumping and lots of flat work."
So, on Wednesday I did a small flat class working on getting Sjapoo's head down and stretching his back. I also created a packing list which I keep on the dry erase board in my trunk. Thursday, I hacked lightly. Friday, I went to the Los Angeles Equestrian Center for the L.A. International Jumping Festival. Sjapoo and I took time to flat early in the morning. Then we entered the Children's Jumper class and took first! We worked on the flat Saturday morning very early, watched a few of my teammates rake in the ribbons and then Sjapoo and I went on a trail ride in the afternoon. This is a great place to trail ride because the Equestrian Center is so large that just doing a loop around it is nice. The trails also go up into Griffith Park, one of the largest urban parks in the country, up behind Forest Lawn Memorial Park and all the way up to the Will Rogers State Historic Park and Museum. I'm sure it goes much further but that's as far as I've gone. Who could imagine that a person could trail ride in such a beautiful setting in the middle of a sprawling urban landscape like Los Angeles? Sunday, again we had an early morning flat and then entered a .90m jumper class just to get Sjapoo around and keep it easy for both of us. Sjapoo trailered back to our barn that afternoon. Monday I washed the poultice off his legs, and we had a long bareback ride and worked on lots of good basics.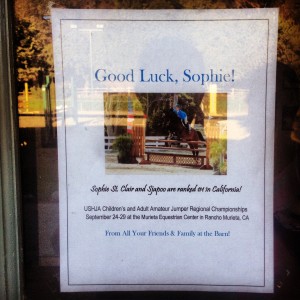 No one else from my barn is going to Sacramento so we will haul up in the small trailer with just my stuff and Sjapoo. David will do the hauling and I will be the groom. Low maintenance team! So many people at my barn have been really kind to wish me good luck and to help me get to Sacramento. I will definitely take strength from their positivity and encouragement. I'm very lucky to train at this barn.
We leave by car for Sacramento after the morning rush hour in L.A. My mom, my brother and I will follow David and Sjapoo. My dad will fly after work to meet us there. It's about 400 miles to Rancho Cordova just outside Sacramento where the Murieta Equestrian Center is located. It will be a long day in the car and will be perfect to try to wrap up my pile of homework before the show gets started. Stay tuned for mini updates as we head into competition.
To find out more about:
The Children's and Adult Amateur Regional Jumper Championships:
http://www.ushja.org/programs/jumper/ch_aahome.aspx
Kelly Van Vleck:
Sacramento International Horse Show