By Mira Korber
The COVID-19 pandemic has brought on a challenging time for all of us. For students who missed substantial numbers of school days due to competing on the winter show circuit, combined with an early end to in-person schooling, it has been a disruptive school year to say the least. Taking a breath after a busy winter season and chaotic spring is important, but now, what's next for young, high achieving equestrians?
Existing research on seasonal and summer learning loss shows that extended breaks in student education contribute to a "slide" that must be regained in the fall. While the degree to which this "slide" negatively impacts students varies by factors such as data source, subject matter, and individual student, it is clear that the impact of COVID-19 will only exacerbate learning loss, particularly in mathematics.
To that end, Blue Ribbon Scholars is offering education enrichment summer programming that personally addresses students' growing need for support in mathematics and language arts. With personalized mathematics instruction from middle school mathematics through AP Calculus, the Blue Ribbon Scholars summer program is different from traditional tutoring. Each student enrolled will receive a personalized, free response diagnostic mathematics test, tailored to their level, in order to pinpoint gaps in knowledge. Upon receiving the completed diagnostic, the Blue Ribbon Scholars team will assemble lesson plans and checkpoints to fill in those gaps, delivered through personalized Zoom instruction. Zoom instruction can be offered in a 1:1 or group setting depending on your preference.
For language arts, students will also receive a grade-appropriate writing prompt and grammar diagnostic, in order to pinpoint similar gaps, and the process of instruction will be the same as the mathematics model.
Below is a visual representation of the academic impact COVID-19 is projected to make.  In mathematics, students are likely to show much smaller learning gains compared to a regular school year, returning with less than 50% of typical learning gains and in some grades, nearly a full year behind normal circumstances. In reading, students are projected to return with 70% of typical learning gains, reflecting less of a slide than in mathematics, but still more than under normal circumstances.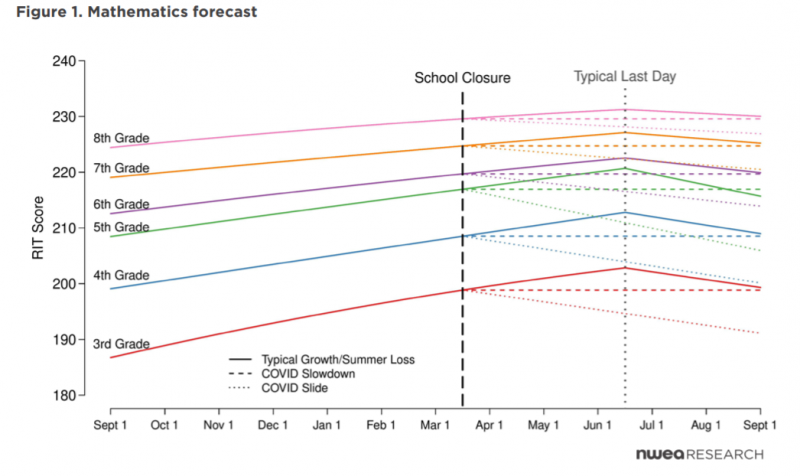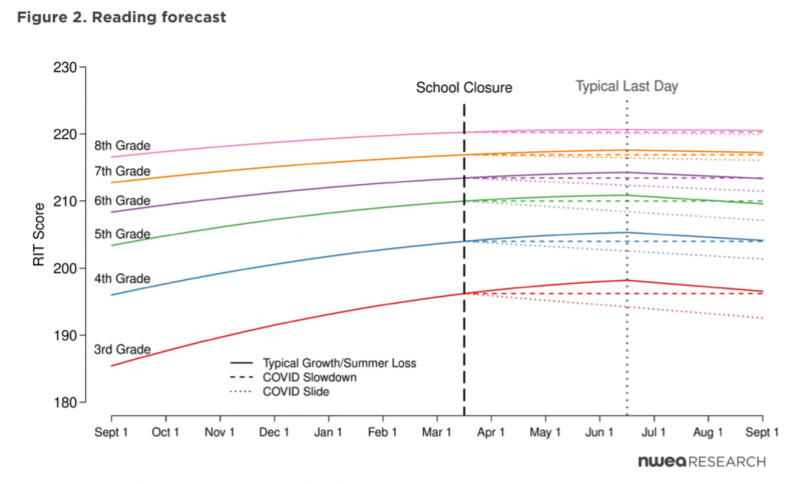 Let's look at some recommendations from expert educators and learning psychologists from the Collaborative for Student Growth at NWEA, a leading nonprofit institution dedicated to transforming education research through data analytics. 
Lessons from seasonal learning research reveal that to help students succeed academically, resources and support must be provided to families during and after this disruption, especially in mathematics, which often shows the steepest losses outside of regular school sessions.
All students and families need access to appropriate, engaging mathematics and reading materials, instruction, and support during coronavirus closures to prevent opportunity gaps on a national scale.
A data-driven approach to guide curriculum and instruction will support students, especially to target resources and attention for communities most impacted by COVID-19 school closures.
Schools, families, and communities are experimenting with online learning, homeschooling, exploring extending the school year and/or providing additional supports when school resumes to support students. Collaborative and timely research will enable patterns of loss to be identified that can be generalized to the larger population of schools throughout the United States and define potential policy for schools' recovery across the country.
About the Author
Mira Korber graduated cum laude from Yale University with a degree in Latin American Studies. Following three years in investment banking, where she gained international transaction experience, she founded Blue Ribbon Scholars to pursue her passion of providing education services and building community within the equestrian scholar-athlete community. Outside of work, Mira enjoys competing with her 9-year old mare in the 1.30m to 1.40m jumpers. Learn more at www.blueribbonscholars.com.