WASHINGTON (June 13, 2013)—The U.S. House Appropriations Committee has voted to block funding for inspections at prospective horse slaughter plants, which if it survives the entire legislative process, would halt any effort to resume slaughter for these animals on U.S. soil. The committee backed, by a voice vote, an amendment to the agriculture appropriations bill offered by Reps. Jim Moran, D-Va., and Bill Young, R-Fla., to forbid spending by the U.S. Department of Agriculture on inspections U.S. horse slaughter plants in Fiscal Year 2014. A similar spending prohibition was put in place in 2005, however, it was not renewed in 2011, leading to the opportunity for horse slaughter plants to reopen in the U.S at the estimated annual expense of 5 million taxpayer dollars.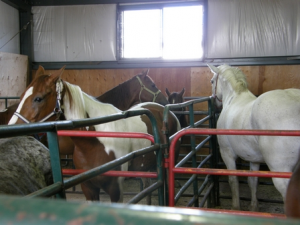 Wayne Pacelle, president and CEO of The Humane Society of the United States, issued the following response:
"American taxpayers don't want their money wasted on the inspection of horse slaughter plants that trade in the tainted meat of our former show, race and work horses. The federal budget is already strapped, and we thank the House Appropriations Committee for recognizing that this is one expenditure we will all do better without. Horses belong on the range or in the stable, not on a foreign dinner plate."
Background:
President Obama's proposed FY 2014 budget included a request for Congress to prevent tax dollars from supporting horse slaughter.
Currently, there are no horse slaughter facilities operating in the U.S., but USDA confirms it had received at least six applications from prospective abattoirs.
American horses are raised to be companions, athletes and work horses. They are often treated with drugs, both legal and illegal, that can endanger the food supply. There is currently no system in the U.S. to track medications and veterinary treatments given to horses throughout their lives to ensure that their meat is safe for human consumption.
"Kill buyers" gather up horses from random sources and profit by selling horsemeat from healthy horses that bring the best price per pound for their meat. USDA reports show that approximately 92 percent of American horses going to slaughter are healthy and would otherwise be able to go on to lead productive lives.
The methods used to kill horses rarely result in quick, painless deaths, as horses often endure repeated blows to make them unconscious and are sometimes remain conscious during the slaughtering process. When horse slaughter plants previously operated in the U.S., the USDA documented severe injuries to horses in the slaughter pipeline, including broken bones and eyeballs hanging from a thread of skin.
The Safeguard American Food Exports Act, H.R. 1094 / S. 541, introduced this year by U.S. Sens. Mary Landrieu, D-La., and Lindsey Graham, R-S.C., and Reps. Patrick Meehan, R-Pa., and Jan Schakowsky, D-Ill., is a bipartisan measure that would outlaw horse slaughter operations in the U.S., end the current export of American horses for slaughter abroad, and protect the public from consuming toxic horse meat.
Media Contact: Stephanie Twining, 240-751-3943, stwining@humanesociety.org
Subscribe to Wayne Pacelle's blog, A Humane Nation. Follow The HSUS on Twitter. See our work for animals on your Apple or Android device by searching for our "Humane TV" app.
The Humane Society of the United States is the nation's largest animal protection organization, rated the most effective by its peers. Since 1954, The HSUS has been fighting for the protection of all animals through advocacy, education and hands-on programs. We rescue and care for tens of thousands of animals each year, but our primary mission is to prevent cruelty before it occurs. We're there for all animals, across America and around the world. Celebrating animals and confronting cruelty – on the Web at humanesociety.org.
---