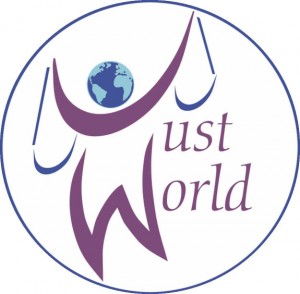 Chantilly, France – July 16, 2013 – For the second year in a row, the Jumping Chantilly organizing committee, led by Gérard Manzinali, has chosen JustWorld International as its official charity partner for the Jumping Chantilly leg of the 2013 Longines Global Champions Tour. From July 19-21, the exquisite venue parallel to the Chateau de Chantilly and the beautiful Grand Stables, will be adorned with JustWorld's signature blue and purple colors, while allowing JustWorld the opportunity to raise awareness for its mission in the developing world.
The JustWorld International team will act as the official welcoming committee for the event. Each day, JustWorld volunteers will welcome visitors at the Jumping Chantilly information booth. Supporters will be able to purchase JustWorld merchandise, and the JustWorld team will sell the official Jumping Chantilly 2013 programs, for which all proceeds will be donated to JustWorld International.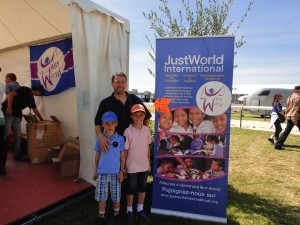 The Betaille Family poses in front of the Jumping Chantilly information booth.
The JustWorld team will also distribute start lists to those who purchase the programs and will coordinate various autograph signing sessions with top international riders from the JustWorld family. There will also be a drawing for one-of-a-kind prizes during the event. Prizes offered will include the opportunity for a few lucky individuals to walk the course of a top-level jumping class alongside some of the best Grand Prix riders in the world.
"We are incredibly honored and proud to have been chosen once again as the official charity partner of Jumping Chantilly," expressed Jessica Newman, co-founder and executive director of JustWorld. "Gérard Manzinali and his team have offered us a unique opportunity to spread awareness about JustWorld to a large crowd of attendees – opening their eyes to the plea of the children that we help in impoverished communities throughout the developing world. It's a wonderful opportunity for us!"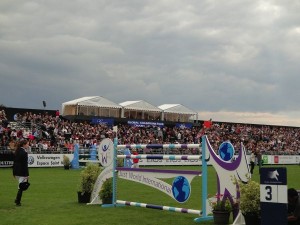 The Grand Prix Arena at Jumping Chantilly
About JustWorld International
Founded in 2003 by Jessica Newman, JustWorld International is a not-for-profit, humanitarian organization, which funds life-changing nutrition, health and hygiene, education, as well as leadership and cultural development programs for impoverished children in Cambodia, Honduras and Guatemala.  There are currently more than 500 Rider and Technical Official Ambassadors representing 40 different countries, whose efforts to support JustWorld's projects have raised in excess of $6 million to date.  For more information on JustWorld, please visit www.justworldinternational.org.
JustWorld International is a 501(c)(3) charitable organization in the United States and a registered Association 1901 in France both for which donations are tax deductible to the fullest extent of the law. In addition, tax-deductible donations are accepted in Canada and Switzerland. JustWorld International has no political or religious affiliation.