The Complete Resource—Training, Conditioning, and
Competing in All Three Phases Phillip Dutton with Amber Heintzberger
Trafalgar Square Books is pleased to announce the publication of Modern Eventing with Phillip Dutton by Phillip Dutton with Amber Heintzberger. This fabulously illustrated book covers training, conditioning, and competing in all three phases of events: dressage, cross-country, and show jumping. In addition, Dutton includes full chapters describing the special needs of the event horse, with tips and advice from the top experts who make up his internationally respected eventing team—his groom, his farrier, and his veterinarian. You'll find guidance in everything from daily maintenance to braiding and turnout, and from hoof care and studs to common health issues and "vet box" care of your horse during competitions.
With tips for finding the right event prospect, whatever your level of experience, as well as Dutton's own schooling exercises, both on the flat and over fences, Modern Eventing with Phillip Dutton promises to give you the leg up you need for a safe and confident start in the sport.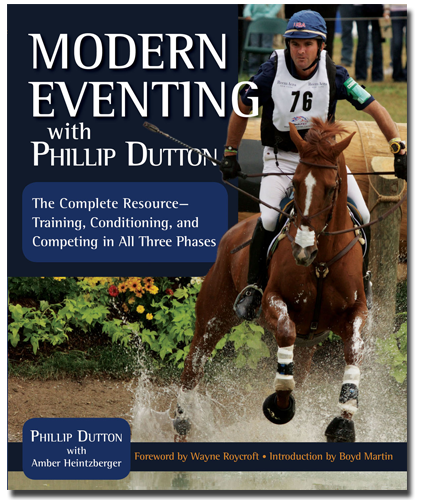 PHILLIP DUTTON is a 12-time USEA Leading Rider of the Year and 5-time Olympian with two gold medals. He has represented Australia in three Olympic Games and four World Championships, and competed at the 2008 Beijing Olympics, 2010 World Equestrian Games, and 2012 London Olympics for the United States. Phillip has been named the top FEI World Event Rider, is a founding member of the Professional Rider's Organization (PRO), and was voted the 2009 Developing Rider Coach of the Year, having coached many adult amateurs and USET shortlisted riders. He lives with his wife and three daughters in West Grove, Pennsylvania.
AMBER HEINTZBERGER is a freelance writer and photographer specializing in equestrian subjects. She is coauthor of Beyond the Track: Retraining the Thoroughbred from Racehorse to Riding Horse.
ALL YOU NEED TO KNOW ABOUT: Tack & Equipment • Finding the Right Horse • Putting Together an Eventing Team • Horse & Rider Fitness • Basic Dressage Schooling • Cross-Country: No Fences • Cross-Country Jumping • Introduction to Show Jumping • Mental Preparation for Horse & Rider • Warming Up for Each Phase • Riding the Dressage Test • Walking the Cross-Country Course • Planning the Show Jumping Round • Staying Clear and Making Time • Grooming, Braiding, & Quarter Marks • Feeding the Working Athlete • Hoof Maintenance, Shoes, & Studs • Common Health Problems • Care of the Event Horse During Competition • And So Much More!
352 pp • 8¼ x 10¼ • 269 color photos and 11 diagrams • 978 1 57076 489 9 • $39.95 pb
 For more information contact mcook@trafalgarbooks.com.
To order contact: Trafalgar Square Books, Box 257, Howe Hill Road, N. Pomfret, VT 05053
800.423.4525 ∙ www.horseandriderbooks.com