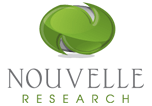 Nouvelle Veterinary, Inc.'s new Cur-OST® PURE EQ is a proprietary blend of potent levels of Curcumin 95%, Boswellia 65%, Vitamin C and CoEnzyme Q10 to tackle critical pain and inflammation quickly.  The new PURE EQ is focused on severe pain and inflammation associated with a variety of conditions and has been shown to be very effective in aiding in the management of acute and chronic laminitis as well as joint problems.  Results have been seen in preliminary trials in as little as 5 days in many cases.  In most instances, once the patients have responded and shown improvement, they can be switched to our EQ PLUS or EQ Green product for long term support.  Inflammation is at the root of many clinical conditions including arthritis, tendon injuries, poor immune health, laminitis, navicular syndrome, COPD and EIPH.  If you want to improve recovery, you must control the inflammation. Cur-OST® EQ products are the only line of supplements available that completely address the inflammatory process.
Our new Cur-OST® Immune & Repair EQ product is an enhanced immune support formula combining micronized mushroom derived beta-glucans with essential amino acids; L-Glutamine, L-Carnitine and L-Arginine.  Various mushroom beta-glucans have been shown in research trials to enhance immune activity by stimulating lymphocyte, natural killer cell and dendritic cell function, aiding in recovery as well as protecting overall health.  L-Glutamine is a conditional essential amino acid that has been shown to not only improve overall immune function, but protects against oxidative stress, improves cellular function and intestinal health.  L-Carnitine aids in the mobilization and utilization of various fatty acids for improved energy production as well as cellular function.  L-Arginine is a precursor to the production of Nitric Oxide, which may improve or enhance blood circulation throughout the body.  The Immune & Repair formula has been utilized to support overall immune health, recovery during times of infection and support during times of stress, but has also shown benefits in recovery from various injuries and chronic lameness conditions.
Nouvelle Veterinary, Inc. is constantly striving to find solutions to everyday problems affecting our horses, our pets and ourselves.  View our complete product line for horses, companion pets and humans at www.nouvelleresearch.com or www.curost.com.  All of our supplements are veterinary formulated, research supported and clinically utilized to aid in patient recovery.
All inquiries regarding this press release may be made to Dr. Tom Schell by phone at 1-800-476-4702 or email to tschelldvm@gmail.com. More information may also be obtained by visiting www.curost.com.