GEORGETOWN, KY – MARCH 10, 2014 Old Friends and New Vocations have entered into an agreement to benefit Thoroughbreds in their post-racing and post-breeding careers. The two organizations each fulfill a different aftercare need. New Vocations places off the track Thoroughbreds with new owners in new careers, while Old Friends is primarily a home for those who, due to old age or physical issues, require permanent retirement. But with time and care, some horses' needs change.
That happened for Gameday News, owned and trained by D. Wayne Lukas. The son of Corinthian broke his maiden on March, 2012 at Oaklawn Park. Following a few allowance starts, he injured his ankle, and with the help of Old Friends Board member Cathy Riccio, he was retired to Old Friends. After nearly two years of care and paddock rest, Gameday News received clearance from Dr. Steve Allday, who x-rayed the site of his healed injury and pronounced the five-year-old fit and ready to enter a new career. Gameday News will always have a home available at Old Friends when his second career ends.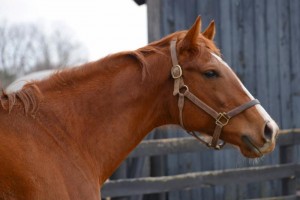 "It's a clear case of doing what's best for the athlete," said Old Friends president Michael Blowen. "He's a beautiful, energetic, kind horse who is adored by the staff and visitors. But he's too young and healthy to be retired. We're very grateful that New Vocations has accepted him into their program. It's an example of groups working together, with the help of the Thoroughbred Aftercare Alliance, to do what's best for the horse."
"We are extremely thrilled to be partnering with Old Friends," explained New Vocations program director Anna Ford. "Being able to capitalize on each program's strengths will make it possible for us to help more horses."
New Vocations focuses on rehabbing, retraining, and rehoming retired racehorses. Gameday News entered the retraining stage of the program in late March and has already been started back under saddle. He will be available for adoption in the near future. To learn more go to www.newvocations.org.
For more information about Old Friends go to www.oldfriendsequine.org or call the farm at (502) 863-1775.