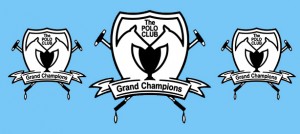 WELLINGTON, FL-Oct. 19, 2013—-The Polo School at Grand Champions will host a Certified Horsemanship Association (CHA) Certification Clinic, Oct. 21-24, at Jim Brandon Equestrian Center.
It will be a standard English/Western certification clinic with jumping certifications available.
Auditors are welcome for the full clinic or may come and observe any time during the four-day clinic.
The CHA, a non-profit association, promotes excellence in safety and education for the benefit of the entire horse industry. This is accomplished by certifying instructors, accrediting equine facilities and publishing educational resources.
For more information or to audit, contact Robin Sanchez, director and head instructor of The Polo School at Grand Champions at robin@pololessons.com.
Sanchez recently attended the Oct. 17-20 CHA International Conference in Buffalo, N.Y.
JIM BRANDON EQUESTRIAN CENTER
WHERE: 7500 Forest Hill Blvd., West Palm Beach
CONTACT NUMBER: 561-966-7090
GRAND CHAMPIONS FALL POLO SCHEDULE
Oct. 18-20, US Trust Cup presented by Polo Gear
Oct. 25-27, USPA Fall Plates
Oct. 30-Nov. 9, USPA North America Cup
Nov. 1-3, Pedro Morrison Memorial
Nov. 8-10, Palm Restaurant Invitational
Nov. 13-24,The National 20-Goal Championship
GRAND CHAMPIONS POLO CLUB
WHERE: 13444 Southfields Road, on the corner of South Shore Boulevard and Lake Worth Road, Wellington, 561-644-5050.
INFORMATION: There are great field side views for tournament action at the home base of pro team Audi. Everyone is welcome to watch high and medium goal polo in a relaxed atmosphere during the spring and fall tournament season and other special events including the International Cup in November, Buzz Welker Memorial Junior Tournament in March, Women's Championship Tournament and Gay Polo League International Tournament, both in April.