Parts One, Two, and Three
Uta Graf, Friederike Heidenhof, and Pferdia TV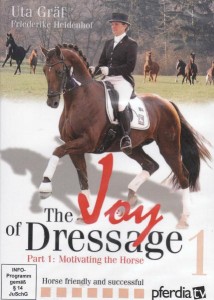 Trafalgar Square Books is pleased to announce the release of The Joy of Dressage, a three-part DVD  set from longtime equestrians Uta Graf and Friederike Heidenhof.
In this new DVD series Uta Graf explains her methods; training that respects the horse, natural living conditions in open stabling, and international-level dressage horses living in paddocks in large groups. Imparting the pleasure of riding as a joint endeavor to one's horse is by far the most important goal in Graf's training and equine husbandry.  Special DVD highlights include behind-the-scenes glimpses into her training concept for her top horses, plus Graf's floodlit Grand Prix Kur with Le Noir.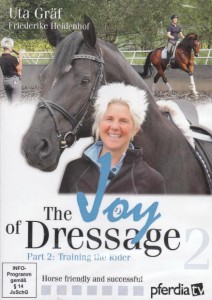 The Joy of Dressage is available in three individually priced parts:
– PART ONE: MOTIVATING THE HORSE
 1 DVD – 80 minutes – 978 3 95499 003 0 – $49.95
– PART TWO: TRAINING THE RIDER
 1 DVD – 80 minutes – 978 3 95499 004 7 – $49.95
– PART THREE: COMPETITIVE SUCCESS
 1 DVD – 60 minutes – 978 3 95499 005 4 – $49.95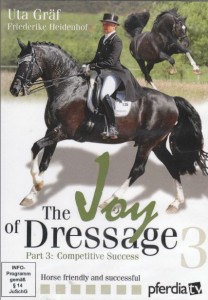 UTA GRAF has made a name for herself on the international scene through her fine classical riding style, which is particularly demonstrated during her harmonious performances. She has been a member of the B-Kader dressage team since 2011 and was on the long list for the London 2012 Olympics, Her unusual combination of ambitious dressage riding and natural horses care in groups with open stabling have made her a trailblazer of the changing attitude toward horses and dressage.  She lives with her partner Stetan Schneider at Gut Rothenkircher Hof in Kirchheimbolanden.
FRIEDERIKE HEIDENIOF has been training with Uta Graf since 2002 and has been following her competitive career since Uta's first success at regional S-Level. Having been trained in her youth following the "old school" method, she is particularly keen to show the classical training methods are not obsolete, but are more relevant now than ever.