Renowned Equestrian Judy Garofalo-Torres Will Be Honored with Much
Deserved Humanitarian Award at Second Annual TBDA Gala
NEW YORK (March XX, 2014) – The Tick-Borne Disease Alliance (TBDA), one of the country's most authoritative voices on Lyme disease, is pleased to announce that this year's Humanitarian Honoree will be awarded to Judy Garofalo-Torres, international Grand-Prix show jumping rider and member of the United States Equestrian Team. A competitive rider and avid animal lover since the age of 12, Garofalo-Torres was infected with Lyme disease during one of many rides at her farm in Millbrook, New York.
"I have been around horses all my life, and never considered the possibility that I was putting my career and personal life in danger," said Garofalo-Torres. "It wasn't until months later when I was initially infected with Lyme disease that I began to experience severe symptoms. At the time, I was training for the Hampton Classic Horse Show in 2010, and had a very difficult time performing at my best level. In fact, I had to forfeit myself from the competition that day due to an unforeseen incident that made me so sick I could barely stand. This scary incident eventually led to my diagnosis with Lyme disease."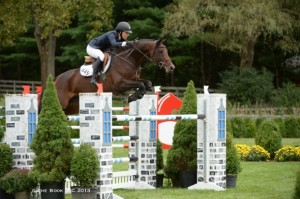 Before she was officially diagnosed with Lyme, Garofalo-Torres visited her general practitioner after she began to experience debilitating symptoms that mimic those of other diseases. After several visits to the doctor, Garofalo-Torres was told that the symptoms were all in her head and recommended visiting a psychiatrist. Since then, Garofalo-Torres has shown great strength in her brave fight against Lyme which possesses an unrivaled commitment to raising awareness and funds for both human and animal Lyme sufferers across the country.
A business owner herself, Garofalo-Torres is equally committed to promoting organizations and products that help with muscle and joint stiffness stemmed from the effects of Lyme disease. One of her current sponsors, BeneFab Products, provides products for horses and humans, which are infused with ceramic material (sometimes known as far-infrared fabric) that help increase circulation and alleviate pain. Garofalo-Torres also acts as a resource and support system for equestrian riders who have been affected by Lyme throughout the country.
"It is a privilege to honor Judy at this year's gala, as she has been a huge supporter of the Tick-Borne Disease Alliance and advocates for both animal and human sufferers of Lyme disease," said David Roth, Co-Chairman of TBDA and Managing Director at Blackstone. "Although a Lyme vaccine has been identified for animals, the threat still lingers and prevention is imperative for animals and owners of animals, as it is not uncommon that humans can contract Lyme disease simply from coming into contact with ticks that live on the surface of pets."
The gala will be held on May 1, 2014 at Chelsea Piers in New York City. This year's theme, entitled "The Great Imitator Masquerade Ball," looks to shed light on this debilitating disease, which often mimics other diseases with similar symptoms, and will be the premier kick-off event for Lyme Disease Awareness Month in May. The gala is attended by more than 600 prominent guests, including some of the nation's leaders in the financial and business industry, along with a community of high net worth individuals who are committed to supporting this cause as a result of personally being affected by this disease.
Money raised at this year's gala will be help TBDA bolster awareness, promote advocacy for Lyme and other tick-borne diseases, and raise funds for research and an accurate and reliable diagnostic tool. Once this tool is in place and early diagnosis can be identified properly, patients can be prevented from becoming chronic sufferers.
For more information and to purchase tickets to this year's gala, please visit www.TBDAlliance.org, TBDA's Facebook page, Twitter page, or call 914-579-1000.
About the Tick-Borne Disease Alliance
The Tick-Borne Disease Alliance is dedicated to raising awareness, promoting advocacy and supporting initiatives to find a cure for tick-borne diseases including Lyme. As part of its efforts, TBDA is embarking on a quest to develop a reliable diagnostic tool as a first step toward eradicating the disease. Working with others in the tick-borne disease community nationwide, TBDA seeks to raise public awareness through education and create a unified voice for advocacy regarding the current epidemic in order to make a real difference. More information about TBDA, Lyme and tick-borne diseases, and prevention and protection can be found at www.TBDAlliance.org.