DUBLIN, Ireland – 4 February 2013 – For more than two decades, Tredstep Ireland has been creating top quality products for equestrians. Today the company announced a bold move in the next phase of their evolution – the introduction of the exquisite Symphony Breech collection.  This collection signifies a sophisticated addition to the boots and chaps legacy of the Tredstep brand, and an exciting new direction for the company as it moves toward the development of high performance equestrian clothing.
More than two years in development, designs for the Symphony Breech Collection were extensively researched by Tredstep and influenced by top riders Worldwide. The result of this research is the creation of Tredstep's proprietary Motion Fit Design features that accommodate perfectly the rider's constant movement and forms the foundation for the Symphony Collection. Inspired by the extraordinary beauty and precision of symphonic music, each of the Symphony breech styles were conceived to provide riders of every discipline with breeches that promise complete comfort, a beautiful fit, and enhanced performance.
All Symphony breeches are differentiated by three unique and thoughtful design features that run throughout the entire collection including:
Calf/Integrated Knee Sock – The Integrated Sock and Cuff design accommodates varying calf sizes. It streamlines and elongates the leg producing a secure feel with full freedom of movement.
Definition Waistband – Designed using circular pattern techniques to improve the definition of the rider's waist and eliminating belt pulling and gaps.  It creates a more comfortable and noticeably more flattering fit, particularly at the lower back.
Articulated Knee Pad – The upper area of the kneepad is lightly padded for increased comfort against the saddle, and the lower area, which is inside the rider's boot, is scalloped to reduce bulk and aid in the flexion of the knee. The Symphony Kneepad maintains the front curve and look of the traditional kneepatch but it has been specifically designed in terms of shape, stitch articulation, and graded padding to actively aid the unrestricted bending and flexion of the rider's knees.  Scrolled patterns and butterfly seams contour the lower leg shape to provide a superior fit and reduce bunching of fabric at the back of knee.
Symphony collection breeches are available in sizes 24-34 Regular and Long for Ladies, and the Azzura breeches are available in sizes 28-40, Regular and Long for Gentlemen.
To ensure that there is a breech for every rider in the range, the Symphony Collection is comprised of 3 styles: – the Argenta, the Azzura and the Rosa.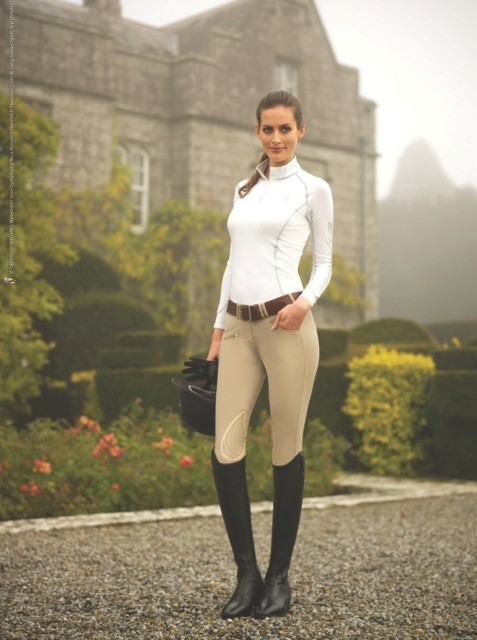 Argenta – 1st Symphony
The Argenta is designed to allow the rider to feel, sense and respond to the movement of the horse at all times.  The Argenta defines a new standard in high performance breeches.  Tredstep's Motion Fit Design features are expressed using Schoeller Prestige fabrics with Nano Sphere treatment.  This unique composition gives the rider total freedom of movement in a durable, self-cleaning 4-way permanent stretch fabric that breathes/regulates moisture and retains its shape, yet feels soft to the skin. Once again Tredstep offers comfort, fit, and uncompromising performance but this time applied to breeches and realized beautifully.
The Argenta styles include a knee patch and a full seat version and are available in White, Tan and Grey.
Azzura – 2nd Symphony
The Azzura breeches are executed using Tredstep's own TS Evolution fabric to create a high-performance mix of microfiber, cotton and yarns that produce a 4-way stretch breech with ultimate shape retention and a soft, skin-friendly feel for the rider.
The Azzura incorporates the latest in technologically advanced materials in the form of silicone integrated into the kneepad.  This provides an enhanced grip and reduced saddle friction while allowing for increased mobility in the knee area.  Azzura breeches are an expression of leading edge technology and design innovation both converging to provide a superior riding experience.
The Azzura is available in White and Tan with front zip knee patch and full seat versions for ladies, and a knee patch version for gentlemen.
Rosa – 3rd Symphony
The Rosa is a fresh, modern take on a traditional breech. Designed with classic beauty and high performance features to give riders a beautifully balanced breech with unmatched performance and style.  It features TS Evolution fabric in conjunction with Schoeller Nano Sphere to create a high-performance mix of microfiber, cotton and yarns that produce a 4-way stretch breech with ultimate shape retention and a soft, skin-friendly feel for the rider.
Available in three styles including a front zip knee patch, front zip full seat and a side zip knee patch, the Rosa colors include White, Tan, Truffle and Blue.
"We've incorporated world class fabrics, stylish design elements and carefully detailed features to create a collection of the very best breeches available today," said Aidan Keogh, Tredstep Ireland Managing Director. "Whether a rider wears them for one hour or all day, we're confident that our Symphony collection breeches will provide them with the ultimate feeling of comfort, confidence and style to perform at their best."
About Tredstep Ireland
In 1993, Irish entrepreneur and Three-Day Event rider Aidan Keogh saw the need for a better half chap, and set out to create his own.  A former design student who studied fine arts, Keogh believed that he could improve the comfort, performance and aesthetics of riding wear, while respecting the traditions of a Centuries-old sport.  His product eventually redefined the market and brought half-chaps to the mainstream where they are now standard equipment for every rider. Along the way he created Tredstep Ireland, a company driving innovation, but ever respectful of the traditional roots of equestrian sport.
Tredstep offers riders a complete collection of chaps, boots, gloves and accessories including the best-selling Raphael tall boot, part of their superior Renaissance Collection, all designed to make the riding experience more enjoyable. For more information on Tredstep products please visit us at www.tredstep.com
Media Contact:
Candace FitzGerald
Dobbin Group
(603) 738-2788