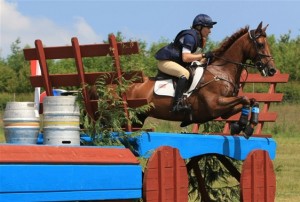 A solid CIC*** performance from a Chailey Stud veteran, followed by victory at Tweseldown, characterised a busy few days of eventing for Liz Halliday last weekend. 
The professional dual sportswoman began her weekend by contesting the Barbury International Horse Trials in Wiltshire where two of her horses – Fox (Red Letter Day II) and Blackie (Fernhill by Night) – were competing. 
Fox and Liz have formed a strong partnership and close personal bond during their near-decade together and rolled back the years to record a very pleasing result in a hotly contested CIC*** section. Dressage has never been Fox's strongest discipline but a tidy test gave cause for optimism heading into the Show Jumping arena. Unfortunately three rails down would leave the pair towards the tail of the field. 
But Barbury's monster Cross Country course and the sweltering temperatures ensured that a stern final round remained. And here Fox excelled by jumping clear amid the tough conditions that forced many others to falter. In the end 38th position from a field of 66 was a commendable effort from the 16-year-old who, now nearing retirement, was making just his third appearance of the season.  
 After a difficult couple of events Blackie looked to be getting back to his best in the CIC** competition thanks to decent showings in both the Dressage and Show Jumping. Unfortunately an early run out at a difficult fence on Cross Country would mar their final placing, even if the rest of the tough course was ridden foot perfectly. Liz remains confident that he has now turned a corner. 
 Having ridden at International level over the weekend, Halliday travelled to Tweseldown in Hampshire on Monday where Cooley (HHS Cooley) was entered in the Intermediate Novice section. A strong test in the Dressage arena set the tone for a near-immaculate overall performance that saw the pair ultimately triumph by more than four points thanks to a clear Show Jumping round and imperious Cross Country run. 
 Liz Halliday: "On the competition front it's been a great weekend, and not just because of Monday's victory. Cooley was exceptional across all three disciplines and really demonstrated what a good all-round horse he is. Of course it's always great to win, but it was actually Fox's result that pleased me most of all. We've been together a long time and contested our fair share of three star events, but it won't be long before we have to retire him. That's why last weekend it meant so much to have him doing what he loves best: competing. The Cross Country was terrific and he really showed some of the younger horses how it's done over a big course. We didn't go very fast as I was trying to look after his legs on the firm ground, but he didn't miss a beat over the fences. It was a pleasure to be out there with my old friend." 
 Sadly, the Tweseldown event was marred by a serious injury to top young British rider Laura Collett who suffered a heavy fall during the Cross Country. She remains in a stable condition in hospital. 
 "I'd also like to wish Laura Collett a speedy recovery," added Liz. "I have of course competed against her many times and she is a very experienced and talented rider. There's a mutual respect that exists between all of the riders as we know the same risks apply to everyone. It really brings home the realities of our sport when someone as talented as Laura is involved in an accident like that. Hopefully it won't be long before she's back out there competing again. We wish her all the best."