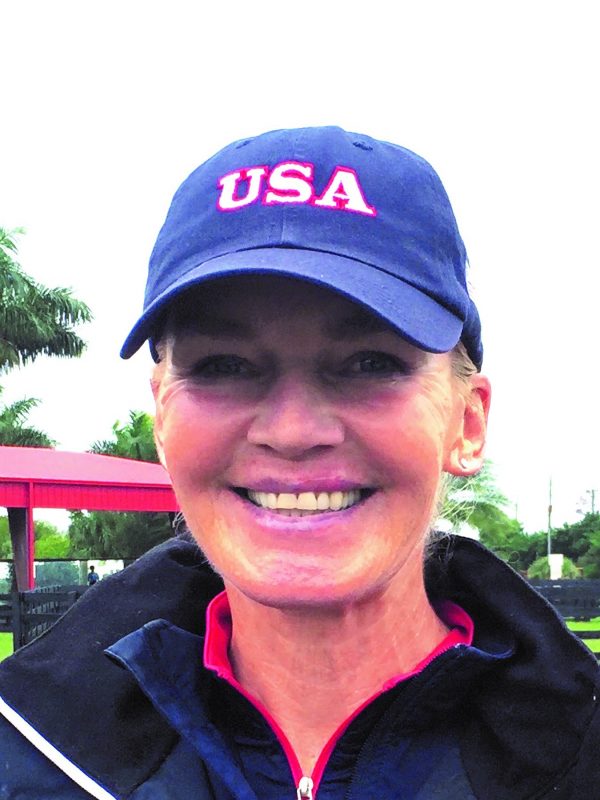 A sought-after trainer and clinician, American Olympic dressage rider Christine Traurig was born and raised on her parents' breeding farm near Verden, Germany. She rode and trained for the Hanoverian Elite Sales in Verden before moving to the United States in 1982, where she assisted Bernie Traurig in operating an import and sales business of dressage horses and jumpers. Christine and Bernie were instrumental in establishing the Saudi Arabian Equestrian Team and Federation. With her equine partner Etienne, Christine was a member of the 2000 Sydney Olympic bronze medal team. She now operates Christine Traurig Dressage Stables, Inc. in Rancho Santa Fe, California. She conducts clinics and symposiums all over the U.S. and in 2015, was appointed to the position of USEF National Coach for Young Dressage Horses. Do you have a question you want Christine to answer? Send questions to editor@sidelinesnews.com.
What tips do you have for conquering nerves before a competition?
The best way I dealt with nerves before competition was that I stayed in my "bubble." I always had a detailed schedule for how to get myself and my horse ready, right up to that very moment I would get on my horse for the warm-up. Everything was laid out to the minute; I stayed very involved with my horse, like hand walking, grooming, braiding or cleaning my tack and my boots. I would make time to sit ringside to do my imagery (memorizing the test and then visualizing myself in the arena and riding the test in my mind from movement to movement). I would not watch other riders or talk to them about their rides and let their performance affect my plan of how to ride the test on my horse. I always stuck to: Don't think negative thoughts like, "What if I have a mistake in the two tempis!" Think the positive and good into being and stay in your "bubble."
How do you suggest riders keep from getting "burnt out" on the lower levels and giving up? 
Burnout at lower levels can only happen if the rider has unrealistic expectations about herself/himself or the horse. Nothing in riding is about instant gratification; everything is about development and progress over time. I often hear students talk to each other saying, "My lesson was so boring, I stayed on a 20-meter circle doing transitions the whole time. I didn't even get to do a shoulder-in." That's where the problem starts.
Who was your inspiration when you started riding and why?
My inspiration as a kid was Mrs. Helga Koehler, the wife of the former director of the Hanoverian Elite Sales in Verden, Germany. When I was 13, she took me under her wing. She was an amazing horsewoman, a fantastic jumper rider and dressage rider to grand prix. All her jumpers could piaffe and passage. She had an immense passion for training young horses and there was never a day where she would not sit at the dinner table talking with excitement about how the horses were developing.
Do you do off-the-horse exercises to help with riding fitness? What do you do?
I think stretching is important to loosen my back, shoulders and hips. That is what I do every day. I don't believe in heavy weight training; riders should have long and lean muscles. Stamina and flexibility are very important; these need to go hand in hand. If there is one part of the rider's body that I feel needs to be strong, it would be the core. Exercises to strengthen the lower back and the stomach will achieve that.
What are some of the most common mistakes you see in novice riders?
The most common mistake I see novice riders make is that they don't spend enough time on their position. One must not forget: The function of the aids depends on the correct form in the rider's position.
What can riders do to make the most of every lesson?
Students need to be responsible and accountable in their lessons. The success of a lesson is not the teacher's, but the rider's responsibility: Be on time, be prepared and apply yourself. Take initiative and apply what you have learned in previous lessons. In that way, a rider will be able to add another piece of information to their already-achieved skill. Over time, the sum of these pieces make a well-educated rider.
For a hunter rider who wants to try dressage, do you think they should use their own familiar horse and learn together or learn on a different horse?
A hunter rider who is exploring the sport of dressage should most definitely ride a trained dressage horse to form an impression and get a feel. Dressage horses feel very different from hunters. The levels of impulsion, collection, engagement and connection are very different. Then, if the rider is going to stay with hunters and wants to upgrade hers/his flatwork, the rider must understand how much of the dressage training is applicable for the horse. Suppleness, adjustability and self-carriage most certainly are directly applicable. If the rider wants to change his hunter into a dressage horse, he/she has to be realistic about what is achievable in relation to the horse's talent for dressage.
Double D Trailers Info