By Elaine Wessel
It would be difficult to add more horses into the life of the husband-and-wife team of Bastian Schroeder and Margot Peroni. Between owning and training four horses, actively traveling the 'A' show circuit and founding and operating a successful international equine transportation company, EquiJet, the two have fully embraced the equestrian lifestyle. With horses as a common denominator in their relationship, Bastian and Margot have managed to seamlessly navigate the intricacies of both their personal and professional lives together, accruing major successes along the way.
Although they were raised on different continents, the couple's childhoods mimicked each other in a major way: horses. Growing up in Germany, Bastian's love of horses was ingrained from a young age. He was born to parents who encouraged him to ride and saw him through a competitive riding career in his home nation. A third-generation horse person, Margot traces her equestrian roots back to World War II, when her grandfather rode in the last mounted cavalry. Her mother and siblings rode Saddlebreds, which eventually segued into hunters and kicked off the horse show bug for the younger generation.
Meeting and Marriage
After moving to the United States and settling in New Jersey, Bastian was introduced to Margot via a mutual friend in the horse business, and the two married in 2014.
"I think that if either one of us was married to someone that wasn't doing what we're doing now, it probably wouldn't have lasted very long," Margot said. "The horse lifestyle is such a commitment, especially when you own a few and like to do everything hands-on like we do. The fact that we're both passionate about the sport and the lifestyle is part of the reason our relationship works, and I think it's important to have something that both people are into. We have a lot of fun doing it together."
Bastian agrees, adding that he and his wife are a nice complement to each other that keeps their lifestyle thriving. "Horses are a common thread that dominates the relationship, and I think it's a good understanding for both of us," said Bastian. "Since Margot rides and competes so well, I'm more inclined to want to buy more horses together and be even more successful at what we're doing, both personally and professionally."
The power couple has racked up thousands of miles on the road together, traveling to and from top-level competitions across the country. Currently, Margot rides horses Casario and Orlon in the older amateur owner hunters, and the 4-coming-5-year-old Ivar is getting ready to start his career in the baby green hunters and pre-green hunters. No stranger to the winner's circle, Margot has achieved considerable success with her string of home-trained horses, and shows no signs of slowing down.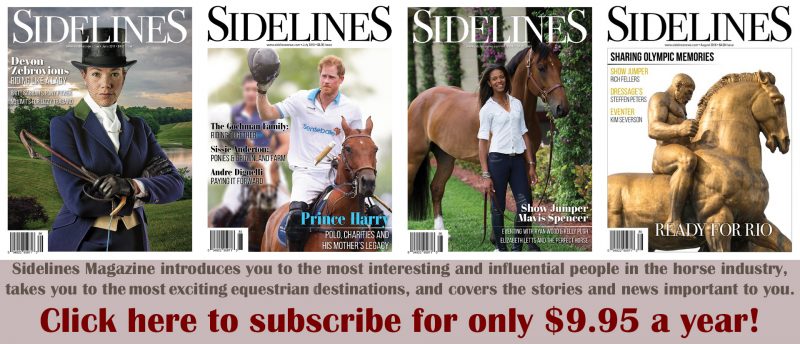 Success in the Ring
In 2015, Margot rode her German Sporthorse, Orlon, affectionately known as "Baby O," to the Amateur Owner 3'3″ 35 and Under US Equestrian Horse of the Year title and in 2016 led her own Encore B to the Reserve title after earning championships at Old Salem, HITS Ocala, Garden State Horse Show, HITS on the Hudson and Lake Placid, among others. Encore B and Orlon also boasted top ribbons at Capital Challenge Horse Show, Pennsylvania National Horse Show, Washington International Horse Show and the National Horse Show, but perhaps Margot's biggest achievement came when she swept the champion spot in the 2015 Platinum Performance $250,000 Hunter Prix Final at HITS On the Hudson.
"Winning the $250,000 class was pretty awesome! Bastian drove around with that big check for an hour with the biggest grin on his face," Margot laughed. "Having that level of success with a horse we bought as a 2-year-old and developed ourselves is pretty exciting. The next year, we were champion and reserve at Washington with two horses, so that was an amazing highlight, too."
Margot has maintained her status in the show ring, and recently captured the division championship with Orlon at the Winter Equestrian Festival during World Championship Hunter Rider Week in Wellington, Florida, winning two of the four classes in her age section of the amateur owner 3'3" hunters and finishing 4th in the WCHR Classic. More often than not, Bastian is ringside cheering on his wife while also networking for business opportunities for EquiJet.
"I think for Bastian, being at the shows helping me gets him in front of a lot more people. Not only are we spending time together but we are also effectively developing our business by making personal connections with potential customers," added Margot.
Growing EquiJet
In less than one year since its founding, EquiJet has already accumulated a long list of valued clientele and shipped horses across the country and the world. The company and its staff prides themselves on ensuring safe, timely and efficient solutions for the hundreds of people that move horses every year, and can completely arrange the travel, both ground and air, for international competitors and sellers regardless of location.
"Our immediate goal for EquiJet is to take care of customers individually and fit whatever their needs are, and that way we can ultimately grow the business and provide world-class customer service with an attention to detail," commented Bastian. "I don't know that we necessarily want to be the highest volume company, simply churning people out, but we want to have high-caliber clientele and provide them with the best service they can get."
Initially, Bastian's involvement in horse shipping began as a service for friends, but his knack for logistics and understanding of the complex nature of the industry quickly grew a reputation, eventually blossoming into a full-fledged enterprise. After more than 10 years in the business, Bastian's name has become synonymous with equine shipping excellence and his brainchild, EquiJet, has maintained that expertise.
Implementing extensive first-hand knowledge of the nuances of equine travel, Bastian strives to provide flawless coordination for horses traversing the globe, ensuring not only that the animals are transported safely and on time but accompanied by the appropriate documentation and equipment. More than that, the company is equally equipped to handle all import and export quarantine arrangements, all while providing customer service that is unparalleled in the business.
"Certainly it can be difficult to be so invested in equestrian sport and business. Margot and I want the best for the business and the horses, and oftentimes that means working long hours and making other sacrifices," Bastian said. "As all horse people know, it's a 24/7 lifestyle, and that's especially true when shipping horses across time zones. All that said, we still love the horses and the business, and hope to continue for a long time. We are so grateful for the support and subsequent success over the years."
As lifelong equestrians, both Bastian and Margot are uniquely qualified to participate in and understand the lifestyle that comes with the territory. With horses as a part of nearly every facet of their lives, it's a good bet that Bastian and Margot will have plenty to offer the equestrian industry for many years to come.
For more information, visit www.equijet.com
Double D Trailers Info