By Britney Grover
Portraits by Shawna Simmons
By the time he was 19 years old, Connor Husain was becoming well known as a rising star in eventing. He took the top spot at the 2012 North American Young Rider Championships — his first CCI2* — and became a professional quickly climbing through the levels. Giving all of that up to start over in show jumping wasn't an easy decision. There were many factors that influenced the drastic switch, but ultimately, Connor did it so he could keep doing what he loves: riding.
When Connor took his first riding lesson at 7 years old, no one in his family had anything to do with horses. "I was born in Gaithersburg, Maryland, and I was there until I was 6 and we moved to Great Falls, Virginia, which is much more of an equestrian area," Connor remembered. "We had a neighbor with a few horses and she competed a little bit, so I took a few lessons from her and it just went from there."
By the time he was 14, Connor was ready to get serious. He started working with Skyeler Icke Voss at Angelica Run Farm. Under Skyeler's tutelage, Connor quickly advanced through the levels. His parents were so supportive they not only helped him buy horses, they bought a farm: Morningside Training Farm in The Plains, Virginia, opened in 2012, a 125-acre training facility tailored specifically to young event riders. Skyeler was brought in as head trainer, all as Connor was pursuing a big goal — the NAJYRC.
"Young Riders changed everything for me," Connor said. "It had been my goal since I was a kid. The first year I qualified for the junior competition, my horse injured himself a week before he shipped so I went as a groom and it intensified my drive to get there the next year for the 2*. When I went on my eventing horse of a lifetime, Piece Of Hope (Bruno), it was like a fairytale. It gave me such a confidence boost, and really made my dreams to be on a senior team seem more realistic."
Just a few months after moving up to Intermediate and in Connor's first CCI competition, Bruno proved to be more than just a piece of hope: He took Connor to the gold medal. After Young Riders, Connor and Bruno again topped the field against even more seasoned riders. "Bruno was spectacular, and he did so much for me," Connor said. "We went on to win the CCI2* at Fair Hill, which was very exciting because we were definitely a wild card at that show. Unfortunately, I was only able to show him a few more times that winter. He'd been a very sound horse up until then but he sustained a few injuries consecutively and about a year later I decided to retire him."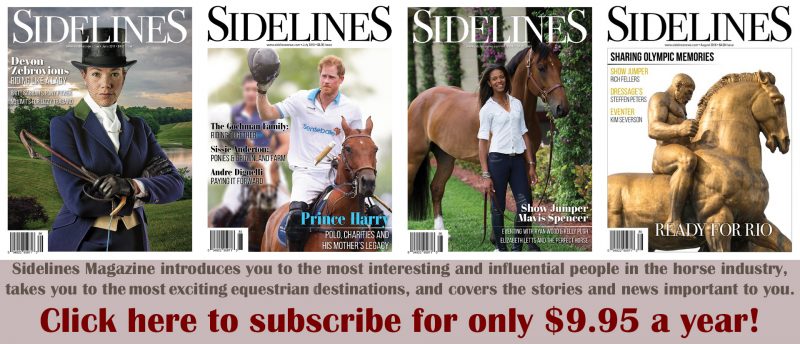 Bruno, now enjoying retirement in a spacious field at Morningside, had already given Connor the confidence and drive to become a professional. But his retirement also set in motion the circumstances that would cause Connor to give up eventing for good.
Switching Gears
As he was developing his skills as a professional horseman, Connor was also acquiring some useful academic experience as an undergraduate at George Mason. "I think the biggest thing it taught me was time management," he said. "Showing and going to college during the winters, I would drive back and forth to Ocala to show, and I did that about 10 weekends in a row. I would go to class Monday to Thursday, drive down through the night Thursday, show Friday, Saturday and Sunday, drive back Sunday night and be in class Monday morning. It was quite hectic, but it was good."
Studying business management taught Connor about return on investment — and he began to realize that supporting himself with the return found in eventing was going to be very difficult. "The only way I could support myself was through buying and selling horses, and I found it much easier to do in the show jumping," he said. "It was a very hard decision to give up on something I had worked so hard for and start over in a new discipline. In the end I would attribute the decision to two things: business and soundness. There are many event riders who have developed a program that can keep their horses sound, but for me it was a struggle."
As it turned out, Connor's "type" was always the larger, Warmblood-type horses more commonly found in show jumping than eventing. "The horses I was attracted to were a little on the heavier side, fancy and scopey, so it ended up that they might have been harder on themselves. You see a lot of Thoroughbreds in eventing that stay super sound because that's what they're made for. After Bruno, I started getting some 4- and 5-year-olds and putting in a bunch of time and effort. I loved them; they were like my kids, and then they would be a 7-year-old and have a career-ending injury. It was just too much heartbreak for me."
After making the switch to show jumping, Connor spent a year and a half as an amateur under Sloane Coles and Spring Ledge LLC. "When I decided to make the switch to show jumping, I moved to Holland to find horses and show for six months," Connor said. "I stayed with our very good friend Katherine Walsh, who has basically become our business partner for buying horses in Europe. When we started to go over to show, that was the obvious option. It helps a lot to know someone and have an American there. It's a good location; you can get to Germany in a half hour, Belgium in a couple of hours, France — it's a central location. I spent time in all those places showing and the lifestyle in Holland is definitely my favorite. The people and the way they live are really nice there."
Connor began seeing a higher return on investment right away, importing a mare from Katherine and selling her in Florida. "I've been lucky enough to have a bunch of special horses in show jumping," Connor said. "I've sold several that have gone on to do very well with professionals and amateurs. Currently I have two horses, MTF Starpower and MTF Saint Simeon. Starpower is a 10-year-old approved stallion whom I purchased last year. I showed him in the high amateurs as an amateur last year and some in 1.45m classes as well, and I hope to keep moving up on him. He's a very exciting one to have in the barn. Saint Simeon has been such an amazing horse for me; I've been showing her in the grand prix and just did my first FEI ranking classes with her this fall. She has been an incredible horse for me to move up on and learn the ropes."
Regaining Momentum
Though he still calls Morningside home, Connor is on the road showing two weeks of every month when he's home, and goes to Holland for at least a week four or five times per year. "Up until now, it hasn't really made sense for me to fly my horses over there to compete because I can show in the same classes here, but I think in the next summer or two I'll be ready for that step of showing in some of the bigger shows in Europe during the summer," he said. "That's down the road; I'm definitely planning on spending more time in Holland. Sloane and I have a big family of friends over there with Katherine so we really enjoy our time and work there."
Connor has been moving up quickly in show jumping — his goals of showing in U25 and 2* grand prix have already been checked off the list. "I just hope to keep going and keep moving up steadily," he said. "I'm trying to get more experience and become more well-rounded as a professional in show jumping. The more time in the ring, the better. Eventually my goal is to be on senior teams, but I was a lot closer to that in eventing than I am in show jumping, for sure."
Though he's given up eventing, Connor is still passionate about riding cross-country. "A lot of people are like, 'Did you quit because it was scary?' and no, I loved it! Sloane's dad is actually head of the Orange County Hunt in Middleburg, one of the biggest hunts in the area, so we go foxhunting in the fall before I go to Florida and I get my fill of cross-country for the year."
Despite having to take a few steps back in the level he competes at, Connor doesn't regret it. "I'm 100 percent happy with the decision," he said. "It was a really hard choice; you're changing everything you've known and sacrificing a lot of experience to go into an industry where you kind of have to start all over again. Beyond that, my entire family at Morningside, Skyeler and the people I've grown up riding and going to shows with — the most difficult part of the decision was knowing I would be enveloped in a whole different world, I'd be showing different places and in Florida all winter. I'm much more transient now in the show jumping."
But between time home, better return on investment, foxhunting in the fall and rising quickly toward the upper levels of show jumping with sound and happy horses, Connor has found the balance of everything he wants in his equestrian career. "I really am happy. I've been able to have a business buying and selling the horses sustainably, and I do like the lifestyle. I've met some incredible people along the way, such as in Holland. Sloane has been an amazing mentor for me, and when I'm home I get to spend time with my Morningside family. Now, it's like getting the best of both worlds."
Photos by Shawna Simmons, www.sasequinephotography.com
Double D Trailers Info