The fitness program for an event horse can vary based on a variety of factors such as the level of competition, age, breed, experience, etc. It's true that each professional may have a slightly different plan for how they build up fitness and how much galloping they do, especially for the upper-level horses, but for this discussion I'm hoping to give a more generalized overview based on my own experiences through the years.
One thing that I truly believe is that horses get fit from the right quality of work, not just the quantity. For instance, I will often school my horses for only 20 to 25 minutes (after a period of walking, of course), but I try to make sure that they're working in the right way so that they build muscle and strength. This applies to their jumping and trot sets as well, and I always try to have the horses working through their body rather than just going through the movements.
I also believe that variety in the event horse's schedule is what keeps them fresh in both their mind and body, and helps to build fitness as well. Once the horses are in full work in a competition season, I will rarely do the same thing two days in a row. Each horse is an individual and we must be willing to alter our plans accordingly to suit the needs of each athlete but as a general rule, I like to keep variety in the weekly plan. A normal, non-competition week for a 6-year-old competing at Training Level, for example, might look like this:
Wednesday:    Hack and 20-minute trot set
Friday:             Hack 1 hour
Sunday:           Off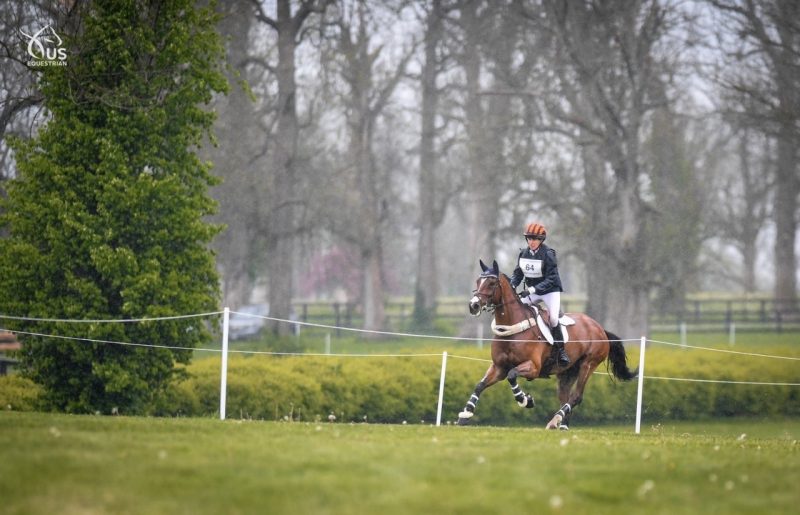 Liz and DeNiro Z galloping the cross-country course. Liz believes horses get fit from the right quality of work.
Photo by US Equestrian
I find many people believe that if you're eventing then you should be galloping, regardless of the level but in my experience, if the quality of the daily work is good, then I rarely need to gallop the horses until they are at two-star and above. They gain fitness from the national competitions that they're doing as well, and all of this helps them build up a good baseline of strength and endurance.
Once you begin competing in the season, it's important to listen to your horses and gauge how they feel at the end of the show—if your horse is struggling with the distance on the cross-country phase then you may need to rethink the workload at home and consider adding some canter sets as part of their program.
When I initially begin galloping my horses in the earlier part of the season (normally three to four weeks before their first event for the two-star horses and above), I usually start with a period of walk, then 10 minutes of trotting followed by two five-minute canter sets at around 400 to 450 mpm with 2 ½ minutes of walk between sets. This can be done in a field with good ground, on a racetrack or even occasionally in the arena if ground conditions are not favorable. I generally repeat every fourth or fifth day, depending on if they're competing that week or not, and I usually increase by a minute after two times at the previous distance. I rarely go beyond eight- or nine-minute sets total for most of the experienced horses aiming for a long format. I also don't increase the speed much for these canter sets, as I generally only do fast gallops on a hill once the horses are getting closer to their spring three-day events. Again, I think it's very important to keep the horses connected up to the bridle and pushing from behind while doing these canter sets, as this builds strength and is far more effective than just letting them go along with a loose rein and no contact.
This is just a very general overview of how I get my horses started for the season and it's important to consider all alternatives for each situation. Swimming, for example, can be a great substitute for one of the gallops each week and can be something fun and different for the horses as well as offering less strain and concussion on the joints. The most important thing to remember is that your horse is an athlete and you must plan the fitness program based on each individual. Strength is very important in aiding stamina, so good quality work in a varied schedule will help you have a fit, happy event horse!
Double D Trailers Info