Technically demanding course design / Alfano switches it up with Miss Lucy MORELAND HILLS, Ohio – July 16, 2012 – Federico Sztyrle now considers the Chagrin Valley Hunter Jumper Classic a lucky show. His first time here in the Chagrin Valley, Sztyrle and Crossfire 10 won both the $10,000 Welcome Stake and the $30,000 Cleveland Grand Prix during Week I of the Classic. The crowd watches intently as Federico Sztyrle and Crossfire 10 fly around the course on their way to victory during the Cleveland Grand Prix on July 15, 2012 at the Chagrin Valley Hunter Jumper Classic.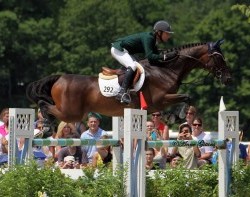 Read more at the source: Federico Sztyrle Wins Welcome Stake and Cleveland Grand Prix
Article excerpt posted on Sidelinesnews.com from Show World.
Double D Trailers Info