Photo Credit: Reilly Cookingham and Red Drum took top ribbons in the Adult Amateur 18-35 Hunter division during the first week of HITS-on-the-Hudson. Photo By: ESI Photography. Bedford, NY – June 1, 2012 – The first week of HITS-on-the-Hudson saw fierce competition as some of the nation's best gathered to compete for the top honors. Cynthia Williams and New England Farm had great success during their stay, rising to the top of the leader board and taking home the championship tricolors in several divisions. The Low Hunter division reserve championship was awarded to May-Ann Weinberg's Paradigm with Cynthia Williams in the irons. The pair garnered two second place ribbons and a third place ribbon in the over fences.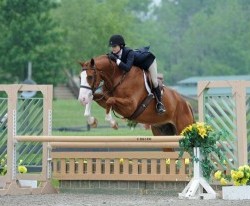 Read more at the source: New England Farm Dominates Divisions During the First Week of HITS-on-the-Hudson
Article excerpt posted on Sidelinesnews.com from Show World.
Double D Trailers Info