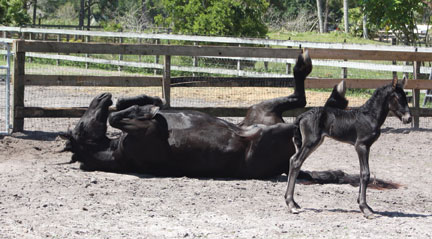 Beitske V. 2000 Friesian mare enjoys her 'first day out' after foaling
Photo by Holly Cannon
Catching up: Canadian dressage rider Jackie Brooks and Mason Phelps are teaming up for a website next year. The focus of the site will be all about Wellington events and happenings and it will give you the opportunity to keep up with the social schedule, event schedule and even a change to blog on the Wellington events. Stay tuned for more details.
When we were all told that International Polo Club Catering was going to provide a five course French dinner during the freestyle at the World Dressage Masters, everyone was skeptical that this could be pulled off, especially since there were over 1,000 people sitting at tables at ringside expecting dinner. But they did it! The meal was outstanding, none of the rides were interrupted and the evening went off without a hitch.
Dressage Under the Stars on Wednesday nights at the Wellington Players Club was really popular this season, and with good reason. With the assistance of Jenny Oz LeRoy, Steve Williams took over the event from Rick Silva and made it into a huge success. All season it has been a sell out crowd and standing room only. Congrats to these guys for continuing the tradition since dressage is not their discipline of understanding. All participating riders and judges were from the cream of America's dressage community. Recently, Anne Gribbons, US team Dressage Team's Chef d'Equipe and "O" judge served as one of the evening's judges. (More on this in The Start Box below.)
Vinceremos Therapeutic Riding Center has played a part in the recovery of Olympic dressage rider, Courtney King Dye. Last March a tragic accident left Courtney with a traumatic brain injury; she was unable to walk, or speak. After months of therapy and with the help of the program and horses at Vinceremos, Courtney is on the road to success. Vinceremos, however is only one part of the incredible team that have helped with her recovery as Arlene White and Stacey Brown have also played tremendous roles in this remarkable story. Kudos and warm hugs to you all.
Dressage Canada announced that Markus Gribbe has been selected as the Technical Leader for Dressage Canada's high performance program.
Missing the boat?  We hear that the WEF is loosing a huge audience by not having the Masters and other dressage shows there. Other than the Nation's Cup and the $600k grand prix, the Masters was the top drawing show at WEF last year, and apparently broke all records this year at the Jim Brandon Equestrian Center in West Palm. We suppose it is probably a good thing to spread things around among the many venues in the Wellington area.
Heads up! This is important! In cooperation with the U.S. Consumer Products Safety Commission (CPSC), Lasko Products, Inc. of West Chester, PA, is recalling approximately 4.8 million box fans manufactured from July 31, 2002 through July 31, 2004. A potential electrical failure in the fan motor can pose a fire hazard. The recall includes four models of box fans which were sold at major retail stores, home improvement centers, hardware stores and other retailers nationwide between late 2002 and as late as 2005.
Consumers should stop using these fans immediately. If your fan is affected by this recall, you can register on-line or call Lasko Products toll free any time at 1-800-233-0268 to receive a free fan protection cord adapter that is designed to easily connect to your fan plug and protect against a potential hazard resulting from an electrical failure in the fan motor.
IMPORTANT: You can not register to receive more than a total of four(4) fan protection cords during a single registration process.
The Dressage Foundation's Continuing Education has awarded three grants to individuals to attend the United States Dressage Federation's Instructor Certification Program.
In previous years, the Fund has provided significant financial assistance to USDF GMOs for instructor education clinics and programs. However, Maryal wanted to expand the scope of the fund to help individual instructors. She said, "I want to encourage more individuals to pursue their Instructor Certification credentials."
For all the photos and gossip, subscribe!
Double D Trailers Info