By Laura Scaletti
Portraits by Melissa Fuller
Alex and Ellie O'Neal were destined for each other. Their passion for horses was instilled at an early age, as they both foxhunted with their families as children. Unbeknownst to anyone at the time, Alex and Ellie weren't just creating happy memories: They were charting a path to meet each other and become professional equestrians.
Fast forward nearly two decades since those foxhunting days: Alex and Ellie have built a marriage, business and family in Reddick, Florida. Today, the duo operates O'Neal Equestrian, a four-fold eventing operation focused on sales, training, breeding and lessons.
Early Years
Alex and Ellie had similar upbringings, Alex growing up in Wayne, Illinois, and Ellie growing up in Columbus, Ohio. Each born into horsey families, they caught the riding bug early on. 
After foxhunting with her mother, Sally, who was the master of the hunt in Columbus, Ellie joined the local Pony Club at age 10. Ellie's exposure to horses wasn't limited to her own barn time; each year, Ellie and Sally volunteered at the Kentucky Three-Day Event, opening the dressage rings and running scores.
"Prior to volunteering, I'd never heard of eventing and I fell in love with the sport immediately. I haven't looked back since that initial trip to Kentucky," Ellie said.  
Meanwhile in Illinois, Alex had quickly developed a passion for going cross-country while chasing the hounds with his parents. "I lived locally to the Maui Jim Horse Trials, which ran up to the three-star level. After I attended the event the first time when I was 12, I was absolutely hooked on the sport," Alex said.
What drew them both to the sport was the unique set of skills eventing horses possess and the partnerships their riders develop with them to excel at each phase. "I've always been impressed by how much heart and bravery eventing horses have on the cross-country field, while having to be talented on the flat and in show jumping," Ellie said. "I'm so fascinated by how tough this sport is. You can't just rely on natural talent; you have to be skilled and practiced in all three phases to be competitive."
Alex agreed, "What I love most about the sport of eventing is the horsemanship it takes to teach an animal three different disciplines. I think it's overall the truest test of horsemanship that can be asked in any sport."
After becoming enthralled with the sport, Alex and Ellie immersed themselves in it, learning all they could from professionals in the industry. "I trained with Bruce Mandeville in Ohio as a Junior rider, Ellie said. "I had no idea what I was doing in the event world, so I was lucky to have his guidance starting out." 
With the support and education provided by Bruce, Ellie competed at Fair Hill for the first time in 2008. "After Fair Hill, I decided it was time get serious and spend the winter in Ocala. I based with David and Karen O'Connor, riding mainly with Karen for years," she said.
Alex spent his formative years training with Cathy Young. "She taught me a lot about this sport. At age 17, I was offered a job with my Young Rider coach, Jon Holling," Alex said. "After my time with Jon, I worked for Denise Rath and Clayton Fredericks."
Ellie didn't just check the box of competing at Fair Hill that first time in 2008, she was the top young rider as a 17-year-old. "After that I was named to the USEF Developing Rider list for three years. I was lucky enough to get a level of coaching I wouldn't have had access to otherwise," she said.
Alex also had the opportunity to learn from some of the best when he was named to the USEF Developing Rider list. "I was on the list for two years. During that time, I received great help from Leslie Law," Alex said.
Joining Paths
Both active in the eventing community, Alex and Ellie traveled in the same circles—however, it wasn't until 2010 that they would formally meet. "We knew of each other for a while, but it wasn't until a bonfire party kicking off the Ocala show season that we really met," Alex said. "I missed my moment and she started dating someone else."
After the party, they each went their separate ways until they were reunited when Ellie was competing at Chatt Hills in 2014. 
"I was riding my first four-star at Chatt Hills and fell off in the water a few fences from home. Alex was the one to catch my horse," Ellie said. "We started talking and he asked if I needed someone to show me around Ocala, since it was my first summer being there."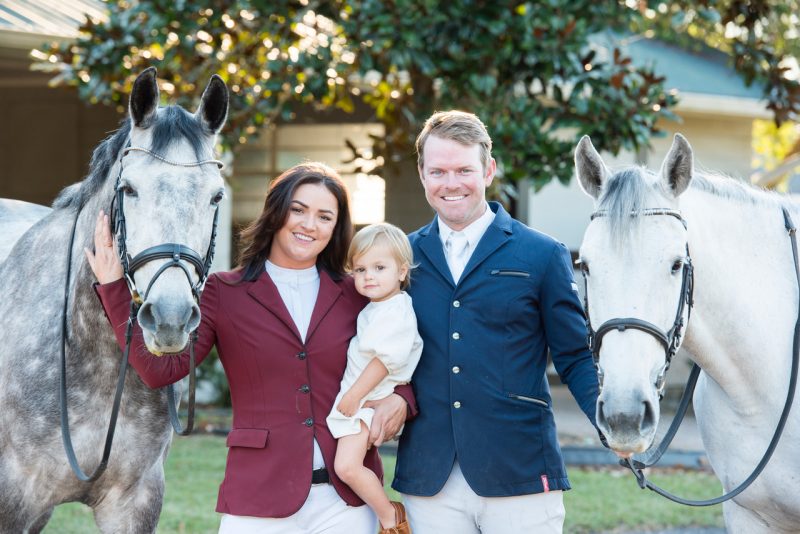 After having their paths cross a second time around, neither was letting the other get away. "Ellie was single when we met again at Chatt Hills, and the rest is history," Alex said.
The duo officially joined forces in 2016 when they got married and opened O'Neal Equestrian. "Ellie's mom supported us in a huge way, giving us this farm to hang our hats," Alex said. 
With a shared passion, Alex and Ellie make an excellent pair. "We both complement each other well in terms of having unique strengths to contribute to the business," Ellie said. "I really enjoy competing at the upper levels and breeding some, bringing young horses along and producing them to that level. Alex really brought in his sales expertise after working at some of the top eventing sales barns in the country, and he really enjoys teaching. I think the hardest thing is deciding who gets to ride which horse!"
O'Neal Equestrian
Since 2016, O'Neal Equestrian has dramatically changed. "It started out as just our competition horses and a few horses in training, but we have been very lucky to find several people to invest in the sales side of the business. These investors enable us to get some top-quality horses in the barn," Alex said. 
Today the duo offers a wide range of services: sales, training, breeding and competing. With around 30 horses on the farm at a given time, Alex and Ellie have plenty to keep them busy. The bulk of their business is selling horses for clients as well as selling horses they import from Europe. 
"I think we both have improved the quality of horses we pick out and have a better eye together. I'm very useful with training younger horses to overcome confidence issues and Ellie has a wonderful feel on the flat. Together we work really well to bring along a well-rounded event horse to market," Alex said.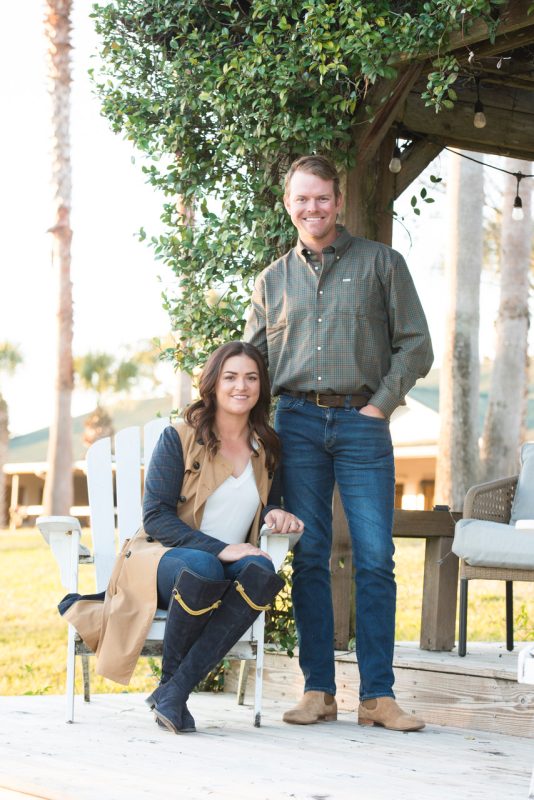 One aspect of their business that makes the O'Neals unique is their breeding program. Still a relatively new endeavor, with their oldest homebreds turning 7 in 2022, Alex and Ellie are excited about the possibilities of their breeding program.
As a nod to Ellie's roots, growing up on Redtail Ridge in Ohio, Alex and Ellie named their farm Redtail Ridge South. Although the original farm has since been sold, the family farm name carries on in their breeding program. Their foundation stallion, Redtail Achiever, was purchased to start the program as Achiever and given the prefix Redtail. "Now, if you see a Redtail horse competing, it's something we've either bred or put our hands on," Alex said.
Redtail Achiever isn't just the O'Neals' stud, he's also a sport horse. "Currently competing at the two-star levels, we are looking forward to seeing what he can do in his 7-year-old year as he keeps getting stronger and improving," Alex said.
Moving forward, Alex and Ellie want to syndicate a few of their homebreds they intend to keep and produce to the top level. "We're able to offer these horses at a much more competitive price than European imports, so we're hoping that will appeal to people who want to get involved in event horse ownership," Alex said. "Currently we're working on a syndicate for our 2015 homebred, Redtail Penumbra, to fund her fall 2022 trip to France to compete for the championships at Lion D'angers."
Future Focused
Alex and Ellie haven't just expanded their business offerings in the past several years, they've also expanded their family. In January 2020, they welcomed their daughter, Fiona. Following in both their footsteps, Fiona will be raised in a horse-loving home with plenty of opportunities to play with ponies. 
"Having a daughter has given me a lot of balance and perspective. It makes the bad days a lot easier to take when you go home and Fiona's there waiting for you with a smile on her face," Ellie said. 
"Fiona has been a total game changer, but in the best way," Alex said.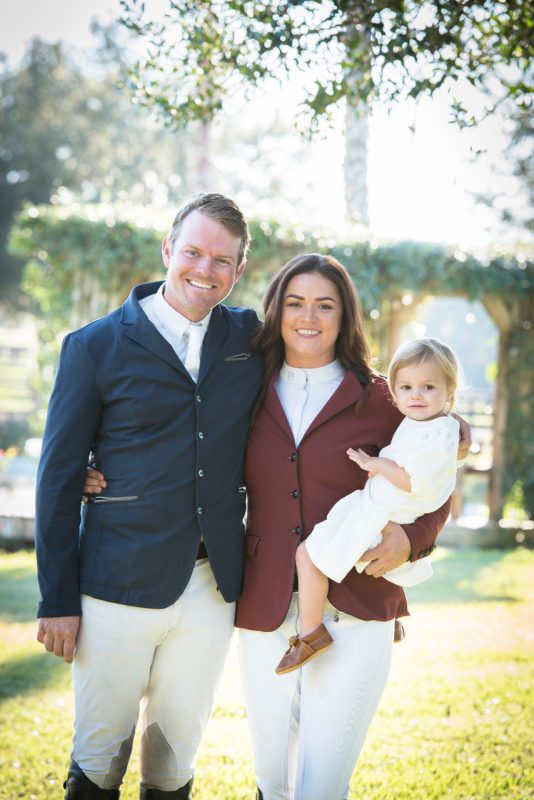 "We've definitely changed the way we manage our barn and our business," Ellie agreed.
Alex and Ellie have quickly learned it takes a village to raise a child. Thankfully, they have an amazing support system, consisting of family and barn girls, to help them juggle all their responsibilities. "We're very lucky to have our manager and groom, Claire. Without her, we would be a bit lost," Ellie said.
In addition to having a toddler, Alex and Ellie have a group of young horses they are currently putting their focus on. "Although I don't have anything older than 6 at the moment, I have a very exciting group of young horses that might be the nicest group I've had yet," Ellie said. "I'm focused on getting each of them to the top level and producing them carefully because they are all such quality, if they don't make it, I know it will be my fault!"
While developing young horses is consuming the majority of the O'Neals' time right now, they have their eyes on the bigger prize. "We both have aspirations of riding at the top events one day, such as Burghley and Badminton. Representing our team at a big championship or the Olympics has always been a goal of mine," Ellie said. "With the quality of the young horses we have now, I think we have a better shot than ever to achieve our goals. We just have to be patient!"
For more information visit, www.onealequestrian.com
Photos by Melissa Fuller, msfullerphotography.com
Double D Trailers Info