By Haylie Kerstetter
Portraits by Melissa Fuller
Bay Noland-Armstrong had a later start to the 'A' and 'AA' circuits, just beginning when she was 16, but her hard work and determination earned her a spot on the University of Georgia (UGA) Equestrian Team. Bay is currently in her junior year, majoring in wildlife sciences and keeping all options open for her future career. 
Bay started riding at age 9 at a local barn by her house, and began competing on the local circuits in the hunters and equitation in Michigan. Although she enjoyed staying close to her hometown in the suburbs of Detroit, Bay eventually realized that she had bigger dreams for her riding career. After watching Maclay regionals and seeing her role models compete in the equitation finals in 2016, Bay knew that she wanted to move up and step into that realm. She then purchased an equitation horse, Quantico, affectionately known as Tico, in early 2017, who turned out to be the best partner she could have ever asked for. Bay competed with Tico in both of their first 3'6" equitation classes, and went on to compete on the 'A' and 'AA' circuit in Michigan, as well as in the equitation finals in 2017.
With her dad's help in making the connection, Bay had the opportunity to work, train and compete with Heritage Farm in Florida and New York starting in early 2018. During her last Junior year at Heritage, Bay competed in the equitation finals, placing in the top 25 at Maclay Finals and winning awards such as the Judge's Choice Award at the New England Equitation Finals. She also made connections with college coaches and secured her spot on the University of Georgia Equestrian Team that year. After aging out, Bay continued to ride and work at Heritage during her gap year before starting college, and she continues to work with them between school and on breaks. During her time at Heritage, Bay's work consists of a variety of barn chores including feeding, picking stalls and turning out, as well as hacking horses, tacking for other riders and tidying the barn. She also helps with management and preparation of horses at shows.
Bay's sophomore year at UGA was one to remember, with the team earning second place at conference championships and winning the national championship title. In her remaining time at UGA, Bay hopes to have continued success with the team, as well as continue her education in the field she is passionate about.
What about the University of Georgia drew you in?
Georgia has always been on the top of my college list since I first started thinking about riding collegiately. I knew how incredible their team is, they have some of the best coaches around, and many of their past team members were riders that I aspired to be like. Additionally, academics have always been the most important factor for me when deciding where to go to college. Georgia is one of the best public universities in the country, and they have an incredible program for my major, so it seemed like an obvious choice for me. Once I visited Athens and the equestrian complex, I was immediately in love and knew that I had to go there.
How did you choose your major?
Ever since I was little, I knew I always wanted to have a career working outdoors and especially with animals. As I grew up, I started to realize that I specifically wanted to have a hands-on job working with wildlife, where I would be able to travel while helping with the conservation and research of different species. The Warnell School of Forestry and Natural Resources at Georgia has such an incredible wildlife sciences program, and after doing some research online and visiting in person, I knew that their program and respected major would be perfect for me. I'm able to spend the majority of my class time outside studying plants and animals, and Warnell has helped me make many connections in my professional field. I can honestly say that there is nothing else I would rather be majoring in!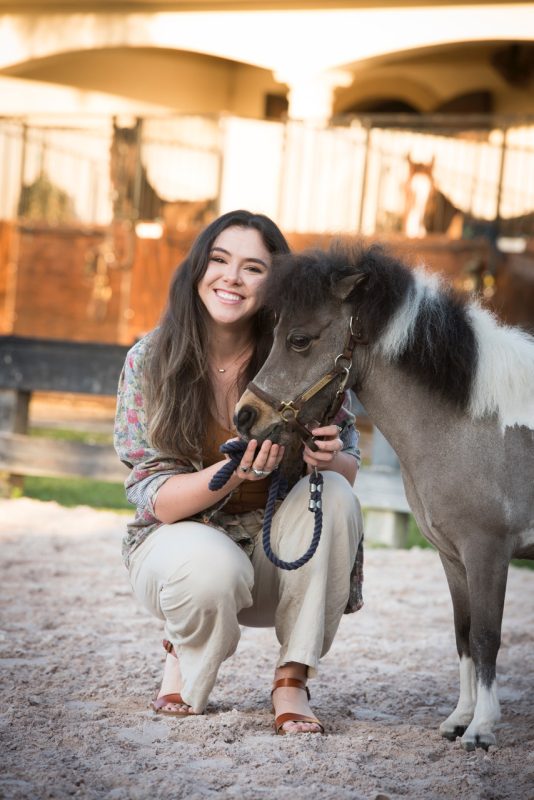 How do you think riding at Heritage helped you get recruited?
To this day, making the move to ride with Andre Dignelli, Laena Romond, Patricia Griffith, Dottie Barnwell-Areson and Mikey Andrade at Heritage has been one of the best decisions I have ever made. I wouldn't be where I am without them, and they have had such a huge impact in my riding career. Heritage helped me dramatically improve my riding skills before going to college and allowed me to get experience showing at big shows like WEF, Devon, Junior Hunter Finals, HITS, and all the indoor shows. Improving my riding skills in a relatively short period of time, getting more exposure at big shows, continuously posting videos of my riding, and reaching out to coaches are the main ways I was able to get recruited. Heritage was the reason I was able to achieve that goal, and the riding opportunities I got through them really set me up for collegiate riding. I was lucky enough to make lifelong friends while being trained by some of the best trainers in the country, and I am forever grateful for all that they have done for me. 
 Do you think that having a "later start" to showing on the 'A' and 'AA' circuits made it more difficult for you to make it onto an NCAA team? Was it a disadvantage in any way?
I think having a later start showing on the 'A' and 'AA' circuit did make it more difficult to get recruited; however, that just means that I had to work as hard as possible to achieve my goal of riding in college. The best way to get recruited to a D1 collegiate equestrian team is going to big shows that coaches will be at, posting videos of you riding and showing different horses, reaching out to coaches via email, and attending collegiate camps and clinics. I was somewhat disadvantaged since I did not start doing the 'A' and 'AA' circuit until I was a junior in high school, and most people verbally commit to a team their junior year and start getting recruited even earlier. This is a big reason why I decided to take a gap year between graduating from high school and starting college. Since I didn't verbally commit to Georgia until I was a senior in high school, I needed that extra year in between for me to get a spot on the team. The gap year was a great decision for me, as I was able to finish my Junior riding career showing at indoors while not being in college, and I got another year of working and showing with Heritage under my belt before starting college. I would say that yes, having a later start may have made it more difficult for recruiting, but hard work pays off and I wouldn't have wanted it any other way.
What did you do to prepare for riding on an NCAA team?
I think the three main things that helped me the most for preparing to ride on an NCAA team was being able to juggle academics and riding, being able to adapt quickly to a variety of horses, and understanding that collegiate riding is a team sport, not a solo sport like riding usually is. Like most Junior riders, I had to balance frequent showing with my schoolwork while in high school, and I think being able to have a busy extracurricular/athletic schedule while staying on top of my academics allowed the transition into collegiate student-athlete life to be much easier. 
Additionally, I grew up riding many different types of horses, and I took any opportunity I got to ride and show anything I could sit on. Being able to ride and train a variety of horses is something that I think prepared me well for riding on a NCAA team. We ride different horses every practice and when meet day comes around, you don't know which horse you're riding until a few hours before, so being able to adapt quickly to a completely new horse is something that is incredibly beneficial.
How do you balance school, the team and a social life or down time?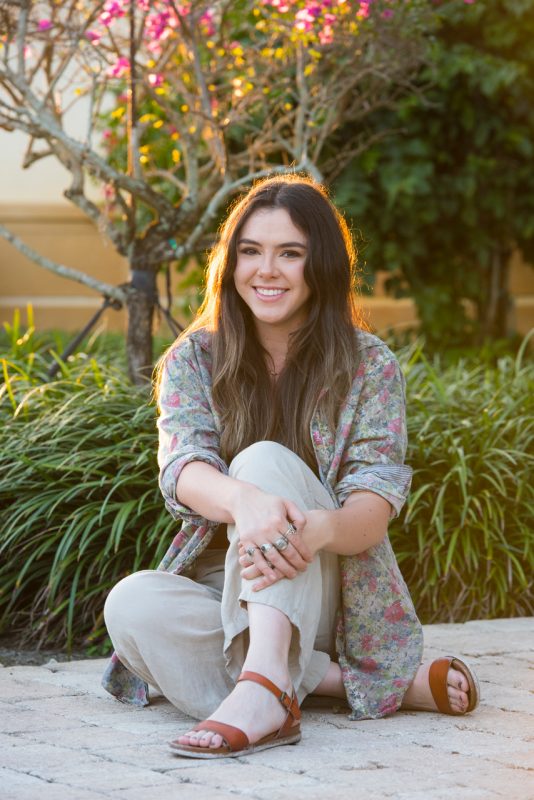 We have an incredibly busy schedule between juggling practice, workouts, school, friends and family; however, our schedules are incredibly consistent, which helps me balance everything in ways that work the best for me. Georgia athletics has so many support systems in place to help student-athletes. Between tutoring, mentoring, nutritionists, academic advisors, athletic trainers and our coaches, if we ever are struggling or need help, there is always someone to go to. Being a Division I student-athlete is incredibly time-consuming and a full-time job, but I also think it's one of the most rewarding experiences I will ever have. By the time I graduate and move on to other things in my life, I know I will be prepared to take on anything life throws at me because of the incredible skills this team has taught me.
How did it feel to win the national championship?
This is obvious, but winning the 2021 NCEA National Championships last spring was honestly one of the best experiences of my life. I went into college with the goal of winning a national championship with my team, and I think it's safe to say that dream has been accomplished. All the hard work the entire team put in over that past year paid off in the best way possible. Although we won Nationals last year, we are not taking that for granted and are still working as hard as possible to try for a few more rings (similar to Super Bowl rings, given to those who win national championships) at SEC Championships and Nationals this spring! I'm forever grateful to be on such an incredible team, surrounded by some of my best friends in the world, and having the best collegiate coaching and support systems around.
What are your riding goals for the future?
My riding goals for the future are uncertain, but I know that horses will always be a huge part of my life. For the last few years I've been in the horse world, I have started to realize the potential I have of being a trainer or coach one day, as I absolutely love teaching and find myself thinking the same way some of my trainers teach. So that's a door that I want to keep open for the future! All the trainers and my friends at Heritage genuinely feel like part of my family to me, and I hope to be able to continue my relationship with them into the future. Whether that be working, riding, training or showing with them, I know that is an opportunity and connection that I'll be keeping for years to come. There is genuinely nothing I love more than riding, and I don't see a future for myself where I am not somehow still associated with the horse world.
For more information, visit georgiadogs.com/sports/equestrian
Photos by Melissa Fuller, msfullerphotography.com
Double D Trailers Info