By Laura Scaletti
Portraits by Shawna Simmons
If you asked Daniel and Cathy Geitner, 'Were you raised in a barn?' They both would proudly answer, 'Yes!' Not only were they raised there, they have chosen to raise their two children, Wyatt, 15, and Lilly, 13, in the environment they know best, at their DFG Stables in Aiken, South Carolina.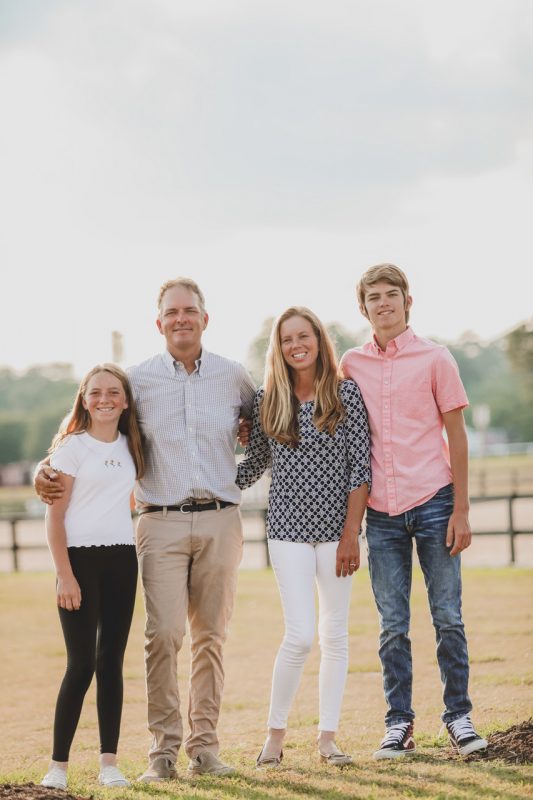 Home to nearly 70 horses in training, DFG stables is one of the most successful hunter-jumper businesses in the Southeast. From pigtails on ponies to incredible jumping in International Hunter Derbies to galloping to the win in Grand Prix, DFG Stables does it all. 
This powerhouse duo learned at an early age that lessons learned in the barn create lifelong skills. "Growing up on a farm is fabulous. It teaches you empathy and responsibility," Daniel said. 
Daniel and Cathy had similar upbringings, Daniel growing up in Hickory, North Carolina, and Cathy growing up in Northern Virginia. Both were surrounded by great old-school horsemen and horsewomen from whom they learned not only to ride, but about horsemanship. 
"Daniel did all the things that were on my wish list growing up, but I was never able to do — Pony Finals, Devon, indoors and equitation finals," Cathy said. "Not having the funds to show on the big circuit made me hungry for an education. I wanted to learn as much as I could so one day I could do this for a living." 
Collegiate Connection
When Daniel and Cathy arrived at St. Andrew's Presbyterian College in Laurinburg, North Carolina, they were both hoping to get an education and broaden their horizons. Little did they know they would each be meeting their future life and business partner.  
During their time at St. Andrews, they each had the good fortune to ride with Shelby French, then coach of the IHSA Team.
"She was really instrumental in steering us towards the careers we have now," Cathy explained. "Shelby supported Daniel as a rider, mounting him on some of his first Grand Prix horses and high performance hunters. Meanwhile, she steered me towards the teaching and management side of the sport and encouraged me to get my judge's card, something we both now have. It's like she already knew where each of our strengths lay and really encouraged us down those paths."
Cathy and Daniel also broadened their horsemanship knowledge during college as working students for Aaron Vale and Andrea King.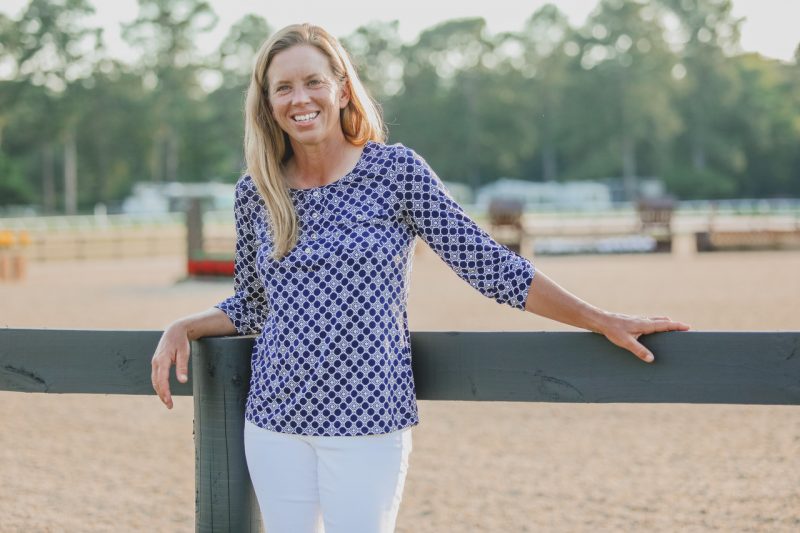 "At that time, Andrea had a business breaking and training Thoroughbreds and we were expected to gallop those horses at her barn in the morning and then move to Aaron's barn in the afternoons to ride jumpers for the rest of the day," Cathy said. "We learned so much from both of them about prepping horses and managing their care."
With knowledge learned in the classroom and in the barn, Daniel and Cathy were ready to embark upon their next adventure, each taking a job at a riding program. Cathy ran the riding program at Chatham Hall School in Virginia while Daniel stayed on as an instructor at St. Andrews.
St. Andrews to Aiken
A few years after graduating from St. Andrews, it was evident Daniel and Cathy were meant to be together in life, both as husband and wife and as business partners. 
Shortly after, while traveling the horse show circuit, the pair stopped in Aiken to compete and fell in love with the town. "I said, 'Let's start a business here.' Daniel said, 'Sounds great, find us a barn,'" Cathy explained. "We found a great barn to rent, Mill Race Farm, and were there for a few years before we bought the farm we still own today."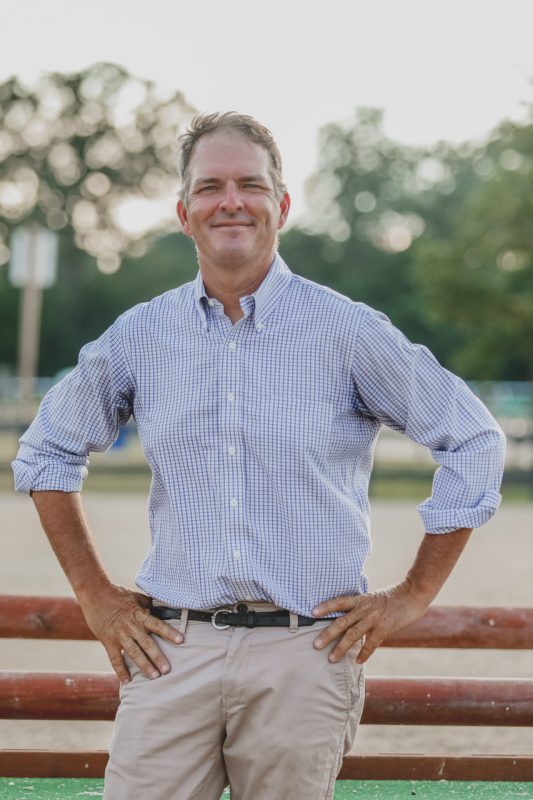 That immediate feeling of being "home" in Aiken has paid dividends. Not only are the Geitners minutes away from their favorite venue, The Aiken Horse Park, they can also be at a variety of great venues within just a few hours.  
In a quintessential equestrian community, Daniel and Cathy have unprecedented resources in terms of vets, farriers, arena builders, farming supplies and other equestrians from various disciplines. You name it; you can find it in Aiken. 
With such an equestrian-centric community, no one looks twice at Cathy and Daniel if they happen to run to one of Wyatt's tennis matches straight from the barn in boots and breeches. "It's totally normal to shop at Publix or Target or grab a margarita at the Mexican bar and see the majority of patrons in riding breeches, too," Cathy said.
Checks and Balances
Though the barn may be called DFG Stables, Daniel and Cathy both play equally important roles in the business. "We both train and ride; Daniel does more of the show riding and I probably do more of the training, but we can step in to assist each other when needed," Cathy said. "I like to take on the project horses that might need a little extra time, because I'm generally home more and can give the horse the time he needs."
At shows, Cathy can be found mostly at the hunter ring, bringing along the green horses and prepping the client horses while Daniel is in the jumper ring or main hunter ring doing the bigger professional hunter divisions. "We joke that I don't like to jump big or ride fast and Daniel is the exact opposite," Cathy said. 
Together, Daniel and Cathy are able to balance out each other's strengths and weaknesses.  "Luckily my weakness is teaching people to ride and Cathy is great at that. She's good at breaking down the basics and giving our clients a strong foundation. I'm better at teaching people how to compete and win," Daniel said.
Away from the ring, the pair also has distinct skill sets. While Cathy is the more business-minded, managerial type who likes to keep the budget in check today, Daniel is more visionary, thinking about how to improve the DFG Stables of tomorrow.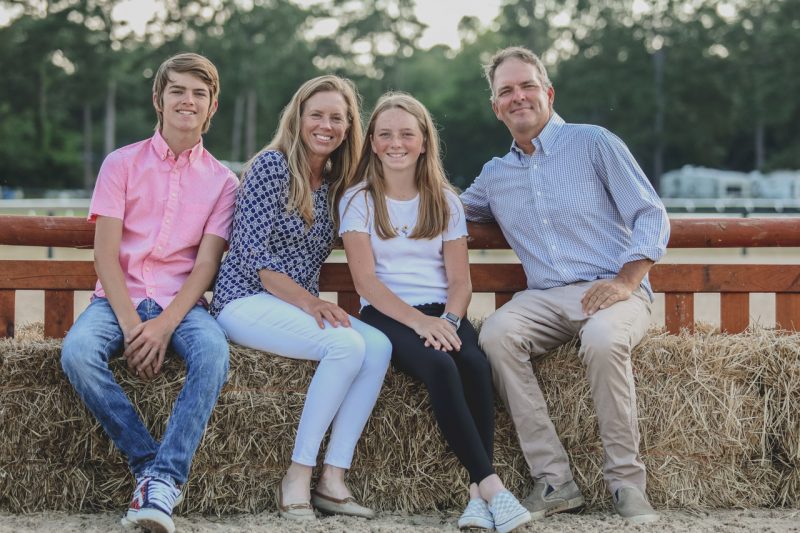 "Daniel is definitely the man with a plan, whether it's building a new arena, adding to our inventory of sales prospects or buying our property in Ocala. If it wasn't for him, we would have no growth in the business. I'm not a risk-taker and like to play things safe," Cathy said. "He pushes my comfort zone and I rein him in. There are definitely checks and balances between the two of us."
Farm Family
While Wyatt fancies fishing and tennis more than jumping around a course like the rest of the family, each member of the Geitner family enjoys their time on the farm. "Wyatt likes the farm work. He mows and weed-eats and helps the guys with the projects around the farm," Cathy said. "Both kids are excellent at rolling and dragging the arena."
Having been at the farm since birth, both Wyatt and Lilly have learned a lot about responsibility and putting the needs of others first. 
"We give all the staff time off on the holidays and take care of the whole farm ourselves. The kids have never had a Christmas morning where they didn't get up and care for the whole farm full of horses before Christmas breakfast and opening presents," Cathy said. "And if you ever find yourself as our guest over the holidays, you'd better be prepared to get your hands dirty, because we put you to work, too! Just ask the grandparents."
With a plethora of animals to care for in addition to the horses — three mini horses, a mini donkey, two goats, a zebu, ducks, chickens and guinea hens — the kids have learned about the circle of life. "We have our share of sadness when we lose some of our cherished animals, but the kids have learned about love and loss. I think learning to deal with that is such an important part of growing up into a functioning adult," Cathy said.
The kids not only learn life's hard lessons, they have seen how success doesn't often come without hard work.  "I hope our kids have learned from watching us that the road to success is not a straight line. It's a circuitous route with many ups and downs, but if you work hard, you can achieve your goals," Cathy said.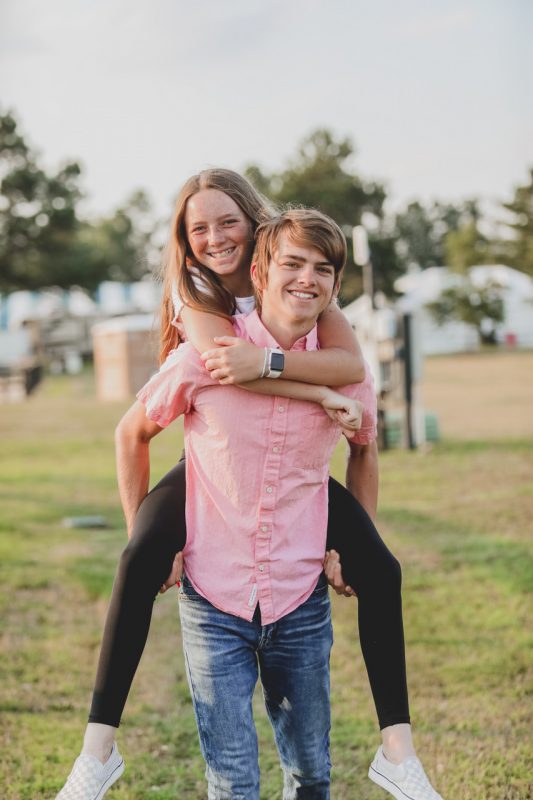 Traveling together keeps this tight-knit family close — literally. "It's a lot of closeness in our camper when we're together for multiple weeks of shows, but I wouldn't have it any other way. We really know each other and I think the kids feel that closeness," Cathy said. 
"Although our clients and others can't believe this, we really try to leave the barn at the barn and enjoy our family when the work day is done," Daniel said. At home and shows, Daniel and Cathy work hard all day, but make a point of eating dinner together as a family to reconnect.
Daniel and Cathy are as devoted to their clients and horses as they are to their own family, so it's rare they get a lot of time off. However, as the kids keep growing they know it won't be like this for long and they're trying to squeeze out every minute of family togetherness possible.
While they try to do some 'Monday Fundays' or the occasional holiday trip, the main family getaway is going to the Ocala farm for Thanksgiving week. "It's the perfect opportunity for some family time and we do plenty of work during the trip to get the farm open for the winter circuit. But we also get to explore the various rivers and springs that are nearby Ocala. We take the boat out and look for manatees or go fishing," Cathy said.
In a world where it often seems like you can't have it all, Daniel and Cathy have figured out the formula to have the best of both worlds — a successful business and tight-knit family when they get home at night. 
"I hope our future looks like more of the same as what we're doing right now," Cathy said. 
For more information, visit dfgstables.net
Photos by Shawna Simmons, www.sasequinephotography.com, @sasequinephotography
Double D Trailers Info