by Britney Grover
Portraits by Adrienne Morella
From his laughing smile to his live-out-loud wit, it's hard not to love Carson Kressley. The fashion expert has become a beloved TV personality whether it's delivering genuinely constructive criticism as a judge or on a talk show relating the time he wore Gucci leather loafers to the barn. He balances couture with compassion, at once resplendent and relatable.
Ever since Carson's TV career began as a fashion savant on "Queer Eye for the Straight Guy," audiences have adored him. They've followed him from his "Carson-Nation" makeover show to competing on celebrity game shows in the name of charity. He's written style guides and won design awards, is a judge on the hit series "RuPaul's Drag Race" and recently starred in his own interior design show, "Get A Room with Carson & Thom."
If his witty off-the-(always crisp)-cuff responses don't make you smile, all you have to do is listen to him gush about his horses. Throughout his life, he's balanced his bustling career with riding, driving, showing and now raising and developing Saddlebreds. Like everything else about Carson, his horses are loud and flashy — winning multiple national and world championships. But they also keep him down to earth in an often-hectic world.
"I think anyone who's been around horses knows that they require you to kind of be still and focus, to really concentrate on them," he said. "That's a great balance in the high-stress, high-travel world that I work in. I'm always traveling; I'm working a lot, so those moments where I can be at a horse show or at the farm, connecting with the horses, are very very grounding.
"Some people may argue, but I think it's cheaper than a psychiatrist," Carson continued without breaking a laugh. "I'm not sure, but it might be so. Depends how many you have — horses, not psychiatrists. They are wonderful."
Trotting and Trending
Carson was born into horses, growing up next door to his grandparents' expansive Hackney and Shetland pony farm. "I was very lucky that I was raised in a horsey family," he said. "I grew up with 80 to 100 ponies outside my window that I could jump on, and showed them all over the East Coast. But when you're about 13, you think that ponies are very uncool, and you definitely want a horse."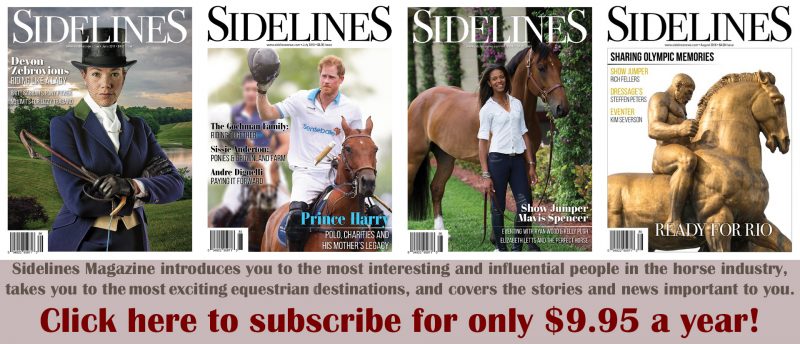 And from traveling the Hackney circuit, Carson knew what kind he wanted. "I saw Saddlebreds and thought, Wow, what are those? I want that!" he shared. He started saving and bought his first Saddlebred at 15, appropriately named Daddy's Money, which began a lifelong passion for the high-stepping breed. "They were very enticing to me because they're so stylish and elegant, with big, beautiful tails. They really are the supermodels of the show ring. And then once you get to know them as a breed, you come to appreciate how athletic they are, and how intelligent and kind."
It wasn't just in horses that Carson was interested in from a young age. "My mom and sister were very into clothes," he said. "I grew up outside of Allentown, Pennsylvania, and that's not a particularly fashionable place but I think the 1970s were a great time for fashion because it was kind of the last era where people dressed for different occasions."
Watching his mom don a long evening gown to go to a party versus the other outfits she wore to church or work, Carson developed a passion for wearing the right thing to the right place. "I think that really resonates with me even today," he said. "Looking great and being stylish is about wearing the right clothes for the right venue."
Being "a child of the mall era" fed his fascination; by the time Carson was 10, Ralph Lauren was the height of popularity. "I loved everything about Ralph Lauren and that whole lifestyle, the Americana and of course the equestrian component of the clothes that he made and sold," Carson said. "That romanced me a lot in starting to love fashion, and eventually I wound up actually working for Ralph Lauren."
Carson's love affair with fashion led him through a successful career as a stylist, culminating in eight years with Ralph Lauren. Then, Carson auditioned to share not just his eye for a tie but his endearing personality with the world as an on-screen "fashion savant." Of course, the world loved him. "Queer Eye for the Straight Guy" launched Carson into Emmy awards, multiple TV series and three best-selling books. He's worked repeatedly with Oprah Winfrey, spawning his own show, "Carson-Nation"; He's competed on "Dancing With the Stars," "The New Celebrity Apprentice," "Celebrity Cupcake Wars," "Celebrity Family Feud" and more; he's been a guest and commentator on numerous talk shows and a judge on "RuPaul's Drag Race" since 2015.
Show Ring Supermodels
Though one of his latest projects, "Get a Room With Carson & Thom," is focused on interior design, it draws on his skill for putting together an ensemble — which is, of course, also one of his favorite parts of showing his horses. "I think that's one of the most fun things about showing horses: creating that total look," he said. "It's how I approach dressing in the real world, too. You take into consideration the season and the type of class you're showing in, but first and foremost, showing horses and competing is really romantic and rooted in tradition."
Carson likes to keep his attire traditional and workman-like in the show ring, but that doesn't mean boring. "Nowadays there are so many options in fabrics and colors and textures, and I love that process," he said. "What we wear when we show saddleseat breeds is really kind of traditional men's suiting, but you can have so much fun with the different silks and wools and plaids, beautiful custom-made shirts and coordinating neckwear — and you know we get to wear great hats. I just think it's a very fun part of showing Saddlebred horses."
With "a bunch" of world titles to his name both in the Saddlebred and Friesian worlds, Carson's sharp appearance is matched only by his skill at the reins. He's been a crowd favorite at Breyerfest, such as with his 15-time-plus World Champion Friesian named Gooitzen fan Teaksyl, and is a regular at the Kentucky State Fair World's Championship Horseshow, where he won his first world championship in 2009.
Now, his horses live on the Pennsylvania farm that Carson owns with his sister Diana Kressley-Billig. Diana runs the farm and takes care of the 22 horses, including Carson's seven, and she and her daughter, Morgan, also compete at the world championship level. "That's another thing that's so great about saddleseat, is that a whole family can do it," Carson said. "You can be 10 years old or 75 years old, you can show in a variety of different disciplines within the breed from fine harness, show pleasure driving, to the under-saddle events. It's been a really fun family tradition for us."
Carson competes both in under-saddle and driving classes, and right now, that's determined by the horses themselves. "I'm raising some of my own Saddlebred horses, and as within every breed or discipline, every horse is so different they really kind of tell you what their job is going to be and what they're going to be good at," he said. "Sometimes they turn out to be driving horses, sometimes they turn out to be riding horses, but for me it's equally fun. I suppose I enjoy riding a little bit more; it's a little bit more athletic and I feel a little more connected to the horse, but driving is also fun because it's a whole other array of outfits: In fine harness you need to wear a tuxedo or formal wear, and in pleasure driving you can wear great blazers and hats, and that's another fun aspect that I love."
Carson Around the Nation
Time at the farm in Pennsylvania is precious; most often Carson is wherever the work is, whether that's near his equestrian-themed apartment in New York City, in front of a camera in Los Angeles or somewhere else altogether. He just finished judging season 12 of "RuPaul's Drag Race," which recently won a slew of Emmys including its second for Outstanding Reality-Competition Program, and "Wrap Battle," a new gift-wrapping competition that Carson judged, aired over the holiday season. "I have a couple of new design shows in the works that we're waiting to hear on — I'm always doing something," he said, and he wasn't kidding.
Carson also believes in devoting his time and talents to worthy causes. "I feel like I've been so fortunate in so many arenas in my life that I love to hopefully make it easier for some other people," he shared. He supports True Colors United, a non-profit working to eliminate homelessness among American youth, especially in the LGBT community, as well as Project Angel Food, which delivers hot meals to thousands of people living with life-threatening illness all over Los Angeles County. He's on the board for some colleges and universities — again focusing on young people. "Obviously that's our future," he said. "It's so important we make sure young people are supported."
He also enjoys sharing the horses he loves with the world by supporting the American Saddlebred Museum to preserve and display the breed's history and traditions. Carson will carry those on himself as he raises his horses toward show-ring stardom; any time away from work, though it isn't much, is spent with them. "Whenever there's a moment that I can squeeze in a horse show or some time at the farm, I do," he said. "As I get older, the sport's not as easy because it does require a level of athleticism, but I find the time where I can and jump right back into it."
For Carson, home might just be where the horse is. "It's always just a quick adjustment to get back into the swing of things," he said. "When you go to a horse show and are around your horse show friends, it's such a community that it always feels like coming home."
Photos by Adrienne Morella, www.adriennemorella.com
Double D Trailers Info