By Laura Scaletti
Portraits by Melissa Fuller
The only thing better than doing what you love is doing it with someone you love. Hannah and Zach Ketelboeter are living the equestrian dream. The husband-and-wife duo has not only built a life together in Sarasota, Florida, but they're also building a threefold business consisting of TerraNova Stables, TerraNova Equestrian Center and TerraNova Estates.
It was Hannah and Zach's mutual interest in eventing that eventually caused them to cross paths. "We have both trained with Brad Hall since we were kids, but we weren't at the same barn, so we only knew of each other from horse shows," Hannah said.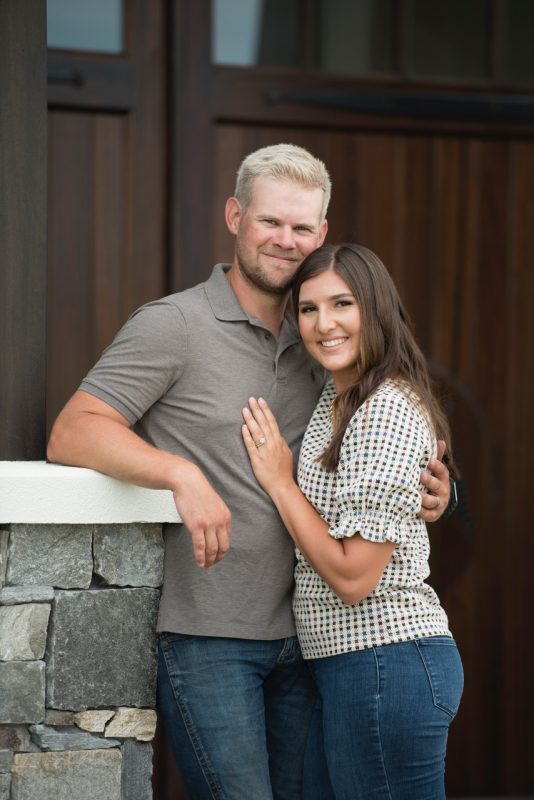 The two officially met in 2015 when Hannah arrived at a Brad Hall clinic that was taking place at the barn that Zach managed in Wisconsin, which was also where he kept his horses. Hoping to spend the weekend furthering her eventing education, Hannah had no idea the clinic would be a life-changing experience where she would meet her future husband and business partner. 
As fate would have it, Brad arranged not only for Hannah to borrow his truck to haul her horse to the clinic, but for Zach to help Hannah unload and park when she arrived. 
"I had just gotten my first horse trailer, but didn't have a truck, so I was borrowing Brad's. Since I was arriving in the dark, Brad was worried I was going to knock out the back window while trying to park the trailer. I wasn't the first person to borrow that truck," Hannah chuckled. 
"Brad called me and asked if I could help Hannah and her friend unload their horses, get their trailer parked and get them settled in as they were coming in really late," Zach said. "We started talking that weekend and the rest is history!"
THE PARTNERSHIP BEGINS
As Hannah and Zach's relationship evolved, everything just fell into place. "There wasn't a conscious decision to go into business together," Hannah said. "We just started riding and competing together, and everything grew from there. I had always dreamed of having my own barn and I met Zach and soon after we started to plan what would eventually become The Stables at TerraNova." 
Helping Hannah build her dream barn was right up Zach's alley, with his background in building, construction and managing barns. After being involved in the initial planning of the barn, Zach decided it was time to pack up and make the move from Wisconsin to Florida.
Since Zach arrived in Florida, it's been a whirlwind, with the couple launching their business in 2016 and getting married in 2018, all the while building the TerraNova portfolio of businesses. "We're both very passionate about the business and our personal goals, so it's such a benefit to work together. Of course, we've made some mistakes along the way, but we've learned to be understanding of each other's mistakes and not put too much pressure on ourselves and each other," Hannah said.
In addition to getting to spend so much time together, another bonus of Hannah and Zach's partnership is that there aren't any egos involved in running the business. Rather than having a set group of clients, Hannah and Zach work together to help their clients meet their goals. Their accidental matchmaker and on-purpose trainer, Brad, also comes down to the farm several times a month to join the training team. 
"Between the three of us, we will switch around and play to each other's area of expertise to help clients work through issues they are having," Hannah said. "It's helpful to our clients to have three different perspectives that complement one another. We work together so well there are never any hard feelings if a customer asks to work with a specific person on a given skill."
Currently, Hannah and Zach have 25 horses in their care at The Stables at TerraNova, made up of a mix of personal, sales and client horses. "We used to operate a very busy lesson and boarding program, but since the equestrian center has started to take off we've had to cut back on the number of lessons and clients we take on," Hannah said. "We're working on bringing in additional trainers to build the business back up again."
DREAM BIGGER
When Zach moved to Florida, the original plan was to build Hannah's dream training and boarding facility. However, Hannah's parents, Steve and Natalee Herrig, pushed her to dream bigger. "It's just how my parents think.  As an entrepreneur himself, my dad has always had big ideas. Growing up they encouraged me to think bigger and not settle for just what I think is possible," Hannah said.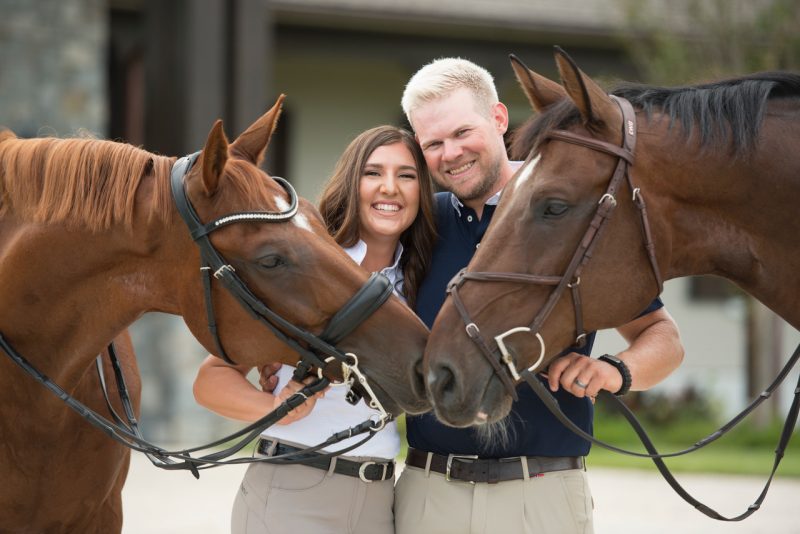 While planning the property, Steve casually asked Hannah if she'd like to have horse shows there. "I thought, Sure we can do that. Have some schooling shows. We'll have an arena, and a place to park trailers," Hannah said. "I mentioned my horse show plan to fellow eventer Sara Kozumplik Murphy and the idea kept growing from there."
Like Hannah, Sara had her own ideas about what a show facility should look like. With a plethora of connections in the eventing community, Sara helped lay the framework for what would become TerraNova Equestrian Center. "She introduced us to some great people who've made the facility into what it is today," Hannah said.
Rather than simply having schooling shows like Hannah initially envisioned, the 225-acre equestrian center plans to serve a multitude of disciplines—eventing, hunter-jumper, dressage and driving—from regional shows to international events. "From the start, we wanted to make it a special experience for everyone who comes to TerraNova. Regardless of whether you're competing in novice classes or at the highest level, you can feel like you're able to have a special moment and you're important to us," Hannah said.
Unlike many other venues, what makes TerraNova unique is that Hannah and Zach started with a blank canvas rather than an existing equestrian facility. "Starting with a clean slate, we've been able to design the facility exactly how we want; we don't have to make compromises because of existing infrastructure," Zach said. "Hannah and our advisors have been able to pick and choose what we like from other facilities and build them here."
This is where working with your spouse comes in handy, as Hannah and Zach know each other's strengths and weaknesses and try to divvy up the duties to those best suited to them. Based on their backgrounds, Hannah handles the design and communications duties while Zach is more hands-on with brick-and-mortar activities.
"Hannah is the idea maker and I make it happen," Zach said. "My job is to come in and take all the great ideas and bring them down to earth so the facility is not only attractive but functional. Since I'm the guy dragging the arena, I try to bring in the practical infrastructure application while still maintaining the design everyone wants."
NEW LAND
When Hannah and Zach were embarking on this project, they had another important item they had to decide on: the name. "TerraNova means 'new land' in Latin. Since this was all a new adventure for us, it seemed fitting," Hannah said. "We also have two horses, Terra and Nova, that we've known since birth. It was special to create that bond with them from the beginning and they are represented on our fountain."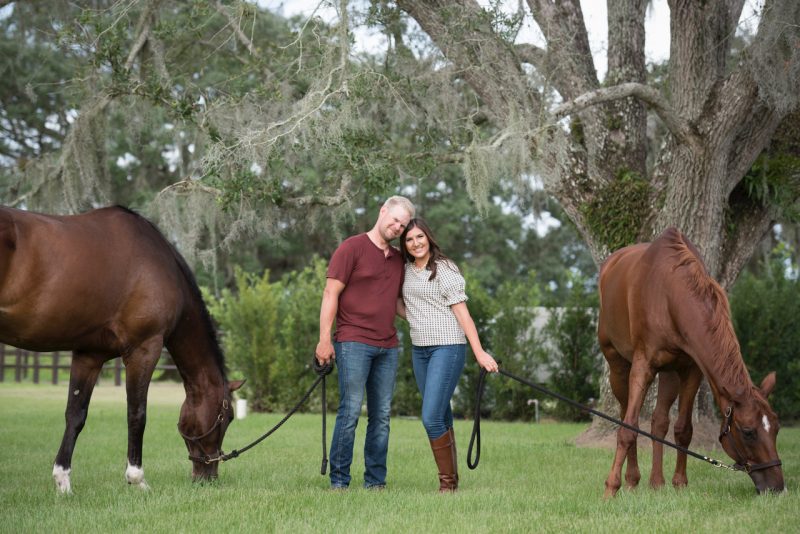 It's appropriate the chosen name references the land. TerraNova was designed to provide all the modern conveniences available in the equestrian industry while keeping the natural feel of the land. "My favorite part of the facility is that it's encircled by a thick forest of large oak trees," Hannah said. "As soon as you enter the gates, it's easy to forget the rest of the world exists. I'm hoping everyone who comes can experience that sense of escape and just take time to enjoy the horses."
Today the duo is still committed to making it to the top of their sports; however, Hannah recently set her sights on upper-level dressage. "I've always loved dressage, specifically the musical freestyle part. One day I thought, Why not go with the goal of becoming successful at the Grand Prix level of dressage?" Hannah said. "I'd love to one day make a team for the Olympics."
Zach is staying the course with eventing. "My goal is to compete at the CCI5*-L level. Hopefully once everything settles down, we will have staff who is overseeing everything at the equestrian center and we can enjoy what we've built and designed," he said. "I can't wait to be able to show at our facility and experience what we've worked so hard on."
LIVING THE DREAM
Hannah feels blessed to be able to call TerraNova home. "Sometimes I wonder, How did this happen? Why me? I feel like I'm living a dream," Hannah said. That's why Hannah is passionate about sharing her dream with other equestrians, from the casual horse enthusiast to the Olympic-level competitor.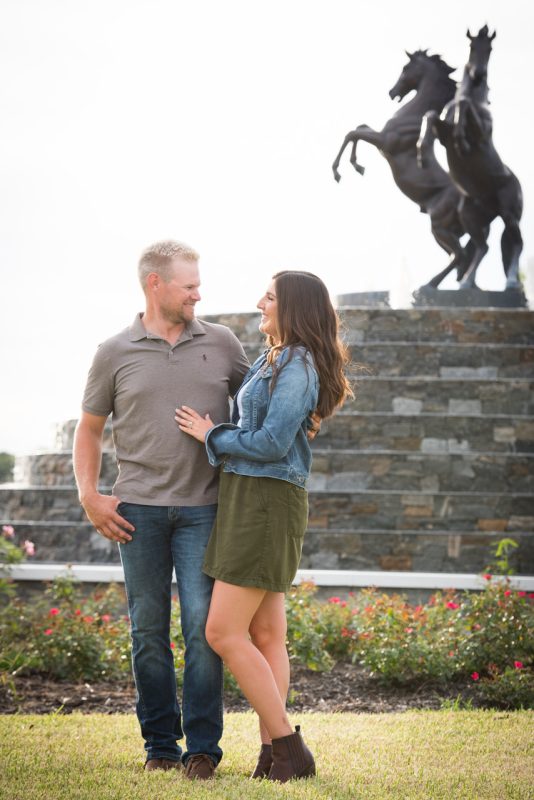 "My parents have always been very passionate about giving back to the community, and we look at TerraNova as an opportunity to build something that can positively impact many different people in many different ways," she said. "I hope that this is a place where kids can be inspired and gain confidence, adult amateurs can finally achieve a lifelong dream, Olympic hopefuls get that qualifying score and spectators find a new appreciation for the magnificent horses that make it all possible."
TerraNova is well on its way to making dreams happen for all who enter the gates. The Inaugural Event at TerraNova took place in October, welcoming riders from the Starter to CCI4* level. And that's just the beginning of welcoming visitors, with USEF approving several weeks of hunter-jumper competition in 2022.
TerraNova will not only be home to competitions, but they are also planning a luxury equestrian community that will allow equestrians to ride from their properties to the show facility. "We are trying to design a family-friendly community for equestrians that is full of amenities," Hannah said.
Following in her parents' footsteps, Hannah doesn't want to just build an equestrian community, she wants to give back to the local community. "Not only will our venue be a safe, friendly, and positive environment for people to experience the joy of horses, but we'll also have a charity component to our shows that helps raise money for local nonprofits. We want to connect TerraNova back to the local community as much as possible."
For more information, visit terranovaequestrian.com
Photos by Melissa Fuller, msfullerphotography.com
Double D Trailers Info