By Ruby Tevis
Portraits by Melissa Fuller
Kate Mathews is a storyteller, and at just 17 years old, the young dressage rider has only written the beginning of her own story. With a passion for horses, writing and the arts, Kate has found a way to tell stories in the arena and on the page. In 2020, Kate started a new chapter with a reserve championship title at the FEI Young Rider National Championships with her stallion, Soliere. In June 2021, the pair will ride on Team USA at the CDI in Hagen, Germany, as part of the 2021 US Equestrian European Young Rider Tour, consisting of the top three Young Riders in the nation.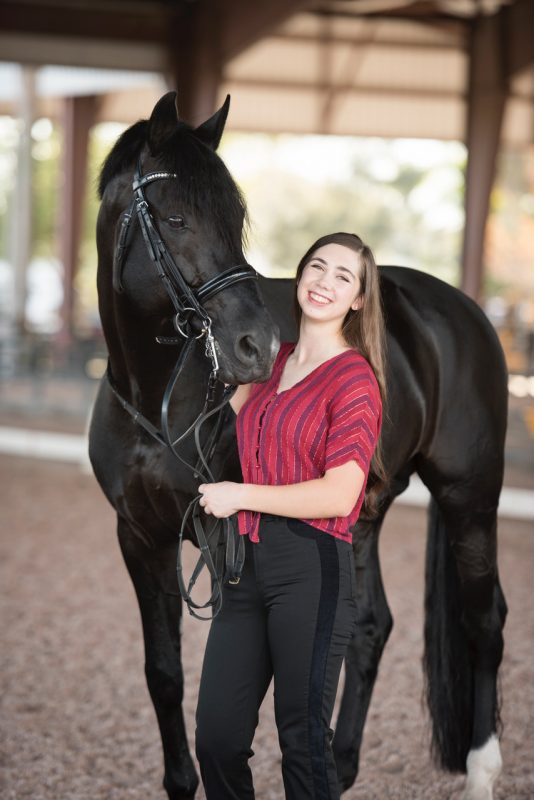 The story of Kate's life with horses begins when she was just 3 years old. "My love of horses is largely thanks to my mom!" Kate said. Her mom, Jessica, who'd ridden as a child, decided to buy Kate's first horse when she was young. "I did my first leadline class was when I was 4," she said, and from that moment forward, she was hooked.
"Valencia Farms was the birthplace of my riding skills and goals," Kate said. "Growing up at that barn and attending its rider summer camp has given me a permanent sense of nostalgia for tinny country music playing from the tack room, eating otter pops when it gets outrageously hot outside and playing board games in the summer grass. Nostalgia aside, that was where I first learned to groom and take care of my own horses, and where I started to build my confidence as a rider."
Arabian horses were Kate's first love, and she showed on the Arabian and Half-Arabian circuit for over nine years. "My first show was the Scottsdale Arabian Horse Show in 2011, where I rode dressage on a buckskin Arabian-Quarter Horse cross mare named RA Tequila Rose — and I find that to be a very appropriate name for a horse for 7-year-old me!" she laughed.
Though she was succeeding with four US Arabian Youth Nationals Top 10s in dressage, sport horse in hand, sport horse under saddle, hunt seat equitation, and a national championship in show hack, Kate still longed to try something new — an open show.
A Whole New World
Kate's interest in dressage outside of the Arabian world led her to California, where she and her mother traveled to watch Steffen Peters ride in a competition over spring break. The two were shocked at the number of high-caliber riders at the show. 
"We ended up buying a VIP table to watch classes, and we were, coincidentally, placed right next to Steffen's table," she said. "We started talking to everyone at the table, and they immediately took us under their wing. We'd never been so quickly accepted into a community before, and, in the time span of about an hour, we'd been introduced to multiple trainers and riders in the area."
That one day was enough to start Kate's journey into the open dressage world. Their VIP dinner turned into an open invitation to train at Steffen's barn, Arroyo Del Mar, with trainer Marie Medosi. From there, Kate acquired her first warmblood, Roosevelt, known around the barn as Teddy. "He's a mischievous boy," Kate said. "He's very lively and he's somewhat of a busy body. He's sweet and I love him so much."
As a new member of the highly competitive Region 7, Kate and Teddy finished fifth in the Junior ranks for NAYC, and while they didn't make the short list, Kate was still invited to groom at the championship and get her first taste of international competition. 
"I'd become close to all my fellow competitors, including Aleyna Dunn, who asked me to groom for her at NAYC," Kate said. "She ended up winning a silver medal and two gold medals. I was so proud to be a part of the team that helped her, and she was such a positive, inspirational force to be around."
Level Up
Kate's next NAYC experience would follow two years later, but this time she'd be riding down centerline — in a new division and with a new horse. 
Soliere was purchased by the Mathews family in late 2018, and since, the black Hanoverian stallion has become Kate's heart horse. "There's no other way to describe the way I feel about this horse," Kate said. "When I was younger, whenever I pictured my dream horse, I would always see him. It's the weirdest thing, in hindsight, because there is truly little difference between my childhood dream horse and Soli."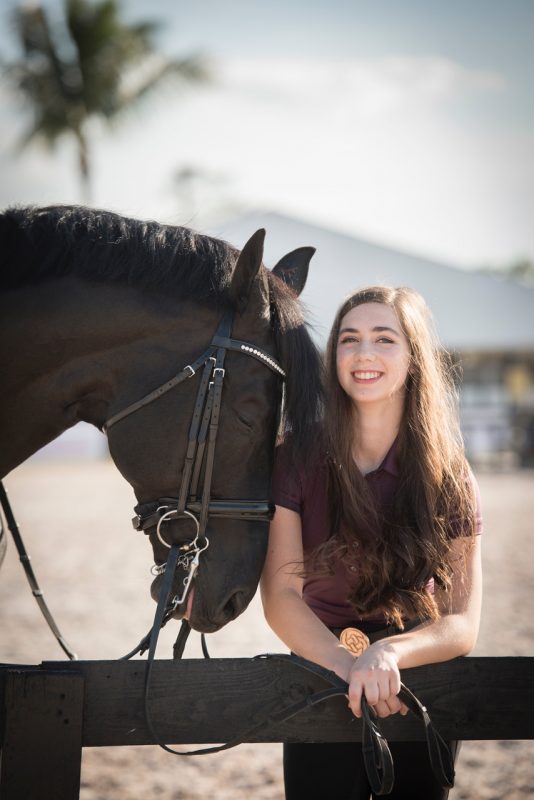 Under the tutelage of Guenter Seidel, Kate made the leap to the Young Rider division with Soli. "It was a challenge to move up," Kate said. "I realized the deeper your understanding of the Juniors, the easier the transition will be to the Young Riders. The work you do in the Juniors is your foundation."
Though Soli was previously trained to Intermediate I, he was quite a different mount for Kate, and has taught her to be a more confident horsewoman. "Soli is my first-ever stallion," she explained. "As a stallion, he can be easily worked up about elements of his environment that other horses might not be. He can very spicy and energetic, and though it's not his norm, these moments in particular have made me the confident rider and handler I am today. I truly don't know where my riding would be without Soli teaching me."
Kate also credits Guenter for her growth. "Guenter has brought me to the next level in my riding, and in everything. The drive to do better and to raise the bar has been a huge part of training with him," Kate said. "He has taught me not only the techniques and feel necessary to ride effectively, but how to do so on my own. Riding well with a trainer is one thing, but being able to ride well on your own can be another story."
Working hard to build independence in her riding has paid off for Kate in the show ring. In 2020, Kate and Soliere took their victory lap at Lamplight Equestrian Center during the US Dressage Festival of Champions as reserve champions in the Young Rider National Championship.
"To earn reserve champion at the Festival was the culmination of years of hard work. I still get so excited thinking about it now! To be able to share that with Soli is so special to me," Kate said. "To be able to give the competition my all and have it pay off in the best way possible is such an amazing feeling. Sharing that win with the people around me who supported me was so exciting. Also, feeling the pride that comes with the title is incredible. While I'm of the belief that you shouldn't rely on accomplishment to feel worthy, the validation that comes from that kind of achievement is one of a kind."
Education and the Arts
Today, Kate balances riding at her family's own high-performance training facility, Peridot Equestrian, in San Marcos, California, with school. To accommodate her busy show schedule at home and her first season spending the winter in Wellington, Kate has been finishing her high school online. Though she has packed her agenda with AP and Honors courses, Kate has learned how to manage her time for success.
With graduation on the horizon in May 2022, Kate is looking ahead to college. "I have so many different interests that it can be difficult to distinguish what I want to study," Kate said. "I'm very interested in environmental science, especially with current issues relating to climate change."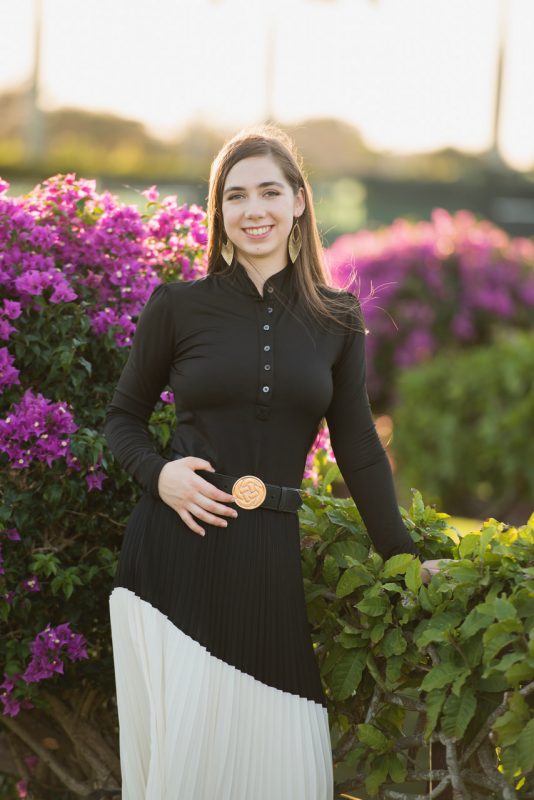 Following her interests, Kate and her mother have collaborated to create their own line of sustainable equestrian clothing, An Capall, which is made out of recycled water bottles. "Our company is dedicated to recycling, and I hope to expand that this year!"
Kate's passion for arts and writing is also at the front of her mind. "I'm someone who loves storytelling and analysis, and could see myself taking an English major. Storytelling has manifested in a myriad of ways for me," Kate explained. "I've loved writing for as long as I could remember, and it's one of my favorite pastimes."
In the future, Kate hopes to publish multiple books. "Being able to recreate the feeling of joy or empathy or heartbreak or the wonder that can be found in some stories for other people is something that really excites me," she said.
Kate also enjoys drawing, both digitally and traditionally. "I love making and watching animatics, doing character design and drawing expressiveness," she said. "It makes me happy when I'm able to draw an expression just right, or to draw a person and have them look anatomically correct."
While Kate explores her many opportunities, she recognizes her choice not to train full time. "I hope to compete in the Grand Prix and learn as much as I can about dressage and riding," she said. "I love dressage and horses, and I'm certain that I'll be riding for the rest of my life. However, training as a full-time job, whilst being something I have seriously considered, isn't the path I'm going to be taking."
For now, Kate is enjoying the journey, approaching every day like a blank page. While she's eager to see what the future holds, she hasn't lost sight of how far she has come and those who have helped her accomplish her goals. "I would like to give a huge thank you to my wonderful mother, Jessica Eaves Mathews, for making everything I do possible," she said. 
"The incredible lengths my mom has gone to to make my dreams a reality continues to astound me, and I am so unendingly thankful of how hard she has fought to get me here," Kate reflected. "I would also like to thank my grandparents, Mel and Mary Ann Eaves, who have so lovingly and generously supported me in my journey. My grandparents are a one-of-a-kind pair, and I feel so lucky to call them family."
Photos by Melissa Fuller, msfullerphotography.com
Double D Trailers Info