By Shya Beth
While traveling the world and going on countless adventures, Morgan Cameron's passion for horses and art have always had a special place in her heart. Growing up with horses, it was only natural that drawing and painting them was in her future. "I was born and raised in the small town of Dover-Foxcroft, Maine," Morgan said. "That's where I grew up with horses and discovered my love of art. I've moved around a lot in my married, adult life, but I've circled back to Maine."
Riding consistently through her teenage years and into young adulthood, Morgan grew up working and riding, both with her own Western trail horses. Morgan's grandfather got her hooked on horses and made sure there was a pony or horse of her own among his herd on his hundred-plus-acre farm. "We bonded greatly over our shared love of horses and animals and he's the one who taught me how to ride," Morgan said. 
When Morgan's riding became more serious, it was time to find the perfect barn. Isaac Royal Farm in her hometown was where she got her start in different disciplines and training. "I started riding there when I was 11, learning dressage, jumping and how to start unbroken horses and bring them up to be multi-leveled show and lesson horses," she said.
This new journey started off as weekly lessons before turning into daily trips to the barn, where Morgan would soak up as much information and experience as possible.
"It's very unique, that bond and understanding between a person and their horse," Morgan said. "When I paint them, there's a sense of that kind of bond with each horse I put to the panel. Knowing anatomy of an animal is one thing, but truly understanding the animal in a personal way is why so many people have told me they can really feel the horse's soul in my paintings of them. I owe that to the horses I've loved and enjoyed, and I don't think I'll ever paint another type of animal as well as I paint horses, partly because they're what I've been practicing the longest, but mainly because of my personal connection with them."
The ponies of her youth to the school horses and the equestrian theatre were all inspirations for her budding artistic career. "All of my family is artistic and creative in many ways, but none to a serious degree," Morgan said. "I was never pushed to create art — it always felt like a natural path to take."
Travel and Art
After going to Lyme Academy College of Fine Arts in Connecticut, Morgan married her husband, who was a part of the Navy Band — meaning that moving around the country was a way of life for them, and something that they both enjoyed and have extended to traveling to other parts of the world.
"We've spent time living in New Orleans; Norfolk; then Montclair, New Jersey; and now we're back in Maine to stay for many years and maybe start a family," Morgan said. 
From backpacking the West Coast and visiting various western and midwestern states to adventures in Iceland and Scotland and a Euro trip hopping from England to France and Switzerland to Italy, living life to its fullest is something that Morgan lives by daily. "We love traveling, it's one of my husband's greatest passions and we've been very fortunate to be able to do so."
While riding had to take the back seat for a while, horses have never been too far behind. "College, marriage, moving around and a young couple's budget made it a luxury I could no longer afford," Morgan said. "But horses and riding have always been one of my greatest passions and there are few things I want more than a horse of my own again and to get back that part of my life. Now that my husband and I are finally settled with our first home, that has become a strong possibility for the near future!"
Until then, Morgan is happy to work in her art studio, crafting one-of-a-kind contemporary oil paintings. Trying her hand at different mediums meant discovering new techniques and styles, but she always found herself coming back to oils. 
"I would like my paintings to be able to 'hold their own,' in terms of skill and quality, in a room full of works created by artists that I love and admire and whose works have inspired me so much of the years," she said. "If I could reach that level of artistic maturity, that in itself would be so fulfilling. I want to absolutely love what I produce, and I never want to stop growing, getting better and learning more about myself and how I paint."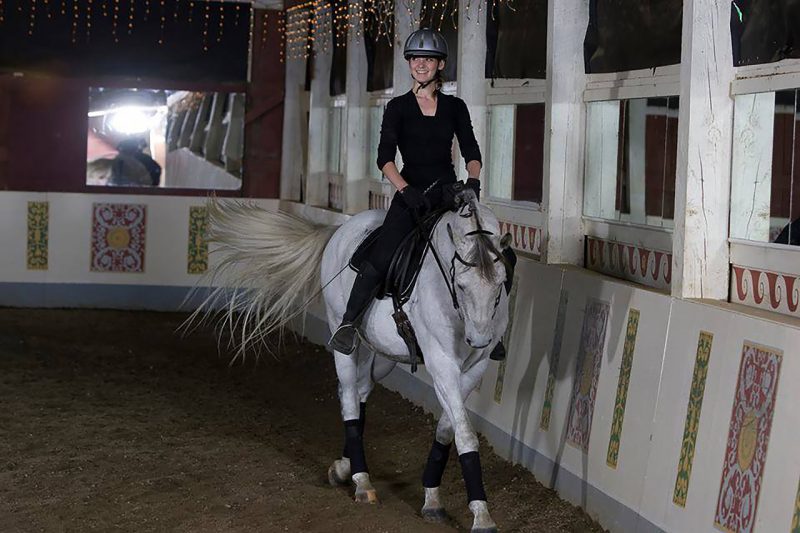 Morgan said she has developed something of a mantra over the years. "It's really just something I always tell myself from years of experiencing this: Every high is followed by a low, and every low is followed by a high. It's important to just keep going and to understand that whenever things are going great, there will come a day soon when you're not doing as well and it feels like you sometimes almost forget how to paint and nothing goes right. That's just a part of the ebb and flow that is the creative process, and it's okay to go through."
For more information, visit morgancameronart.com and follow her on Instagram and Facebook 
Art Of The Horse is the world's first equine art platform, established in 2014 by Shya Beth. With weekly articles featuring up-and-coming as well as world-renowned artists, exhibitions and art news, Art Of The Horse is the premier source for all things equine art. Visit artofthehorse.net 
Double D Trailers Info