By Lauren R. Giannini
When it comes to dressage, international Grand Prix rider and trainer Shannon Lee Dueck is a late bloomer. She grew up with it, but her passion for classical training didn't manifest until well into her 30s. She credits her success to excellent training, starting with her mother. Of her many accomplishments, one stands out as the toughest and most challenging: Shannon survived breast cancer.
A routine mammogram in 2009 showed a suspicious area. When the biopsy came back positive, Shannon listened to her doctor outline the options and then ordered the best books available on the subject. Armed with a science background and passion for learning, on and off a horse, she studied the data — her own as well as the statistics available.
"Because I was pre-menopausal and had some breast cancer in my family, I thought my best choice was double mastectomy and reconstruction," Shannon said. "From what I've read, breast cancer can be quite aggressive in pre-menopausal women. Had I chosen a lumpectomy, I would have been watching and waiting and imagining. For me, it made a big difference to do the double mastectomy as it really reduced my risk in the future because there's very little tissue left. There are other treatment options, but that was my choice."
Support System
Shannon's down-to-earth, pragmatic and balanced. She's a candid and kind advocate of breast cancer awareness and happy to share her experiences to help others.
"I have so many students around North America and a lot of them are living a gifted life, but most have been through something difficult," Shannon said. "I'm happy to share my experiences if I can help someone. You don't want to learn things the hard way in the healthcare system. I have students going through what I went through and other types of cancer, students with MS, and some who have recovered from a variety of difficult physical challenges. They ride their horses and get better. Horses are certainly part of the cure."
A support system is extremely important, and Shannon's was a potent mixture of horses and humans. "I'm the one who had cancer, but my friends and especially my husband went through it as much as I did — maybe more because they had to be my support," she said. "It broke my heart when I heard of a single woman with three young children who was trying to deal with cancer treatment. It gives you perspective. I thought, Whoa, I'm lucky. Then I thought about the husbands and how tough it can be on them."
She recounted a scenario: "You're back at the barn as soon as possible after the surgeries. You're being strong all day. You're busy teaching. Then you go home and you lose it. Your husband comes in and he can't just lose it. He has to be strong for you. It can be very hard on your support group."
Double mastectomy and reconstruction are major surgeries that save lives but leave scars. Cancer alone is terrifying, but the loss of physical attraction can be a huge issue for many women. This is where both Shannon and her husband, Lorne, stepped up to the plate, as they say in baseball, and hit it out of the park.
"Lorne was a rock," said Shannon. "I had never been big-breasted and, being a rider, I didn't want to be. We wanted the reconstruction to be as close to my natural size as possible and that's what we got. Unless you knew what I went through, you wouldn't know I'm different now. After reconstruction, there's no fatty tissue. You can run without a bra. I wear a bra to feel normal. The scars – it is what it is. I look at myself — I don't have any cancer. I've never been made to feel less because of the double mastectomy. My husband thinks it's wonderful because I'm cancer-free. We've been married 20 years this year. He's a keeper."
Back in the Saddle
Shannon's surgery and reconstruction took place in October 2009. She wasn't out of action for very long. Even when her activities were restricted, she had a great support system at the barn that included students and clients as well as six-time Olympian Robert Dover.
"I have to give a big shout-out to Robert," said Shannon. "He's such a busy man, but he rode my two horses that were on the cusp of Grand Prix for several weeks while I was laid up. It was huge for him to keep them going and I will always appreciate that. Three weeks after my surgery, I got somebody to heave me onto a safe horse — I probably wasn't supposed to do that — and walked around."
Shannon was in the saddle when her mare Ayscha debuted in her first-ever grand prix at the end of January 2010. "It was fun and we scored 61 in a national test," recalled Shannon. "In her second national grand prix, we scored 65 or 66 so our next test was a CDI [international]. That summer we were part of the Canadian Team that did a tour in Europe towards competing at WEG in Kentucky."
Always Horses
Born in Texas to Canadian parents, Shannon enjoys dual citizenship. When she was a toddler, her family moved back to western Canada where her mother was her first riding coach. Jacqueline Oldham taught classical dressage and was an "S" judge in the U.S. and Canada.
"I was 3 when I got my first pony," Shannon said. "My mom was always a horse enthusiast. I was lucky that way, but I hated dressage. I had excellent training. I knew the theory and I read all the books."
But dressage was not Shannon's forte. She was an eventer, earning her "A" Pony Club rating by the time she was 18. Dressage was something she had to do so she could run and jump cross-country. Once she reached her early 30s, Shannon realized she didn't want to go Intermediate with her brave and talented horse and sold him to an event rider in California.
"I decided I'd better learn to do dressage," said Shannon. "My mother let me ride her Prix St. Georges-Intermediaire I horse. Madison wasn't so easy, but I started to train him and, with the help of Bert Rutten, I got him to grand prix. In 1994, I went to Holland as a working student for Bert. He's a master, and he put me on a top horse as my schoolmaster. Between watching Bert ride and riding that horse — that was the turnaround."
Shannon's passion for dressage continued to blossom when she used the money from her event horse to buy Korona, a 3-year-old Dutch Warmblood, from Bert. Shannon and Korona went all the way to the Canadian team and earned individual silver at the 1999 Pan Am Games. For many years, they wore the Maple Leaf, including being the top-placed Canadians at the 2002 World Championships and helping to secure an Olympic berth for Canada at the 2003 European Championships. They were in a strong position to make the team for the 2004 Olympics, but Korona was ill during the Canadian selection trials.
"Bert trained me for over 11 years," Shannon said. "He got me to the World Championships, the World Cup and the Pan Ams. He still goes to Vancouver, but he doesn't come to Florida."
Shannon counts herself very fortunate to train with Kathy Connelly, Robert Dover, Lars Peterson, Wolfram Wittig and Carl Hester. Since 2004, home has been Dueck Dressage in Loxahatchee, Florida. Shannon and Lorne built a lovely facility where she does what she loves best. Shannon has several young projects in the pipeline and an incredible group of students whose ages range from the 70s to teens.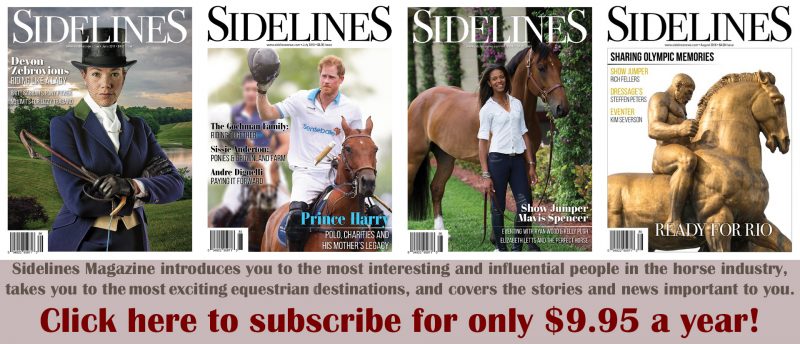 Wendy Denton, one of Shannon's golden-aged and USDF Gold Medal students, started riding at 12 and has done it all, just about, from Western and saddle seat to hunters, jumpers, foxhunting and eventing, which got her into dressage. Six years ago, she took a lesson with Shannon and has been training with her ever since.
"I was getting good things and not getting good things. Then Shannon gave me a grand lesson that addressed a lot of what I wasn't getting," said Wendy. "It was really productive. I felt like a million dollars. My disappointment and frustration were completely gone. I can't say enough good things about her."
What's Next
Shannon's busy teaching and training from the basics to grand prix, including Ayscha's first filly, sired by Ingrid Klimke's top young stallion, Franciscus. Angelika, owned by the Ayscha's Angels syndicate, has the kind of engine that makes any dressage or jumper rider think "vroom vroom." Shannon loves to combine dressage and jumper lines, and her favorite prospects have a wonderful canter and good walk. The rest is developed with classical training.
In terms of health, Shannon advises being diligent about self-exam and other changes in your body. Cancer-free since 2009, she goes for an annual check-up unless there's something to worry about, which she would get checked right away.
"If you think something's wrong, early detection is so important — don't wait," said Shannon. "If you find yourself challenged with a scary diagnosis, get as much education as possible, get second opinions, make decisions on the right treatment for you. Let your friends, family, pets and horses help you through the difficult time. Staying positive and looking forward to the future is such powerful medicine!"
For more information visit www.dueckdressage.com.
Photos courtesy of Shannon Dueck, unless noted otherwise
Double D Trailers Info