By Ruby Tevis
Live life to the fullest—that's the goal for most of us—and Priscilla Baldwin has taken this mission to heart. From her humble beginnings in West Hartford, Connecticut, to today, Priscilla has followed her passions, taken risks and learned along the way. She's an entrepreneur, has lived abroad and has sailed to 37 countries, and at 73, Priscilla isn't slowing down anytime soon—now she's on a quest for her USDF Gold medal.
The oldest of three children, Priscilla's love for horses started before she could even walk or talk. "It was my 3rd birthday when I realized you could blow out a candle and make a wish. I wished for a pony," Priscilla said. "I wished and wished every year." At 8 years old, she and her brother went to visit a family friend's farm, where they got to sit atop a champion Morgan show horse. "I thought I had died and gone to heaven," Priscilla laughed.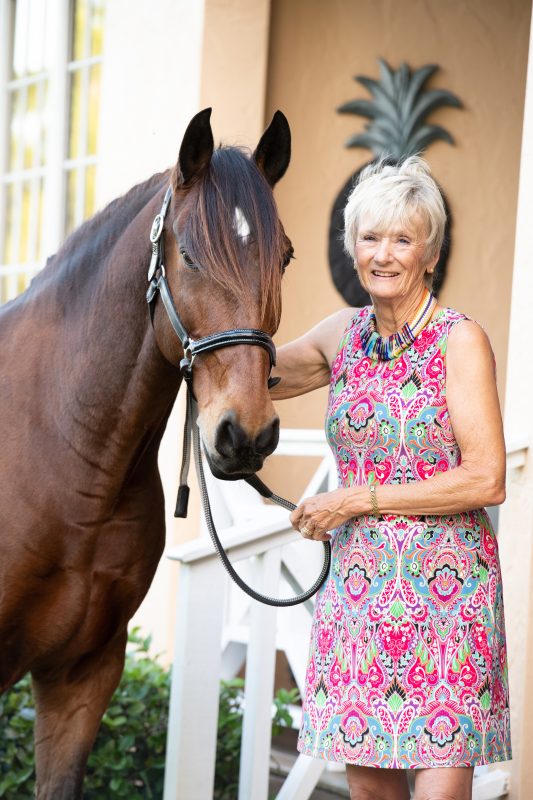 Though Priscilla's parents couldn't afford riding lessons, this didn't stop her from taking every chance she could get to be around a horse. "I went to every single horse show I could. The Farmington Horse Show wasn't far from me, so I would work and volunteer no matter how young I was," Priscilla said. "I enjoyed every single minute of it and I never gave up my dream of riding."
In 1971, Priscilla became the first woman to graduate from Colgate University in Hamilton, New York after the university became fully coeducational. While pursuing her degree in English, Priscilla began taking riding lessons when she could afford them. After graduation, she moved back to West Hartford to work in theater costuming for the Hartford Stage Company.
"I became very good friends with some of my coworkers who were from Ireland," Priscilla said.
"My boyfriend and I were doing some construction work on the side, and we were invited to help renovate an old Irish estate southwest of Dublin. They gave us two plane tickets, a camper to live in and a car. Of course there are horses everywhere in Ireland, and I knew this was exactly where I wanted to be."
Balancing Riding and Business
Priscilla's working trip to Ireland turned into a five-year stay filled with equine adventures. Priscilla signed up for jumping lessons and joined two hunt clubs, the NAAS Harriers and the Kildare Hounds. "Everybody offered me horses to ride," Priscilla said. "Eventually I found a hot little mare to purchase for myself. Her sire was named Joshua, so I named her after the song 'Joshua Gone Barbados'—I called her Barbada."
With the young Barbada, Priscilla realized one of her childhood dreams: competing in a horse show. "We went to the Dublin Horse Show for my first show ever. We entered the Light-Weight 5-Year-Old Mare division and finished as the reserve champions," Priscilla said. Priscilla was soon invited to take lessons with show jumping legend Iris Kellet, and learn the ropes of eventing under Patrick Connolly-Carews and Jackie Dougharty. "That mare would fly around the cross-country course, and she would jump anything. She even jumped over a car once!" Priscilla said.
After five years in Ireland, Pricilla decided it was time to return to the United States. She sold Barbada to a rider on the Irish Junior Eventing Team. Upon returning home, Priscilla obtained her real estate license and began working in real estate syndication. On a horse shopping trip with a friend, Priscilla was introduced to Lynne and Ray Little of Raylyn Farms in Frederick, Maryland.
"We hit it off really well," Priscilla said. "They asked me what I did professionally, and I told them about the real estate syndication. Eventually we started talking about syndicating some horses, and I did one of the very early show jumping syndicates."
One of the horses in her syndicate, a Dutch Warmblood stallion, Omen, spawned another venture for Priscilla—breeding through embryo transfers. "We worked with the University of Pennsylvania to begin their embryo transfer program," she said. "It was really great because the mares could keep showing and we could breed very good horses. One of the horses we bred was Laurel, who ended up on the United States team."
In 1990, Priscilla moved to Palm City, Florida, to work on real estate development for a client in Martin County. "We worked together for a couple of years until I decided to go out on my own," she said. "I started in commercial real estate and moved into residential equestrian properties, which was the beginning of a nice, lucrative career since we weren't too far away from Wellington." Six years after moving, Priscilla met her husband, John Moffitt, while kayaking down the Loxahatchee River, and the two were married in 2001.
Sailing the World and Learning Dressage
Since her first excursion to Ireland all those years ago, Priscilla felt compelled to see more of the world. "Every year for 10 years, I went scuba diving on a boat in the Sea of Cortez," Priscilla said. "I met a couple, Mike and Lauren Farley, who became my best friends. I helped them start a small boutique hotel, Danzante, south of Loretto on the Baja Peninsula. My husband helped with the financial aspects, and it became one of the top-rated small eco resorts."
After years of balancing her business with riding, Priscilla decided it was time to sell her horse and share John's dream of sailing around the world. After six months of sailing to Europe, Priscilla found herself in Ireland again faced with the fact that she just can't live without horses in her life. "I told my husband I just can't do this without having a horse," Priscilla said.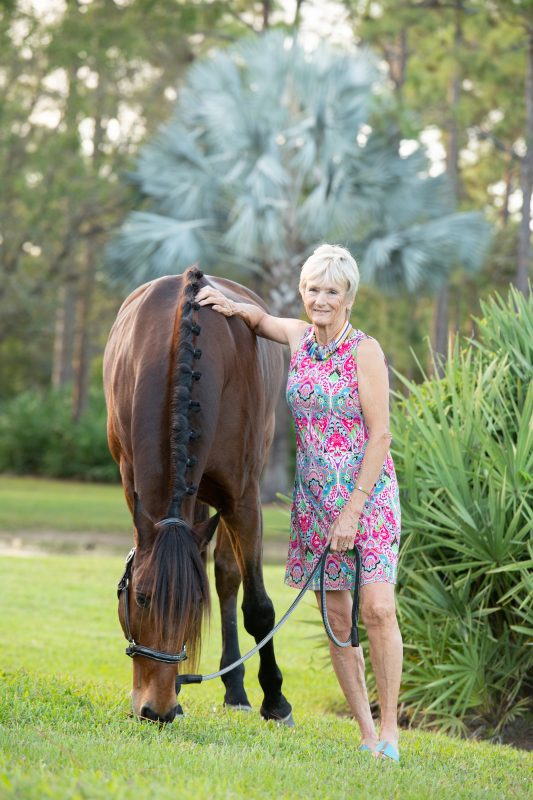 "I brought back a hunter from Ireland that my good friend had bred," she said. "I thought I'd have some fun hunting when I was in Florida, but it just wasn't enough for me to do." In the meantime, dressage trainer Heather Bender had relocated from California to Florida.
"I sold a property to Heather in Palm City. I told her if she bought the farm, then I'd come to take lessons. It was more than a sales pitch—I was really serious, and that started my journey with dressage," Priscilla said. "I went off sailing again and then received a text about a mare that came into Heather's barn, a warmblood named Amara."
Bred in Florida, the spicy mare was just Priscilla's type and required a rider who could handle a horse who didn't like to keep all four legs on the ground. Together, Priscilla and Heather developed Amara through the levels, and in-between sailing to faraway lands, Priscilla earned her USDF Bronze medal.
"When Amara was 14, she started struggling with lameness and wasn't able to work at the upper levels anymore," Priscilla said. "I knew I wasn't getting any younger, and I had this dream to ride the Grand Prix." Priscilla was hopeful she could learn on Zairo Interagro, an investment horse she had purchased as a 5-year-old that Heather trained to Grand Prix, but unfortunately Zairo passed away from melanoma, and Priscilla found herself back at square one with a big dream and without a horse to ride.
Future Accomplishments Ahead
Still clinging to her Grand Prix dreams, Priscilla held up hope that she would find a suitable horse. Enter Diacono Interagro, a Lusitano gelding who is blind in one eye, became available for sale in Wellington. "Heather asked if I wanted to come down and take a look at him," Priscilla said. "She tried him out first and told me how lovely he was. I sat on him and fell in love."
Starting together at Fourth Level, Priscilla and Diacono, known at home as Connor, worked up to Prix St. Georges and Intermediate I. "I earned my Silver medal with him, and Heather kept training him when I was away traveling with my husband," she said. "She took him to Intermediate II last summer and in November he showed in—and won—his first Grand Prix."
With the COVID-19 pandemic pumping the brakes on international travel plans, Priscilla and her husband decided to sell their sailboat after 18 years and take up RVing. Previously spending time sailing Europe and Asia, exploring North America has been a thrilling new adventure for the pair. It has also freed more time for Priscilla to dedicate to dressage.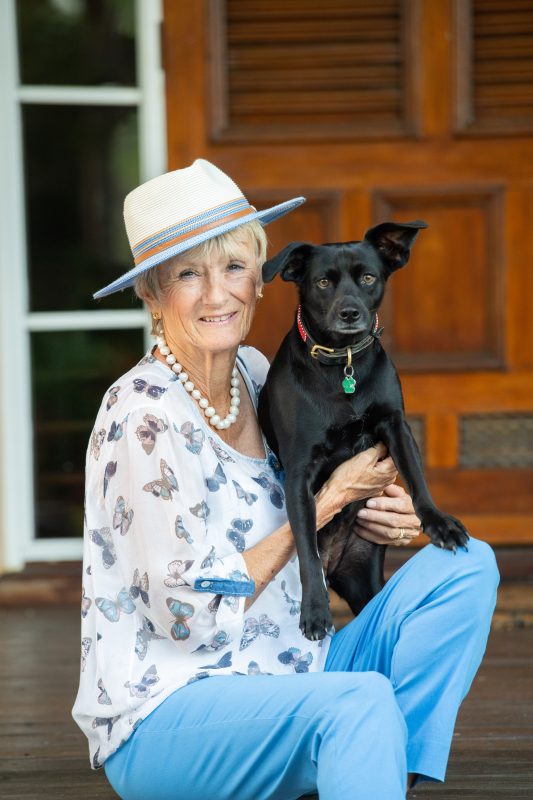 "It's so nice, at my age, to still have fun and be able to compete with everybody. In Wellington, you're competing with all the very good professionals, very good horses and great amateurs as well. It's been fun to be there and still be competitive," Priscilla said. "Heather has been so patient taking me up the levels. I love dressage because that is all you can think about when you are riding. It's so precise that you can't think of anything else, and it keeps me fit!"
Based out of her own Quiet Place Stables, a five-acre farm in Palm City, Priscilla believes she has found the perfect recipe for balancing her many endeavors. "I have four stalls, a nice dressage arena, and my wonderful barn manager who is also Heather's assistant. She has her horse here, takes care of Connor and manages my boarders," Priscilla said. "When I'm gone, everything keeps running smoothly, and when I'm home I can focus on my training."
With her Gold medal on the horizon and new goals for traveling, Priscilla and her husband haven't found a reason to slow down. "We both continue to do a small amount of business, and I call myself a 'concierge realtor' assisting my equestrian friends," Priscilla said. "It is a privilege to do what I do, and I'm so grateful for all of the wonderful experiences."
Photos by Melissa Fuller, msfullerphotography.com
Double D Trailers Info