Anyone who knows me is aware that I have a slight obsession with bits. I like to say, "Some women buy shoes; I buy bits." I should bring a chaperone if I'm heading to a store with a wide assortment of bits—so I don't come home with an expensive selection of new ones. While the addiction is real, it has also served me well through the years as I've managed to help many horses improve by finding them a bit that they're more comfortable in.
Horses are individuals just like us, so why should we assume that they would all like the same bit? The world of bitting is vast, so my goal here is to try and give a few basic, important pointers to help you on your way to finding the best fit for your horse. Here are a few common indicators that your horse might not be happy with what's in his mouth, and things to try:
—Your horse is opening his mouth and pulling the tongue up and/or out, flipping his head, or similar. In this situation, my first thought would be that the horse is looking for a bit with some tongue relief. A good option for this is the Bomber Happy Tongue or any other various ported bits that make room for the tongue. As a side note, it's important to know your horse's mouth and to look inside regularly to make sure that there are no rubs or sores in places that could be making them fussy in the contact. Many warmblood horses, for instance, have fleshy mouths and bigger tongues, which can make them more prone to getting pinched.
—Your horse is too light in the bridle and is reluctant to take the contact. He might also be curling behind the vertical and feels behind the leg and nervous to take a contact forward. In this case, I would go to something very soft like a Nathe straight bar snaffle and see if the horse is more inclined to take a feel of the bit. If this is an improvement, it might also be useful to try different noseband options or remove the flash and use just a cavesson to see if this further improves things.
—Your horse is leaning onto one rein, feels "wooden" in the bridle, is maybe pulling down and dragging you and is generally strong to ride. If this is an issue on the flat, then there are a few bitting options I would recommend trying that many horses accept and find comfortable but also respect. I like the locking bits such as the Sprenger MAX-Control bit or similar as a first choice. I also find that sometimes going to a bit with a roller on it, or something that moves or swivels, will help with the leaning. These are often good options rather than just choosing something thinner/sharper that could cut the horse's mouth if he pulls. For situations like this in jumping, I would first try a cherry roller (this bit has a simple snaffle mouthpiece but has rollers on it so the horse can't grab on) and then if this doesn't work, I would next try a Waterford. The Waterford is a slightly stronger bit that has multiple moving parts so they can't find one piece to lean on, and it's very effective on many horses.
—If your horse needs slightly more than a snaffle bit, there are hundreds of different options that incorporate poll pressure, leverage and more. It can be pretty overwhelming if you're not sure what you're looking for! As a general rule, if your horse is getting too hollow or pulling you with the nose out, a pelham might be a good bit to try (always start with a soft cover over the chain to begin with). For those that get too low and strong, a running gag or a two/three ring or universal gag could be a good choice. With all of these options, I would start with a mouthpiece that the horse likes or choose something softer rather than stronger while you're increasing leverage and control. It's important to remember that these bits are much stronger than your standard snaffles, so if you don't have much experience with these, it would be useful to get advice from your trainer or someone who has used them before.
Choosing a bit can seem overwhelming, but if you listen to your horse and make an effort to find something they like, you can really improve your partnership going forward.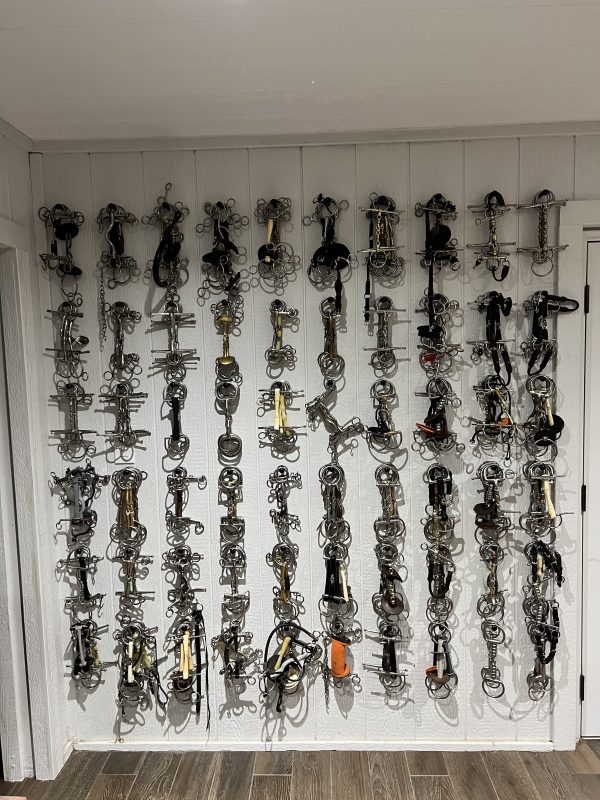 Liz's tack room features a large assortment of bits.
Double D Trailers Info