By Britney Grover
Portraits by Hannah Draughan
It was just a walk-trot class at a class A Arabian show, but Kira and Krystal Annie EN looked fit for any world stage. With fancy bows attached to her riding helmet, Kira fit in with all the other kids. As the judge moved down the line, he smiled and asked Kira her name.
"Well, Kira," he said, "You're very pretty up there on that horse. What's your horse's name?"
"Annie," Kira replied, "But that's not her real name — she goes by some other long name. We just call her Annie."
The judge smiled and patted her on the knee and asked her what she liked about riding. For a moment, Kira went blank. Annie stood calm as could be as Kira thought. Finally, she said, "It makes my cancer go away."
When Kira and Annie took fourth out of 10 in the class, the judge told the audience what Kira had said before they announced the placing. As Kira and Annie trotted out, they received a standing ovation from a tearful crowd.
A pony can bring miracles in the life of a child. At Angel Heart Farm, sometimes the miracle is a longer life — and sometimes the miracle is a simple moment of joy or triumph in what little life a child has left.
"Some of our kids we only have one time — we may lose them," said Tracy Kujawa, the force behind Angel Heart Farm. "Others have been with us four or five years. We're way more than an equine assisted therapy program — our kids show. Two of our little kids won national championships last year at the Welsh Pony Nationals. Two of our ponies, Katarina and Rocky, have been named Welsh Pony of the Year. My kids show on the Arabian circuit and they win — all of our horses are show horses. I want my kids to get confident; I want my kids to have a goal. I want my kids to look forward to something other than chemo — I want them to say, 'I'm going to fight this so I can go to this horse show and win a ribbon.'"
Falling Into a Career
Tracy knew the value of horses even before she came to understand what they could mean to a cancer patient. "My daddy bought me a pony the day I was born," she said. "Every day I'm grateful who raised me, because I had the best parents in the world. They really taught us the importance of horses and animals, and how to take care of them before ourselves."
She grew up with Shetland and Welsh ponies, learned to ride before she could walk and participated in 4-H. Her parents got her a Welsh-Arabian cross pony for Christmas when she was 9 years old, which she calls the best Christmas of her life. Tracy showed Pony Town Cris in 4-H until college, when professional needs took a lead role.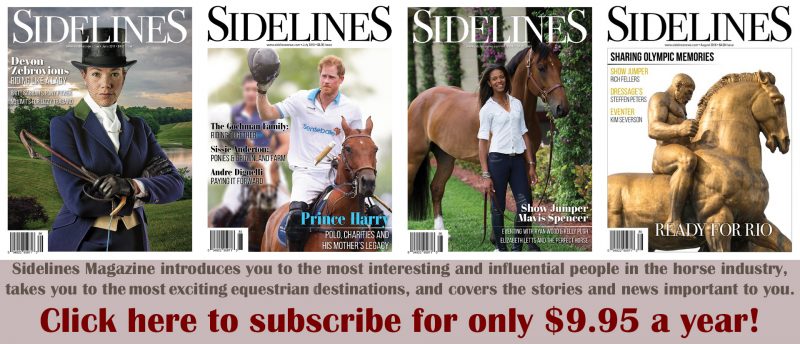 Tracy's career took her from being a Winston Cup (now NASCAR) photographer in North Carolina to Chicago, where she fell into being a set designer and wardrobe stylist for a photographer. "I was 22 or 23 and had no idea what I was doing; I just knew what I liked," she said. But people took notice. Fashion and editorial work in Chicago led to commercial work, feature films and mini movies in Minneapolis.
"I ended up moving to Nashville on a whim, and the second day I was here I was working on a video shoot with a country music band and it kind of exploded from there," Tracy remembered. "I think they liked me because I wasn't like everybody else — I had worked all over the place, so my portfolio was diverse. I was a wardrobe stylist here in Nashville for country artists, Christian artists, tour stuff, magazines, album covers, videos and all that."
Along the way, Tracy had gotten back into horses. She bought an Arabian near Minneapolis and showed Western pleasure and halter. She leased an Arabian mare and bred her to a national champion stallion, and got a filly. "Khuryia's been with me for 25 years," Tracy said. "She's my everything — when I say she's my everything, I mean my everything. Everyone told me, the day she was born, there was something about her. I just thought she was beautiful — she was my little girl, my baby. Little did I know 10 years later I would be diagnosed with cancer."
A Meaningful Dream
It was 1998, and Tracy had been working as a stylist and showing Khuryia, both very successfully. "The day I was diagnosed, my mom was in her last stages of cancer. When the doctor came in and said, 'Well, it's cancer; let's go to the conference room to go over protocol,' I just looked at him and I walked out. I literally said nothing and walked out the door. I drove to the barn, laid in my mare's stall and cried for about three hours."
Tracy describes Khuryia as the typical Polish Arabian mare: beautiful, arrogant, a drama queen and all about her. "But that day, she just laid with me and I buried my head into her and cried and cried. I remember she got up and looked at me like, 'Get over yourself; we got this.' I was showing her when I was sick and we won everything that year — we didn't miss a beat. I lost my mom and six months later I lost my dad, so it was a really hard year. Losing the two most important people in my life, my horse was always there. She's never wavered, she's just always there."
Tracy didn't tell anyone about her illness, and continued to work as a stylist as she fought the cancer into remission with surgery and radiation. But in 2000, the cancer came back — and word got out. "I was starting to lose jobs. When people hear you're sick, they don't know if you're going to show up to the shoot. I was going to lose my house; it was kind of scary, but I threw my hands up in the air and said, 'Okay God, you're the one who pushed me in this direction.'"
That direction was to follow a dream — a literal dream that she was teaching baldheaded children to ride horses. With no idea how to start a non-profit, Tracy set out to create Angel Heart Farm, a haven where children with life-threatening illnesses and their families could escape the stress of hospitals, tests and treatments and enjoy time with ponies. With her trainer at her side, she began searching for the right ponies.
"I looked at 30 ponies all over the country, and there was just nothing I liked," Tracy said. Word of Tracy's quest reached country star Alan Jackson, whom Tracy had worked with before. "He said to me, 'Why don't you come up to my farm — I've got horses and ponies. My girls are into boys and soccer now, and these ponies are getting fat.' I drove up to Alan's farm and there's the most beautiful red roan pony named CloverCroft Rocky Too, and a black-and-white Shetland named Cisco Pete. I couldn't believe it — everybody knew Rocky, he was one of the best show ponies in the country."
Alan insisted Tracy take the ponies as a gift. Weeks later, Tracy's trainer found two more ponies — Rolo Basko, a multi-champion Arabian whose teenager outgrew him and was donated to the program, and Chester, a gelding with no showing prospect but a heart of pure gold. Angel Heart Farm was born.
Changing Lives
In its first year, Angel Heart had four young riders. One of those was Nate, a little boy with an inoperable brain tumor and a 10 percent chance of survival. Tracy worked directly with his doctors to arrange farm visits, and Nate and his parents visited Angel Heart. "He came out and met Cisco," Tracy remembered. "They bonded in about 10 seconds. We got Nate a little pair of red cowboy boots — he was 4 years old and the cutest thing ever. He would call Cisco his main man."
Nate had ridden three or four times when, just a few days before Christmas, Nate's tearful mother called Tracy and asked if they could visit the farm. "They came out with a big bag of carrots, and she was crying, and I knew they were going to tell me something bad," Tracy said. "She said, 'We just got his scans back — and there's no sign of the tumor.'"
Nate's family attributed the change to Cisco — and Nate, now a junior at Ohio State University, still sends Tracy a Christmas card every year. Though Cisco has since passed away, the stream of miracles at Angel Heart Farm has not stopped. While there are plenty more stories like Nate's, there are many others that end in Angel Heart riders becoming angel hearts themselves.
"Half my kids don't even realize what's going on; they don't realize they're sick," Tracy said. "They know they get needles, they know they get this horrible stuff in their veins, they know they go in these machines that do things to them, but when they're that little … then I have my teenagers, they understand it all."
The Angel Heart program isn't just for sick children, 90 percent of which are battling cancer — it's for their families as well. When a family comes to Angel Heart Farm, that family is the only one there, and all family members can participate however they like. "When kids go into remission, the program isn't taken away from them. They continue to ride with us. When we lose a child, siblings are still able to come out to the farm. We don't take anything away."
Angel Heart partners with different companies and individuals to provide every young rider with their own boots, helmet and even show clothes if the child is able to show. The program is tailored to each child's needs, from showing at the national level down to one-time visits. "We visit our kids at the hospital — our ponies go to the hospital, they go to the kids' houses, they go anywhere they need to go," Tracy said. "If the kids can't come to us, we just throw the ponies in the trailer and go to them."
Hopes for the Future
For Tracy and Angel Heart, the biggest concern is finding their own farm — the program is currently run out of a boarding facility, which poses risks to the fragile children undergoing various treatments. Land in Nashville is expensive, and Angel Heart needs to be located less than 30 minutes from the hospital for the children to make the journey.
Fundraising can be a challenge for Tracy, who relapsed in 2016 for the fourth time — and sold her home to pay for medical expenses and to keep Angel Heart running. Tracy and the board of directors work tirelessly trying to find donors and grants. In March, Angel Heart Farm and the Arabian Horse Reading Literacy Project launched a children's picture book with 100 percent of proceeds going to help Angel Heart Farm children and horses. Entitled "I'll See You in Heaven," the book shares the touching story of Amber and Basko — both of whom become angel hearts.
As another fundraising effort, Tracy and Angel Heart created a program called Ride for the Gold. "September is Childhood Cancer Awareness Month, and the gold ribbon signifies childhood cancer awareness," Tracy shared. "I came up with this idea of kids helping kids — a walk-trot class, in hunter, western, saddleseat or whatever, where all the entry fee money goes to Angel Heart. The winner gets a very pretty gold ribbon sash that says, 'Ride for the Gold — Angel Heart Farm.'"
The class has been held at 35 shows all over the country so far, raising over $25,000 for Angel Heart. Many parents have written or called Tracy to thank her for the opportunity to talk to their children about other children who have cancer. Tracy hopes that kind of awareness can lead parents to sponsor Angel Heart riders or donate in honor of their healthy children. "One mom called and said her 7-year-old won the class and thought only grandmas and grandpas got cancer. For her eighth birthday, she raised money for the program so she could sponsor one of our little girls."
Though running a non-profit can be hard, Tracy considers Angel Heart so much more than her job — and doesn't regret her decision to pursue it completely. "I'm not really about jobs; I don't really care about success, because success is measured in so many different ways," she said. "Do I want to be the world's best wardrobe stylist? No, I don't care. I don't want to win an Oscar for dressing somebody in a movie, that doesn't interest me. At the end of the day, at my funeral, are they going to go, 'Oh, she dressed really good?' No. I quit my career and have a new career — not even a career, it's just what I do. It's my life. My life with kids and ponies."
For more information, visit www.angelheartfarm.com
Double D Trailers Info