By Lauren R. Giannini
Portraits by Shawna Simmons
Former grand prix jumper rider Julie Ulrich holds an unofficial Ph.D. in horses. A firm believer in the importance of flat work, she can ride and train at the highest level of dressage and show jumping. Based in France for many years, she's going to spend half the year in the U.S., starting this fall. She's very excited about what she calls the fourth part of her life.
"After a friend observed that I have lived a privileged life, I started thinking about it and yes, it's been privileged, but I have lived four completely different lives with horses being the common denominator in all four," Julie said. "A second common denominator for the first three was the enormous number of wonderful, talented and generous people who helped me every step of the way. I still love horses, I haven't lost my enthusiasm, I never get tired of them and, as I'm approaching 80, I decided that my endeavor, during this fourth and probably last part of my life, is to give it all back."
Julie's "it" encompasses a treasure trove of knowledge. Her teachers included the likes of Karl Mikolka, Reiner Klimke and Frances Rowe. Her students in Aiken, South Carolina, and Middleburg, Virginia, and other parts of the U.S. are rejoicing. On the other side of the Atlantic, riders led by Kevin Staut (FRA), currently ranked #7 show jumper in the world by the FEI, are delighted that she will continue to spend April through September in France. There will be lucky horses on both continents, too — still riding at her age, Julie's exceptionally good and loves to jump.
Parts 1 & 2: Growing Up
Julie's equestrian education began by chance in St. Paul, Minnesota, when she was 12. "I loved to walk the half-mile from my house to visit Shetland ponies and on this particular day, one of them bit me. The owner knew my family by sight and he came running out and said he would teach me to ride if I didn't tell my mother that I got bitten," she recalled. "Maurice Roberts and his brother Michael were Irish and they spent hour after hour in that ring with me while I rode horses for them. Maurice was old-fashioned and what I learned was rustic, but I never would have been able to go on and do what I did later without those two brothers. They taught me until I was 15."
When Julie's parents moved back to Boston in 1958, she went with them. She attended St. Lawrence University, dropping out because she missed horses. She married horseman Richard Ulrich and threw herself into her preferred environment, and never stopped learning. They developed two very large riding schools named Friars Gate: One was in Pembroke on the South Shore; the other on Cape Cod, intended to be a summertime stable, ended up a year-round facility thanks to demand as the area evolved.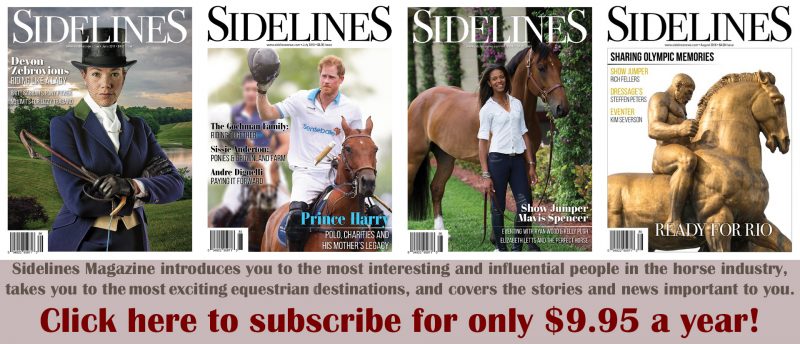 "We had lots of horses and I had working students and paying students," Julie said. "In 1974, Karl Mikolka toured the United States with the Spanish Riding School and Alois Podhajsky. When Karl made the decision to stay permanently, he and his wife, Cindy, needed a place to train. They stayed at our farm for five years and that was a huge advantage to me in terms of learning the classical method of dressage. It opened more doors for me because Karl gave me so much knowledge and also the ability to ride at the very highest level in dressage. He was very generous about getting on my horses and letting me get on his."
Julie's background is in grand prix jumpers, but she leans more towards the training process. "Competing is a separate entity from training horses," she said. "Even if you're training them to compete, you become really involved in how they think, how they react to things, and how you're going to make it clear to them what you want without using force, without using shortcuts — if you have the time to do it right."
Champion Schoolmasters
Julie's a jumper enthusiast with a talent for thinking outside the box. "After the 1972 Olympics in Munich, I became aware of Reiner Klimke," she said. "He was the world dressage champion for years and years. We had mutual friends and he invited me to his stable in Germany if I was so inclined to watch — he didn't say I could ride, he just said I could watch and that way I could learn."
What happened is yet another exceptional contribution to Julie's ongoing education. "Right away, Reiner let me ride. He was so generous. He said, 'I am not a teacher, I'm a lawyer and I ride for myself and I love dressage, so I won't teach you, but I will let you ride my horses.' That was a huge gift! He let me ride all his horses that he competed on, including Olympic gold medal horses Mehmed and Ahlerich. I went there twice and Reiner's another example of someone who, for no personal gain whatsoever, made it possible for me to both watch and ride, talk to him about it, and ride — and jump — all his wonderful horses — an immeasurable gift in my lifetime."
Around the same time that Julie was learning from Reiner and his horses, she acquired her third major mentor. "Frances Rowe, the coach of Joe Fargis, one of my heroes of riding, and Conrad Homfeld, walked up to me in Florida — I was by myself with six horses — and said, 'I'm going to coach you for the whole season,'" Julie recalled. "I told her 'I can't, I don't have enough money.' Frances said, 'No money — I'm coaching you for nothing and I won't hear of you saying no,' and she did! It's gifts like that, wonderful people who stepped in, with no reason to do so, and made it possible for me to learn to do the thing I love most."
Part 3:  Major Move
In 1981, Julie started from scratch. She had divorced. Karl and Cindy went their separate ways. "Everybody split up and I was left with that farm and 115 horses," Julie said. "After five years, I knew I couldn't do it by myself and I sold it. I moved Friar's Gate Farm from Boston to Middleburg, Virginia. The new operation was smaller, and I took a lot of working students from Europe and I trained them."
Her first working student came on the recommendation of a good friend, the legendary three-day eventing coach Jack LeGoff. "When that boy went back to France, he told friends riding in his circle that they should drop everything and go to train with Julie Ulrich for six months, learn to speak English, learn to ride, experience the U.S.," Julie said, laughing at the memories. "He told his friends that they would have a great time, ride like crazy, and foxhunt in Middleburg. I got floods of them. Each one went back and sent their best friends to me."
It was a win-win. Julie put her working students on every horse she could and each of them had three or four lessons every day. "I took them foxhunting, I did all the cooking. We went to Florida together and they rode on the circuit down there," Julie recalled. "They learned English. Everywhere I went, I took them with me and we had so much fun."
Part 4: Friar's Gate International
In 1995, Julie decided that if she wanted to try living in Europe, now was the time. "I wanted to go where I could throw myself into a total immersion and see how long it would take me to get back to the same levels that I enjoyed in the United States," she said. "I moved to France. There was no plan whatsoever. It was like jumping off a cliff."
Her strategy was simple: Go to France and teach and train young horses. She realized quickly that the French don't take lessons the way Americans do.
"I couldn't believe it — in most of the classes I rode in, I was the only woman rider," Julie said. "Every time I asked if a horse was for sale, they'd ask if they could speak to my husband! For the first two years, I couldn't speak the language. Now they accept me, but it took five or six years, and at first there was no place for me and I didn't know what to do."
The economy was bad. Instead of putting their horses into training, breeders free-jumped them at home and, at the next show, hoped to find a rider willing to get on their horse.
"I decided to buy some horses and train them until they were suitable for American people," Julie said. "I turned myself into a horse dealer. I'm not a horse dealer. I'm a teacher — a pedagogue, that's what they call them over here. I'm a teacher and a trainer. I'm not a high-level competitor. I like to do the detailed work. So I turned myself into horse dealer and made a huge success of it. I sold a ton of horses, all the time knowing I would rather teach — and now I can."
Julie has her house in Normandy for sale. She's leaping once again into the unknown, but this time's different and friendlier than her move to France 20-some years ago. Plus, her connections in jumpers, dressage, foxhunting and eventing are stronger than ever.
Equally strong is her drive to teach, to give back by sharing her expertise, especially now that she has organized this fourth life that she will divide between the U.S. and France as she mentors eager students of horsemanship. Some will compete. Others will "ride for the horse" — a simple concept that packs lots of power. It's an attitude by which she has lived her entire life.
"I had all these people who were really good examples," Julie said. "Karl told me, 'You teach as you have been taught,' and he taught me with generosity, as did so many others. Now it's my turn."
Photos by Shawna Simmons, SAS Equine Photography,  www.sasequinephotography.com
Double D Trailers Info