By Kimberly Gatto
Portraits by Melissa Fuller
It's been said that the harder you work towards a dream or goal, the greater you will feel when you achieve it. While FEI dressage rider Katie (Johnson) Duerrhammer's elegance in the saddle appears to be effortless, her success is, in reality, the culmination of years of sheer hard work. In the glittering world of FEI dressage, Katie's talent and strong work ethic, coupled with a true love and respect for horses—and the unwavering support of her team—have made her one of the sport's rising stars.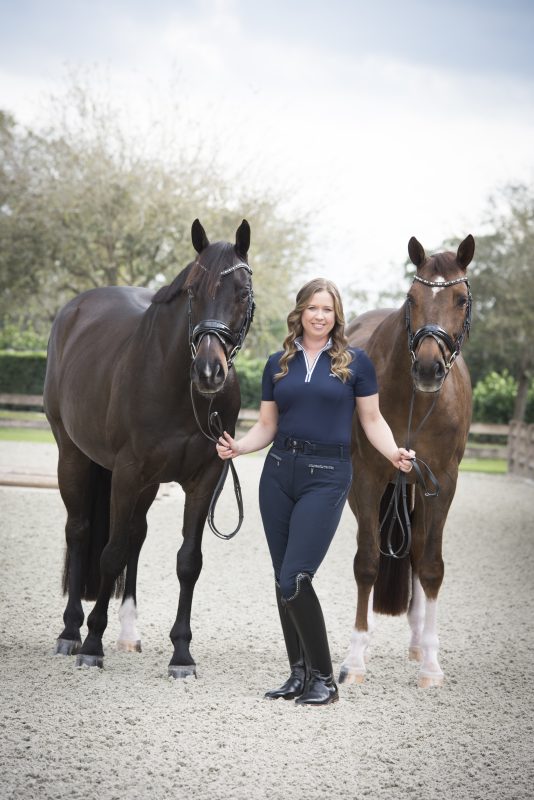 Katie Duerrhammer, in Wellington, Florida, with Paxton, left, and Quartett, both owned by Kylee Lourie of TyL ("Thank You Lord") Farm.
Early Years
Katie was born into a horse-loving family near San Diego, California. Her mother, Elizabeth Johnson, is an accomplished dressage trainer who introduced Katie to horses before she could walk. "My mom rode up until two weeks before I was born," Katie said. "I got my first pony when I was 3 months old."
Katie learned the value of hard work from a young age—a lesson that was instilled not just by her mom, but by her father as well. "My dad drove a sand and gravel truck," she said. "He worked very hard to provide for us and to support our passion for horses."
From her earliest days aboard a small black-and-white pony called Oreo, Katie was taught to love and respect all equines. "My mom always made sure that we had fun, and that we were safe," Katie said. "We did fun things like dressing up the ponies for Halloween every year and riding bareback … things like that to keep it fun. But I was also taught first and foremost to love and respect horses and to always do things safely."
Katie continued to ride throughout her childhood. One memorable day, her mom picked Katie up from school early and brought her to a nearby barn to try out a horse. That gelding, a young, bay OTTB named Gadget, or Hammy, became Katie's first full-sized horse. "It was so exciting for me," Katie said. "He was a wonderful boy."
Katie rode under the tutelage of her mom and became more interested in moving up the levels in dressage. Soon she set her sights on competing at the prestigious North American Junior and Young Rider Championships (NAJYRC).
After seeing Olympian Debbie McDonald competing at a show at Del Mar, California, Katie was mesmerized by the legendary rider and her horse, Brentina. "I wondered whether Debbie would consider taking on a young working student," Katie said. "My mom suggested that I go ahead and ask. Debbie's answer was yes—if I wanted to work hard."
Never one to back down from the idea of hard work, Katie signed on. "I would go to shows with Debbie and work all day. There was a lot of walking. I think I hand walked more horses than I ever had in my life!" she said. "Then I would take my own horse up to her farm on the non-show weekends for lessons. I was so honored to have such an opportunity and to work with someone as great as Debbie. I learned so much from working with her and even by just watching her."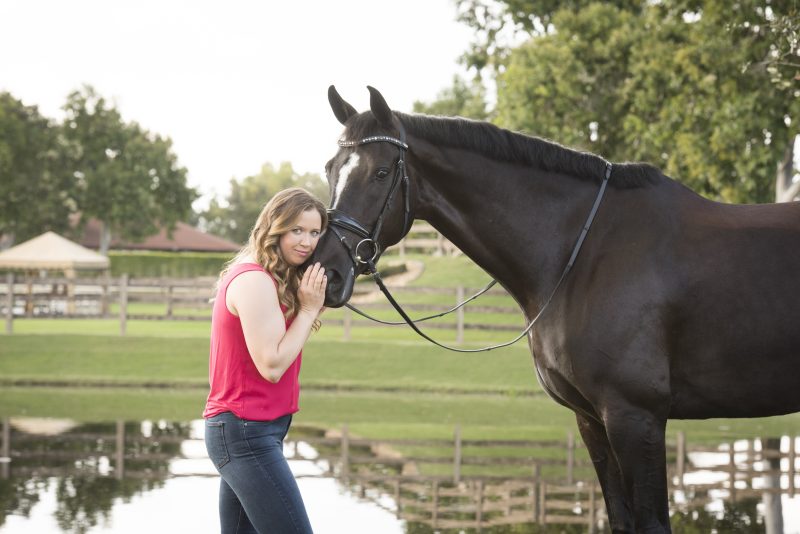 Katie with Zaphira, a 9-year-old Danish mare by Zack, owned by Kylee Lourie.
Meeting Milo
While Katie aspired to compete at the NAJYRC, she never had the right horse for the job, nor did she have the necessary finances to purchase such an animal. "I had tried leasing a horse and it did not go as planned," she said. "By the time I turned 20, I was really disappointed. It was my last year to compete as a Young Rider and it didn't look like it was going to happen. My parents suggested that I call every sales ad listed in the California Dressage Society omnibus and see if they would be willing to lease me a horse that I could show. I figured I had nothing to lose."
That leap of faith paid off. After numerous calls—and a vast number of disappointments— Katie found a horse that could possibly fit the bill. Millennium, aka Milo, was a 14-year-old bay Dutch gelding with a pretty star on his forehead. He was offered to Katie by his owner, Pam Schachter, who recognized Katie's talent and the potential benefits of having her work with the horse. "I got on Milo and found that I could do most of the Prix St. Georges movements," Katie said. "We did our first show together just two weeks later. The following week, we competed at CDI. I had told myself that if I came in last, that would be it; I would at least have given it a shot. We actually came in second to last. I was hopeful."
Three months later, when Katie and Milo competed at the NAJYRC at The Colorado Horse Park, everything seemed to fall into place. The pair performed beautifully, winning the individual dressage gold medal with a score of 69.05%. Additionally, they secured the team gold for Region VII. Katie's hard work had made her dream a reality, far exceeding her expectations. "I truly would have been happy just to finish in the top 10," she said. "It took a while for it to really sink in that we had won!"
While Pam had planned to sell Milo after the NAJYRC, she held off from placing sales ads for another year so that Katie could continue to compete him.
"Milo was a giant, pivotal part of my life and career," Katie said. "I'm so incredibly grateful for all that Pam did for me. She is still a very dear friend." For Milo's part, rather than being sold, he ended up staying with Pam for the remainder of his life and serving as her own personal mount.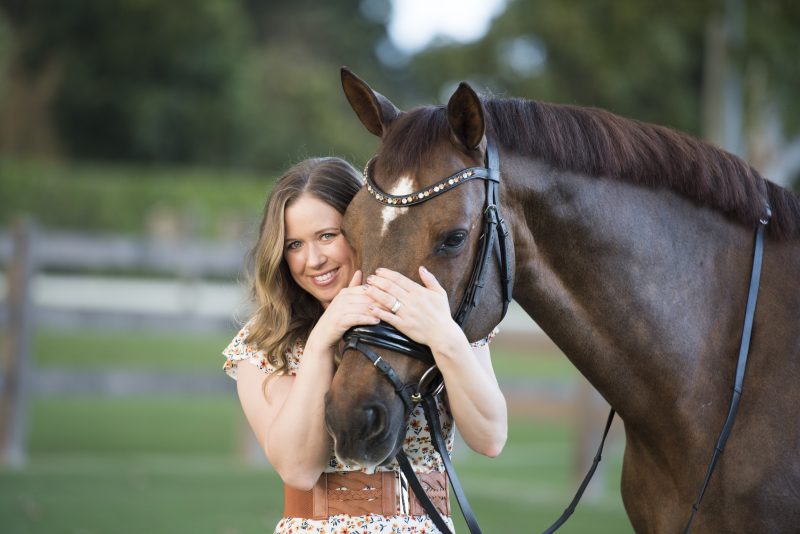 Katie gives Quartett, a 14-year-old Brandenburg gelding by Quarterback, a hug.
At a Crossroads
After aging out of the Young Riders division, Katie opted to turn professional. She enrolled at the local community college, where she maintained a full course load in the evenings while operating her own training and teaching business by day. "I did anything and everything I could with horses," she said. "I taught lessons, trained dressage horses, rode horses on trails for their owners … I even trained some gaited horses during this time. I really enjoy the learning process with different types of horses and owners."
After maintaining this hectic schedule for over a year, Katie found herself at a crossroads and considered traveling to Europe to further her dressage education. "I asked my parents for advice," she said, "and they told me I should go if I could find a job there." As fate would have it, Helmut Freiherr von Fircks was searching for a working student at his Gestüt Nymphenburg in Germany. Katie jumped at the opportunity, even though it meant leaving her home and family behind—including her new boyfriend, Gerhard Duerrhammer. "I was planning on staying for three months," she said. "But that turned into a year."
As English was rarely spoken at the barn, Katie was able to hone the German language skills she had learned in school. "It was the most amazing experience," she said. "Everyone there was incredible, and I felt as if I were a part of the family. They gave me so many opportunities."
Katie's responsibilities included managing the grooming staff and working as an FEI groom, as well as riding, teaching and competing. "I had such a fantastic time there," she said. "They wanted me to stay longer, but it was time to come home."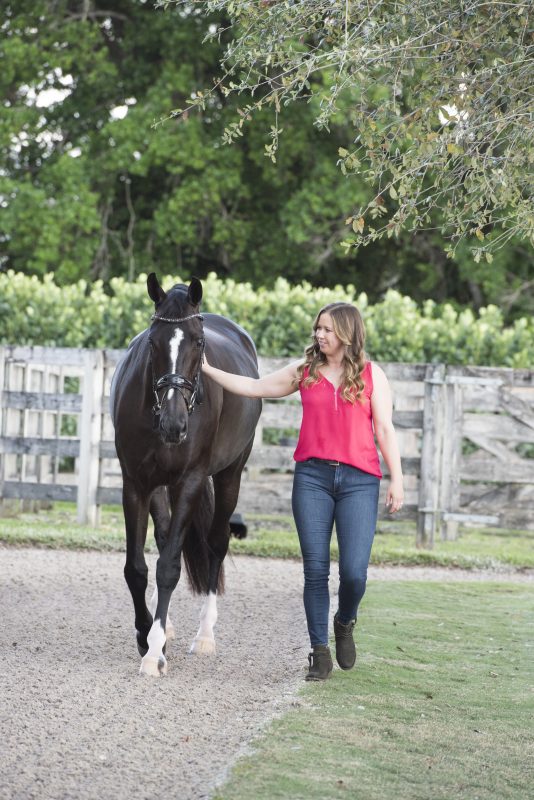 Katie, walking with Zaphira, said she is blessed to have found her life partner in Gerhard Duerrhammer, whom she married in September 2021.
Destination: Denver
After returning home from Germany, Katie opted to take a break from the horse world to focus on her education. She returned to school, worked as a nanny, and spent more time with Gerhard. The couple eventually planned their engagement. Then came a call from Debbie McDonald. "Debbie told me that she knew of someone in Denver, Colorado, who was looking for a trainer. I told her, 'I am out of horses now. I am not moving to Colorado.' I really had given up on chasing the dream," Katie said. But Debbie encouraged her to at least call Kylee Lourie of TyL ("Thank You Lord") Farm.
At the beginning, the position was just to coach and teach Kylee's daughters and a few other girls at the barn. "They wanted to move into doing NAYC and Kylee herself had high aspirations," Katie said. "I went to Colorado, convinced that I was not going to like it and that she would want someone older. But when I got there—Kylee was incredible. When my mom called and asked me how it was, I said, 'I think I'm moving to Denver.'"
Katie could see how much Kylee believed in her, even at the beginning. Within the first few weeks, Katie developed a painful knee condition called patella bursitis—which meant she couldn't ride for a while—and she was concerned she would lose her job. Yet Kylee took it all in stride. "She told me, 'That's OK. We really like you and we want you here anyway.'" Katie ended up staying for a year, then another year, and Kylee purchased a lovely young horse specifically for Katie to show. "I had never ridden Grand Prix at that point," Katie said. "I told Kylee that she needed to put him with a proven rider." But Kylee's faith in Katie remained strong. "She told me, 'You are the reason I want to do this. I want you to start a horse from the ground up and see you succeed.' Her confidence was life-changing for me. Believe me, the tears were flowing."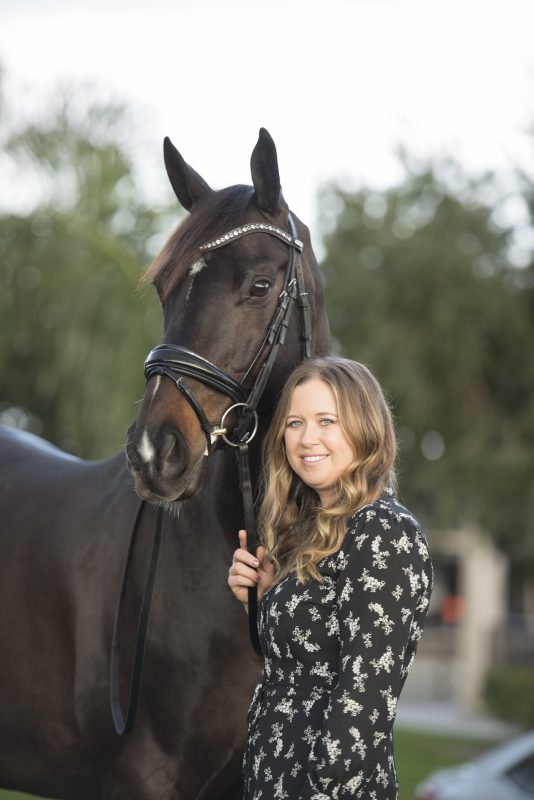 Paxton and Katie put in back-to-back personal bests at the World Equestrian Center — Ocala in April to win their first CDI3* Grand Prix and Special.
A Winning Partnership
With Kylee's blessing, Katie was paired with Quartett, aka Ted, a 16.1-hand liver chestnut German Sport Horse gelding. "Quartett is Kylee's personal horse that, when purchased, was a Small Tour horse. Kylee asked me to give him some more show ring miles and progress him to Grand Prix. Kylee rides him herself whenever she can during season, and during the summers in Colorado, and enjoys him. Quartett's ultimate role in life will be to transfer back to Kylee."
In the meantime, Katie and the fancy gelding are currently achieving incredible success. The pair qualified for the small tour in 2020, but unfortunately were unable to compete as the shows were cancelled due to the onset of the COVID-19 pandemic. However, when shows resumed, the pair made the jump to Grand Prix in 2021, with stellar results, including being named to the Compienge Nations Cup team. This past January, they achieved their first Big Tour victory when the pair won the Global Dressage Festival CDI3* Grand Prix Special in Wellington, Florida. More recently, the duo placed second in the FEI Nations' Cup Freestyle Finals, cementing their partnership as a promising young pair.
"He is the most kindhearted horse, but very opinionated," Katie says of Quartett. "He knows he's the boss. He loves to perform. He's small compared to most Grand Prix horses. I say that he looks like a German Riding Pony!" she added. "He's a very special horse. I don't think I will have many like him in my lifetime. I am so proud of him."
Katie currently trains with Olympian Adrienne Lyle. "Adrienne has become my rock," she said. "My riding is progressing so much with her."
Adrienne was quick to say that working with Katie has been a great journey. "Katie shares the same passion for our sport that I do and she is an incredibly hard worker," Adrienne said. "What I admire about Katie is her commitment to learn to do everything the right way, from the ground up, and never try to cut any corners. She is also endlessly patient with the horses and thinks of them wholistically, and not just in 'dressage' terms. To me this is an important mark of a true horsewoman."
In addition to Quartett, Katie successfully competes several other horses for Kylee Lourie. These include Paxton, a dark bay Westphalian gelding, and a 9-year-old, 18-hand Danish mare named Zaphira, among others. With Paxton, Katie became the first double winner of the Iron Spring Farm Future Stars Performance Series in the developing Prix St. Georges at the Global Dressage Festival in 2019. Paxton competed at the Festival Of Champions 2021 Developing Grand Prix, placing fourth, and made his CDI Grand Prix debut this year. In April, Paxton and Katie put in back-to-back personal bests at the World Equestrian Center — Ocala to win their first CDI3* Grand Prix and Special.
"It has been a joy to invest in helping Katie reach her goal of competing on U.S. teams," Kylee said. "Katie's work ethic and trustworthiness inspire me to sponsor her with quality young horses that she could develop into U.S. team horses."
In addition to her success in the show ring, Katie considers herself blessed to have found her life partner in Gerhard Duerrhammer, whom she married in September 2021. While he's not a horse person, Katie says that Gerhard is incredibly supportive of everything she does. "It's funny," she jokes. "Gerhard has never ridden, but he can watch a dressage test and he knows every movement. And he can definitely tell the good from the bad!"
In the coming years, Katie aspires to continue her ascent in the Grand Prix ring, to continue developing young horses, and to teach riders of all ages. "I have started taking on new students," she said, "And I really do love teaching!"
Despite the success she has achieved, the humility and strong work ethic Katie developed as a young girl remain with her, shining through in everything she does. "For me, it's not just about showing or the finished product," she said. "I very much enjoy the whole training process. And I am so grateful to have such an amazing team of both people and horses. Any success is driven by my love and respect for the horses. That is what it's all about."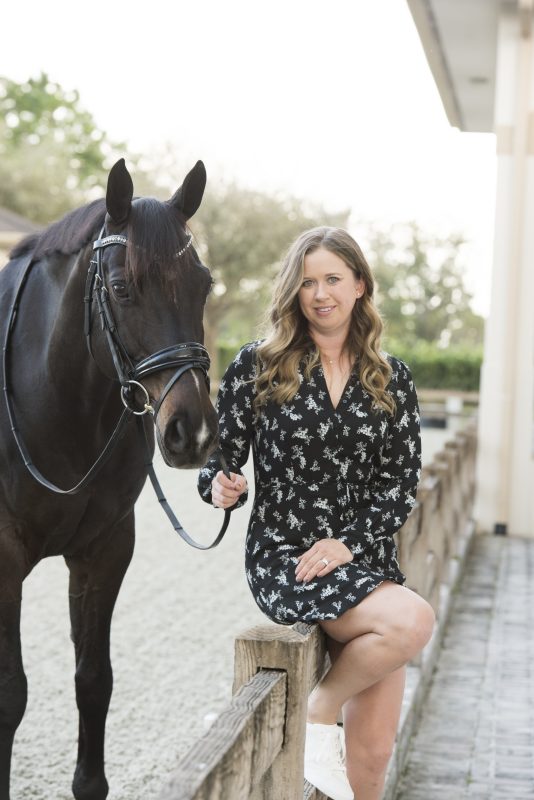 Katie, with Paxton an 11 year old Westphalian gelding by Dante Weltino, trains with Olympian Adrienne Lyle. "Adrienne has become my rock. My riding is progressing so much with her," Katie said.
Follow Katie on Instagram @katie_duerrhammer
Photos by Melissa Fuller, msfullerphotography.com
Double D Trailers Info