By Dani Moritz-Long
Portraits by Shawna Simmons
Kelli Cruciotti's life could be wrapped up in a well-known saying: Like mother, like daughter.
While Kelli is the daughter of Serenity Farm's Cindy Cruciotti and is following in her mom's footsteps, she is also quickly coming into her own. The ambitious young rider is gaining national acclaim for her impressive transition from her illustrious junior equitation career, which culminated with winning the USEF Pessoa Medal Finals in Harrisburg, Pennsylvania, to earning the spotlight in her professional career.
In 2016, she medaled on the Young Rider Nation's Cup Team, won the Artisan Farms Under 25 series in Wellington and captured the blue ribbon in the Encana $50,000 Under 25 Grand Prix at Spruce Meadows. With her achievements continuing to mount, there's no telling how far Kelli's success will take her.
While her accomplishments are vast, you're not likely to catch the 19-year-old budding superstar boasting. Kelli maintains a down-to-earth attitude and relentless dedication to improvement. Training under the watchful eye of her mom, Cindy; godmother, Kelli Clevenger; and Peter Wylde, Kelli keeps busy by working hard at her family's facility, Serenity Farm, where she doubles as the farm's associate trainer and resident grand prix rider, and traveling the country for competition.
 A Family Affair
"Growing up with my mom and my godmother, Kelli Clevenger, who is also an extremely successful professional and part of our team, I always have and still do look up to them and strive to one day have the success and compassion that they do for the horses and sport," Kelli said.
While others may find training with parents or other family tiresome — too much of anything can cause trouble — Kelli says she's appreciative that her equestrian career has remained a family affair. "Every day that I have the opportunity to continue to work with my mom is a privilege," Kelli said. "I feel very fortunate that I can learn from someone as knowledgeable and talented on a daily basis and still get to experience it together as mother and daughter."
Cindy's perspective echoes her daughter's. "Training Kelli has been the most rewarding, amazing, wonderful and challenging experience of my professional career," Cindy said. "We have shared so many incredible experiences, like winning the medal finals and the Devon Grand Prix, but our relationship has been so much more than just the successes.
"Based on a mutual respect for one another, Kelli and I have managed to build an amazing friendship few mothers and daughters will ever have the joy to experience," Cindy continued. "We've laughed and cried together, we've struggled and argued, we've shared each other's hopes and dreams, but, no matter what we've experienced, we've always loved each other and admired the other for her talents and dedication."
Keeping Busy
Currently, Kelli is developing nine horses, including her "horses of a lifetime" Chamonix H, whom Kelli partnered with to become the youngest rider in history to win the Sapphire Grand Prix of Devon, and Monterrey, with whom Kelli clinched the USEF Hunt Seat Medal Final in 2015.
Favoritism aside, all nine horses, she says, have incredible potential and unique qualities that will likely prove pivotal in her ascent to the top of the sport.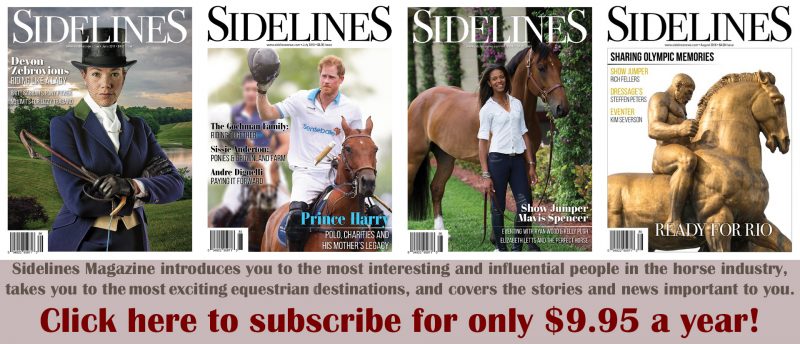 Of course, maintaining Kelli's rigorous training and show schedule can prove challenging — but it's nothing the energetic rider isn't up for. While long days at the barn leave little room for hobbies —unless, she says, you count binge-watching Netflix — Kelli is more than content with her busier-than-usual young adult lifestyle.
She's especially grateful to experience the ups and downs, early mornings and long nights with her family — whom Kelli says will forever be her greatest inspiration.
"Sometimes it does get difficult to balance life and horses because we're doing horses 24/7," she explained. "We're always on the road preparing for the next big show or planning on where we're going next. But regardless of what we're doing, I always make time for family, as that's the most important thing. Even something as small as a meal together — you always have to make time for that."
As someone who's been in the saddle since she was 5 years old, though, the eventful, sometimes chaotic life of a professional is exactly what she's been dreaming of. "She made up her mind a long time ago about what she wanted to do with her life, and nothing has stood in her way," Cindy said. "Kelli has always loved animals, but her horses are the love of her life. She has a very special connection with each one of them because, whether she's riding or taking care of them, they know what's in her heart and love her for it."
Dream of the Future
Looking to the future, anything is possible for the rising star. Toward that end, Kelli is diligently working toward representing the U.S. in international events.
"My goals for the coming years are to continue to develop and educate the horses I currently have to the highest level of the sport," she said. "My long-term goals would be making the team for the Olympic Games, as well as having the opportunity to participate in other championship events such as the World Equestrian Games, Pan American Games and the World Cup Finals."
Photos by Shawna Simmons, SAS Equine Photography, www.shawnasimmons.com, unless noted otherwise
Double D Trailers Info