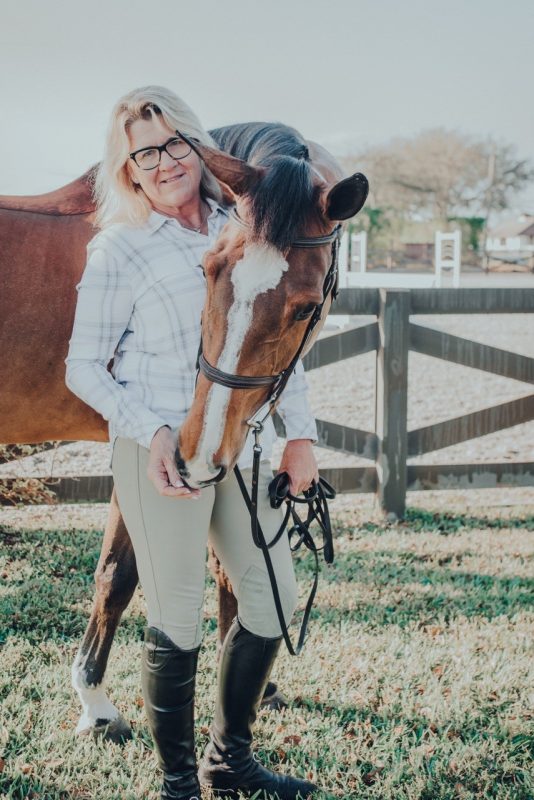 By Heather Wallace
Equestrians know true balance appears effortless to the observer, but it takes a lifetime of dedication, training and practice to master. How do you balance a successful equestrian business, competitions, teaching and motherhood? Show jumper Laura Bowery knows.
Laura has made a name for herself in the show jumping world. She joined the US Equestrian Team in 1999 and won in the 1999 Pan American trials and the Nations Cup as a team in Sweden. "I won one of the trials for the Pan Am Games, which secured me a spot on the team to Europe," Laura said, "George Morris was helping me at the time. I was on a fairly new horse, Altesse du Boule, and we weren't doing well in the first few trials. George encouraged me to keep going and I won the seventh trial."
Later, Laura won the 2007 Winner Grand Prix on Indy Star in Lexington, Kentucky, and became the 2008 Winter Equestrian Festival Circuit Champion on Palona in the 1.40m speed division.
Laura's focus shifted away from competition when she had her children, Jackson and Ella, now 7 and 5 years old. "I'm very competitive," Laura said. "I've had my time in the sport, although I'm still extremely active. I really love being a mother and it's been the best experience of my life. Now I'm always looking for the perfect balance. As a single mother, I have to maintain a healthy business. It's hard work providing for yourself, your staff and your family."
Hard work, yes, but Laura has made adjustments to her career to prioritize her family life. Now, she actively trains amateurs rather than juniors because they stay in the United States and travel is limited to no more than a week.
Laura is the proud owner of Sea-Aire Inc., a top show jumping, hunter and equitation stable. She is based both in Southampton, New York, and Wellington, Florida, depending on the season. In recent years, she's also been creating the perfect match between horses and riders.
At the heart of it all, Laura is a competitor and attends many shows as a rider or trainer. Laura turns traveling for competition into family trips, renting a house for the family and spending quality time together. But if the children have activities or express disinterest, Laura makes arrangements for them to stay home, noting, "I eat, sleep, and breathe the sport but the kids don't have to."
Last year during the Hampton Classic, longtime friend Frank Madden and his family stayed with Laura and her children. "During our stay Laura was able to compete, train and still have a great time with us," Frank said. "We had evening cookouts and a nice beach outing with both our families."
All Work and No Play
Laura didn't come from a horse riding family. "My father had an incredible love for animals, especially horses," Laura said. "He put me on my first horse at 3 years old. We worked hard from a young age grooming, braiding, anything we could do to afford an opportunity to ride. When I was 7, my father passed away suddenly. My sister and I carried on our love for horses from him."
Family is incredibly important to Laura and she prioritizes time with her children. Like her mom, Ella is extremely passionate about horses. Partnering with 31-year-old pony Frosty, she has competed in lead line classes since she was 2 years old and can often be found playing with the pony in the backyard. But Laura stresses that she secretly wants her daughter to continue in the sport only as long as she has balance. "If she wants to be a superstar in the sports, that's her decision," Laura said. To keep it interesting and fun, they ride bareback and go on a lot of trails.
Jackson, on the other hand, loves horses but doesn't show the same affinity for riding. While he can be found playing at the barn, helping the grooms or riding his bicycle on the farm, he prefers swimming, soccer and karate.
In fact, Laura considers swimming her second sport. Growing up near the ocean, water safety was important for her family, especially since her son is profoundly deaf and cannot wear his cochlear implants or "magic ears" in the water.
Horsing Around
The horse world is full of ups and downs, and Laura recently experienced a "down" with a horse she purchased from longtime friend McLain Ward. She intended to compete Zerly at the 2017 Hampton Classic. Unfortunately, one week before the show, the mare suffered a suspensory injury.
While it was a major disappointment, Laura focused on the health of her horse first. It's been a long road to recovery for the mare. Keeping her active with hand-walking and aqua therapy was key to her overall fitness, and she's back in training stronger than ever. The goal is always to "keep her moving."
McLain, a close friend and colleague, said, "One characteristic that's reflected in Laura's riding and training is her sympathy. She treats her horses, students and children with care, generosity and warmth that really shines through."
Zerly's newest scans look good and Laura remains flexible about her training. The ultimate goal is to prepare for the 2018 Hampton Classic this August without overdoing it. It's very close to her heart as a member of the advisory board for this competition and because it's her hometown event. The pair may be spotted at Lake Placid, HITS Saugerties or Old Salem this show season as they prepare.
Lessons Learned
Laura knows the path to success starts by watching and listening, and recommends that up-and-coming riders become ring rats. "Watch and listen," Laura said. "I learned about the sport standing by the schooling area and watching great riders. We're never done learning. If you want to be good at this, you take from everyone."
The learning never ends. In four decades of riding, Laura has had a lot of influences and mentors in her life: renowned equestrians George Morris, Katie Prudent, Margie Engle, Barney and McLain to name just a few. But Laura has become an influencer herself. Don Stewart said, "Laura and I have been friends for longer than either of us wants to admit. One of the reasons for our closeness is that family comes first. Laura is so cute with her children and they love her so much. She shows kindness to her horses, clients, friends and staff. Horses are her family, too. Her dedication is rewarded and proven in her results."
On Deck
While still actively competing, Laura's focus is now on teaching and clinics, which she particularly loves because of the intensity and involvement within those two days. She's also turning her hand to getting her judge's card for hunters and equitation. But Laura finds true inspiration in sales — pairing perfect horse-and-rider combinations.
"What draws me most to the sport of show jumping is the extreme difficulty of it," Laura said. "To me, it's a very mental sport as well as physical. The courses today are big, technical and careful. Finding the right horse that has all of those attributes is fascinating to me. I believe it to be a top rider's ultimate quest."
Laura has clear goals moving forward: "running a successful business, being relevant in the sport and being a great mother." No easy task, but like the competitor she is, Laura Bowery will keep learning and aiming for perfect balance.
Double D Trailers Info