By Alannah Castro
Portraits by Isabel J. Kurek
Maggie Jayne grew up in a horse show family — and wouldn't have it any other way. It's easy to see why, when one considers she's grown up in a well-known family of equestrians who have competed at top levels of the sport, earning titles in divisions from small ponies to grand prix.
Maggie's parents, Alex and Linda, of Our Day Farm in Elgin, Illinois, fueled Maggie's passion for horsemanship, and she learned the rules of the road early on. She started out in the small pony division and quickly grew her skill set across divisions, regularly showing hunters and jumpers for her parents and their clients.
"It all seemed very normal because that's all I was ever used to, and now looking back on it, it was amazing. I have wonderful parents that were fully devoted to their kids learning how to ride, learning business sense and learning the hardships of selling ponies and horses from a very young age," Maggie said. "It set the tone for my life; it was a lot of hard work and ups and downs, but it definitely paid off and makes life really easy because I have those set values."
Family Values
Maggie fondly remembers her first junior jumper, Market Rules, as one of the many horses who influenced her early career.
"He had the best uphill canter, and he was brave. Looking back, my dad was crazy, but now I'm an extremely confident forward rider because of it. I'll be forever grateful for that horse," Maggie said. "I did Prix de States when I was 12 years old at Harrisburg. I did a puissance at Tampa when I was 12 or 13 and I jumped 6 feet, but I didn't know any better. He taught me that was no big deal. I had other amazing horses after that that I fine-tuned my riding on and learned how to ride all kinds of different rides, but there's nothing like just getting on and going forward and jumping around a big track."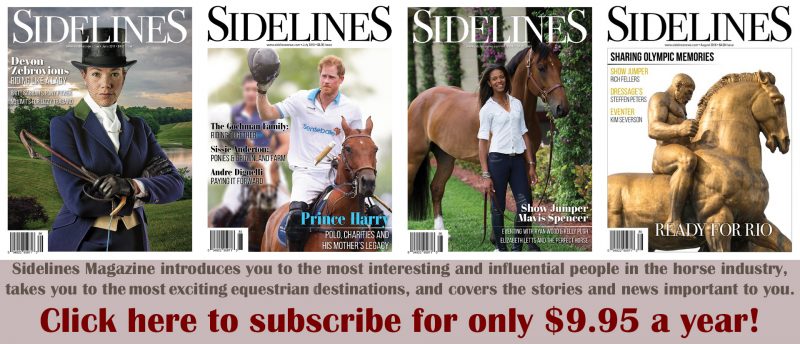 It wasn't all work for the Jayne family, however. They made a point to spend time at home throughout the year and have fun at shows whenever possible.
"We used to do two weeks in Detroit, Michigan, at the Motor City Horse Show, and then we'd go straight to Lake Placid. Those four weeks were just summer; at the time, it was just another show, but looking back, it was magical," Maggie said. "We were done showing at noon, and then we'd go play on the lake. We learned how to water ski there. We would show hard for four weeks, and then we'd have two months at home. We didn't go from show to show. We still have a similar mentality: We'll show really hard for two or three months, and then take two or three months off regardless of what's going on."
A Successful Business
Maggie went pro straight out of high school, and these days she balances a full book of clients, a steady show schedule that takes their string of more than 40 show horses around the country and a budding breeding program at Our Day Farm. She credits her successful balance to her staff, her clients and working with her family.
"We have an amazing staff, and we have very understanding clients. All of my riding kids homeschool. When we're not showing, we're done every day at around 1:00 and we do get to have a bit of a normal life," Maggie said. "It's about that balance. I'm so lucky I get to work with my sister, Hayley Rolfe, and we do everything 50-50. We each have the same number of show horses and clients. Having a staff that we really, really trust is so essential to be able to take a breath when we're done and go home and not think about it."
In her not-so-ample spare time, Maggie practices yoga, spends time with friends and family — especially her 2-year-old nephew — and enjoys downtime with her Rhodesian ridgeback and new goldendoodle puppy. She's also enjoying her owning her first horse, a 10-year-old mare named Zarkava.
"I'd never owned a horse until last year. I bought a horse in June. I called up my brother in May; he was horse shopping in Ireland. I was like, 'Charlie, I'm ready to buy a horse,'" Maggie said. "I've always brought along horses for my parents and other clients, but I've also seen the other side of it where you can buy a horse and it just totally doesn't work out. I've always been a little gun-shy about it. I finally bought a horse of my own, and it's worked out really, really well."
Maggie also has a soft spot for one of her family's up-and-coming horses, Arizona ODF, who is one of their oldest home-breds.
"I'm completely in love with the 6-year-old stallion that I'm showing in the 6-year-old jumpers. I've already had a lot of success on him this season. He has a really big personality, and what's cool is that we had his mom, Athena, in the barn and my brother had a lot of success on her," Maggie said. "We have more than 30 babies in Chicago in a field, and we had all their parents, so it's incredible that we get to see these foals and the traits they got from their parents. It's so fun. We're just scratching the surface of this since the oldest is 6. I'm loving it."
High Standards
All aspects of horsemanship are important to Maggie and the crew at Our Day Farm, and they work hard to preserve their show horses, even bringing "turnout buddies" on the road with them to help keep nerves to a minimum.
"We have four ponies that are just turnout buddies for our show horses. It's so important for these high-strung show horses to relax and go out in turnout," Maggie said. "Over the years, we've learned a lot of these horses need companionship. If we go to a show that offers paddocks, we bring a turnout pony because we're going to need it."
To continue her education, Maggie recently got her 'R' judging certification, which gave her a new perspective and admiration for hunters.
"I've been doing hunters my whole life, and sometimes you don't know why the judge did something. Now that I've judged myself, you develop your own opinions and it makes me appreciate hunters more just by being able to judge them," Maggie said. "It's really, really hard to sit there all day and see 30 of the same rounds. One person's order is going to be completely different than the other."
This only emphasizes Maggie's philosophy that riding is mostly a mental sport and focusing on progress is more important than the results.
"You just have to stay focused on bettering your horse. What I say is, 'Every day if you're not training your horse, you're un-training your horse.' You have to always try to be better, whether that's being a more relaxed or more intense rider," Maggie said. "I'm all about 'attitude is everything,' whether you're in the show ring or not. It's a humbling sport, whether you're a professional or an amateur, so you just have to be willing to stick with it, stay honest with yourself and work really, really hard."
For more information, visit Ourdayfarm.com
Double D Trailers Info