By Britney Grover
To say equestrianism runs in the Owens family is an understatement. Whitney Owens LaBrie and Frankie Owens are simply the latest generation that inherited the horse passion and have chosen to pursue careers in equestrian sport. Their paternal grandmother, Christine Owens, bred Welsh-Thoroughbred ponies for over 45 years in Virginia. Their father, Frank, showed those ponies to numerous championships and went on to a successful career riding and training.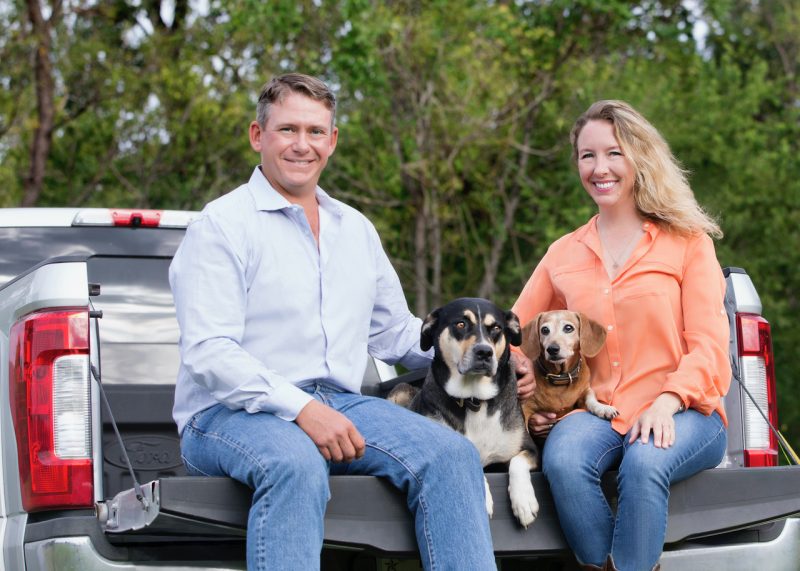 Frank first went to Texas when he was drafted into the U.S. Army in 1970 and assigned to work with pentathlon athletes — including 100 horses — under Col. John Russell. There he met Candie, who would later become Frank's wife, and who had not only been competing since she was 10 but discovered her passion for teaching. She was training under Col. John Russell and helped to work the horses at Fort Sam Houston.
Frank and Candie were married in 1975 and became professional trainers in Virginia. In 1984, they returned to San Antonio and founded Oakwell Farms — the hunter-jumper training facility Frankie and Whitney now run with their father. Carrying on the equestrian family tradition came naturally. Two years older than Frankie, Whitney began riding and showing at 6, overcoming her initial fear of cantering to compete successfully at shows around the country on ponies and horses, from Pony Finals to Devon.
Though he wasn't interested in showing until 14, Frankie was fully committed once he decided to pursue excellence in the ring. He competed hunters, jumpers and equitation his remaining junior years and turned pro after just one year as an amateur. Together, Frankie and Whitney have added their cumulative experience to Oakwell Farms, including riding, developing young horses all the way to Grand Prix and coaching riders to top placings.
Both Whitney and Frankie carry on the family tradition whether in the ring themselves, ringside with a student or in their personal lives. Though their mother, Candie, passed away in 2014 and is deeply missed, Frank continues to be involved hands-on with every aspect of running the farm. Whitney is now married — and she and her husband, Chris LaBrie, are expecting their first child. Everyone and every animal at Oakwell Farms is like family, but Sidelines caught up with the literal siblings to get two perspectives on carrying on the heritage of horsemanship.
What are your earliest memories of growing up with horses? 
Whitney: Being at the barn playing, probably having nothing to do with horses! 
Frankie: That they were always there; I can't think of an earliest memory. As long as I can remember, horses were a part of life.
When did you know you wanted to continue the family tradition and become a professional?
Whitney: I knew when I was younger, and was fortunate that our parents worked hard and were dedicated and built/established a strong business. Growing up and seeing how much work goes into all of it didn't leave me blind with the idea that it was all ponies and sunshine! To continue what they built, still working with our dad, is pretty special.
Frankie: At about 19 — I contemplated school but decided I might as well get started, and could always go back to school if I needed to.
Were you two competitive growing up?
Whitney: Not really, Frankie started showing when he was a bit older. We never really competed in the same classes/divisions when younger.
Frankie: We didn't compete against each other much as kids, but as professionals we both were — not towards one another, but we definitely wanted to win. If I had a bad class then for sure I was rooting for her to win.
Are you all still close? What do you do together?
Whitney: Very. We annoy each other — haha.
Frankie: We are, we have a lot of mutual friends so we do a wide range of things outside the barn.
How do you help each other with horses in the business?
Whitney: Having another person who can watch or ride a horse that the other usually works with is very helpful. Working with family who wants the best for each horse and each other is also nice.
Frankie: Lots of ways, from hopping on a horse to feel something to watching and talking it out on what a horse needs.
What's your program like now – how many horses, riders, etc? 
Whitney: We've always had a family-friendly barn. We're fortunate to have great clients and enough horses to keep us busy, riders and horses in all different levels of training.
Frankie: The barn has 40 stalls and we have a wide variety of horses and riders, from 3-year-old horses getting started to Grand Prix-level jumpers and Short Stirrup riders on up.
What are your goals? 
Whitney: Currently, to be a mom!
Frankie: To one day own a giraffe.
What does it mean to you that the whole family is so deeply involved with horses?
Whitney: I think it's pretty special. Not many families work together, or have a few generations that have been in this industry.
Frankie: It's really nice knowing I have family to rely on if I need them in or out of the horse world.
Anything else you would like to add about being part of the equestrian world?
Whitney: It's a pretty unique world; I feel lucky to be a part of it.
Frankie: In the words of Trapp O'Neal, "Who's got it better than us?!"
For more information, visit www.oakwellfarms.us
Photos by Kristie Nichols, moonfyrephotography.com
Double D Trailers Info