Well, here we are again, facing a mountain of deadlines for the June issue, still not sure how we're getting to Kentucky for Rolex and totally exhausted from the aftershocks of being blindsided by a horrendous cough/flu/walking pneumonia bug that put us in bed for three days… We are not the stay-abed type at all, but we felt run over by a fleet of mack trucks, to say the least, and we're still a bit wobbly on our feet… Ahhh, but we had JUMP! the latest novel by Brit contemporary writer Jilly Cooper whose bibliography includes: Riders, Rivals, The Man Who Made Husbands Jealous, and so many more, along with outstanding non-fiction titles.  Jilly's last, published in 2006, entitled WICKED! painted a rather scathing portrait of the power trips involved with public and private schooling (in Britain, known as comprehensive and public), of staff politics, love and lust, and also a subplot exposing, quite literally, pedophiles involved with orphanages and schools. But this is the novel we've been waiting for with bated breath: JUMP! was first called The Village Horse but Jilly's editors & publishers changed her title and JUMP! pretty much describes the action as Jilly takes her readers on a series of high speed adventures into National Hunt Racing with the Willowwood syndicate. The protagonist is the recently widowed Etta Bancroft whose life with bossyboots Sampson Bancroft and two monster-like offspring with spouses to match takes an unusual turn during one of the coldest nights of the winter. Etta finds a badly injured, starving-to-death filly tied up in the woods and rescues her. The animal has been blinded in one eye and traumatized to the nth degree, but such is the power of Etta's love and compassion that she wins the filly's trust and restores her to health. Local entrepreneur Valent Edwards unwittingly provides haven for the filly, and folks from the village of Willowwood get involved.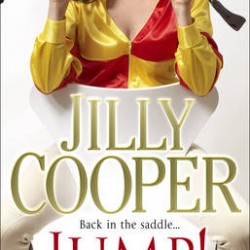 Read more at the source: BRAVA JILLY COOPER!!!!
Article excerpt posted on Sidelinesnews.com from LaurenGallops.
Double D Trailers Info