Ch-Ch-Ch-Ch-Changes – David Bowie's rocker kept playing in our head as the Cross-Country, designed by Derek di Grazia for the Rolex Kentucky 3-Day Event, presented by Bridgestone, provided its own dramatic footage to rival the opening credits of the old Wide World of Sports show hosted by Jim McKay for ABC, featuring the kettle drum roll as film rolled about The Thrill of Victory, The Agony of Defeat. But at Kentucky Horse Park it wasn't that luckless ski-jumper tumbling off the end of the jump run, it was the Rolex four-star cross-country course that looked straightforward and yet tested the best of our riders. Right now, Mary King (GBR) reigns in the two top spots with Kings Temptress and Fernhill Urco, 2007 Rolex winner Clayton Fredericks (AUS) sits in third with Be My Guest, and the highest placed American, Sinead Halpin and Manoir de Carneville follow in fourth place – both of them contesting their first-ever four-star. Allison Springer & Arthur – bittersweet disappointment after a brilliant start.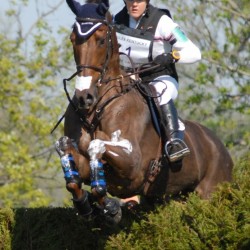 Read more at the source: Britannia Rules Rolex XC, Dramatic Impact On Leaderboard
Article excerpt posted on Sidelinesnews.com from LaurenGallops.
Double D Trailers Info