The sun is shining, the champion is here… Just one more reason that we all wish we were Laura Kraut….. above, Laura walks Cedric out of the ring after being awarded the Oliver O'Toole Perpetual Memorial Trophy during Saturday's Parade of Champions on the second to last day of the 2011 Winter Equestrian Festival. Laura and Cedric were the top money winners over the 2011 WEF season. Who can guess how much they won? Anyone? Let's see, they won three big classes this season: $75,000 Adequan CSI2* $150,000 FEI World Cup Qualifier Grand Prix $500,000 FTI Consulting Finale CSI5* Grand Prix And placed in a slew of other classes.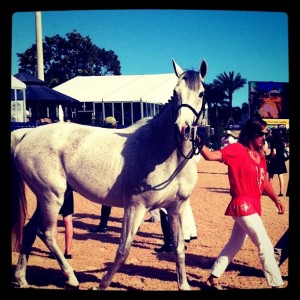 Read more at the source: End of Days.
Article excerpt posted on Sidelinesnews.com from On the Line.
Double D Trailers Info