Low Score Winner Becky Brown and EZ Win Nikon Camera The riders couldn't say enough nice things about Heart of the Carolinas Three-Day Event in Chesterfield, SC at Southern Eighths Farm.  They loved the facility, the organization, the footing, the courses, the jumps – just everything. When it was all over Jim Baker and Wings claimed the victory in the Beginner-Novice division (58.30).  "The format and the organization were topnotch.  I can't say enough about it," he readily commented. Becky Brown and EZ dominated the Training level (32.90) and Anne Lane Maunder and Penny Lane (37.30) were the winners in the Novice division.  As the Low Score rider of the event, Brown was in awe when she was presented with a Nikon D3100 Camera Kit.  "I'm floored," she commented.  "I can't believe I won this camera.  We've all had our eye on it all weekend." Jim Baker and Wings are Victorious in Beginner Novice Jim couldn't have been happier for this opportunity to check out what Southern Eighths has to offer and commented, "I feel wonderful, fantastic on top of the world. I thought the show jumping went very well.  It was a typical switch back type course which I tend to like." Jim was pleased with how Wings finished.  "I think Wings grew a lot in confidence.  I saw him mature over the weekend.  He was nervous when he got here and now he's calmed down.  I was very pleased with the way things went over the weekend." When asked what he thought the best part of the weekend was, Jim was quick to respond, "The facilities are amazing, simply amazing, probably the most spectacular thing is the effort they made for us as competitors.  I've been Eventing for a long time and we have never had this done for us.  For the average competitor, the lower level competitor, this was a phenomenal event.  I've only seen this at the higher level events." Brad Turley, owner of Southern Eighths is already talking about doing some schooling weekends in addition to next year's event.  When Jim heard that he was quickly onboard.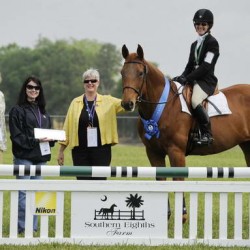 Read more at the source: Heart of the Carolinas Three Day Event Finishes to Rave Reviews
Article excerpt posted on Sidelinesnews.com from What's Happenin'.
Double D Trailers Info