Waiting at the Horse Show Horse Shows can be fun, but at the same time stressful . Horses and humans have similar mechanisms for managing stress and because of our different personalities respond differently to events.  Being in Wellington, Florida I see lots of stress; stress in people and stress in horses.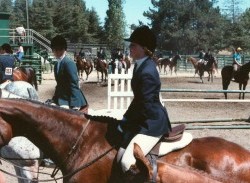 Read more at the source: Horse Show Stress – How to Relax you and Your Horse
Article excerpt posted on Sidelinesnews.com from Between The Ears.
Double D Trailers Info