Late Autumn in Chester County was punctuated by crystalline days, an errant snow and unrelenting weekly rains.  Staff and hounds continued to leave the kennels three mornings a week to pursue Mr. Fox.  One morning a hard frost covered the Doe Run Valley, every tree, blade of grass and fence rail, with silver.     Mr. Stewart's Cheshire Foxhounds meets every Thanksgiving morning at 11:00 at the Kennel Lawn.  The "field" of riders grows to twice its size from the week before, enlarged by students home on break from college, friends and family in from out of town.  Non-riding members of the community are encouraged to come out, meet the hounds and watch the hunt take off from the hill overlooking Plantation Field, home to a major Three Day Event competition.  The crowd arriving to watch is so large that traffic control is warranted.     Some spectators come prepared for a tailgate party.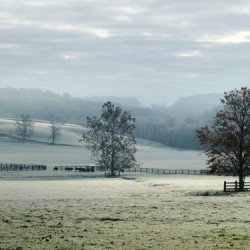 Read more at the source: Over the (Brandywine) River and through…
Article excerpt posted on Sidelinesnews.com from Chasin'.
Double D Trailers Info