Hello, horse sports fans – Rolex was its usual three-ring, four-star greatest equestrian show on earth. We love being there, in spite of & perhaps because of the marathon-intense dawn to midnight work days, and we're already planning for next year, but in addition to great cheers, there were some serious disappointments. JEERS to the official videographers of Rolex KY It sucked in places, the video coverage of the XC by the official videographers – such as only two fences shown  of Sara Kozumplik and Manolo Blahnik – I mean, what's wrong with these people? I would mention them by name but don't care to give them any ink! How many riders did they "cheat" of  XC footage? They wasted precious time filming riders who had just come off the course, showed at least one derriere view of trim/slim female rider (lovely but this is not a nightclub, it's cross-country!), no sound but several seconds of rider being interviewed, and lots more footage of horses being sponged off – gee whiz, get your priorities in order. We want to see the jumping, the action  – the cross-country heart of eventing!!!   Sara Kozumplik has devoted years to Manolo Blahnik – here they are in Manny's four-star debut at the third last fence on the cross-country, the double offset brushes which demand precision and momentum so late in the course. But the official video shows them at two jumps only – WTH??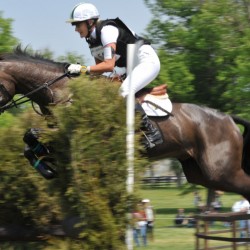 Read more at the source: ROLEX IN RETROSPECT: 1st of May Thoughts, A Few Cheers & Jeers
Article excerpt posted on Sidelinesnews.com from LaurenGallops.
Double D Trailers Info